Forelesning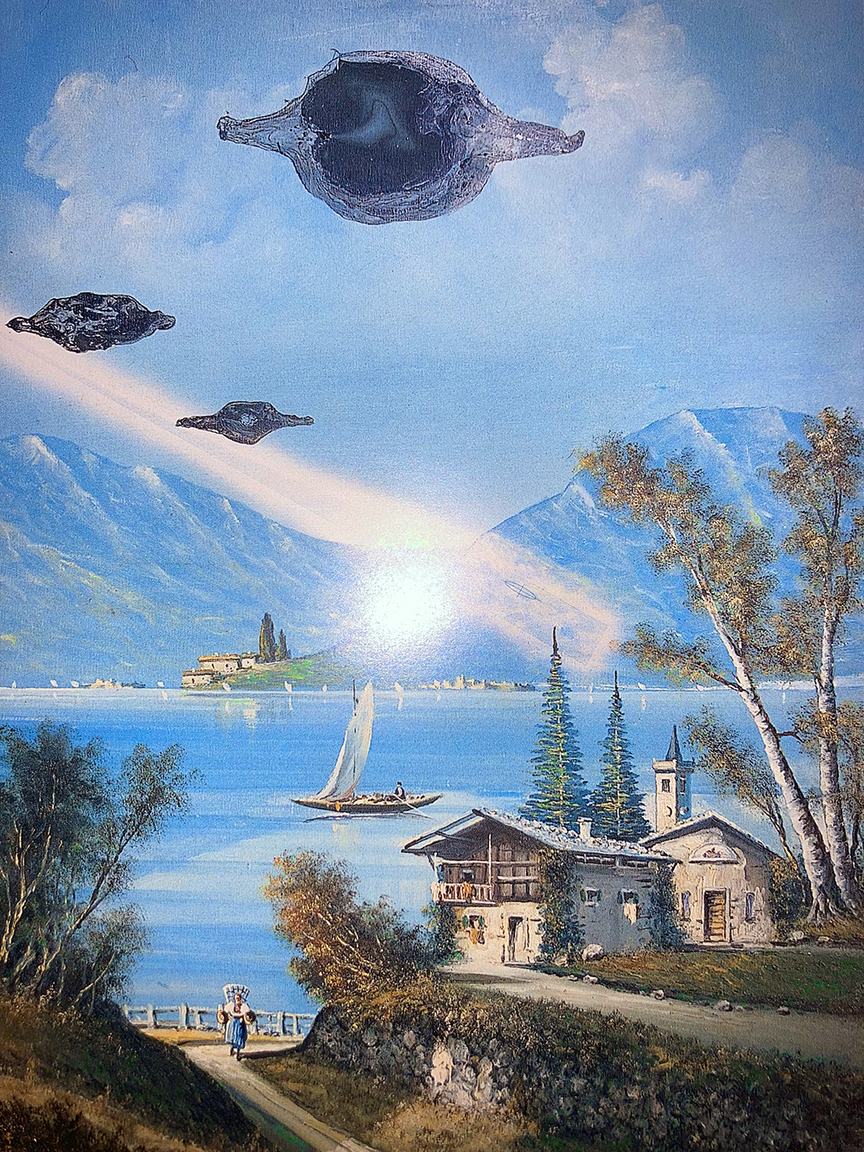 Eva Fabbris & Derek MF Di Fabio / Practice and Methods for the Science of Imaginary Solutions
Eva Fabbris and Derek MF Di Fabio, an art historian and an artist respectively, are examining 'Pataphysics as a historical episode and a possible radical means of expression, combining their understanding of this "science". In this lecture, they will share their reflections on searching for a methodology that responds to Alfred Jarry's (1873-1907) 'Pataphysics, in which any event that occurs in the universe becomes exceptional.
Register in advance for this lecture here
Pataphysics will examine the laws which govern exceptions
It is imperturbable
It is the science we invented because there was a great need for it (Ubu)
It is a minority by vocation
It is the last thought available
Before writing, read anything[1]
Since its first formulation in the work of the French playwright, 'Pataphysics – defined as the science of imaginary solutions – has attracted visual artists, writers, thinkers and musicians for its ability to question knowledge systems and paradigms. Pun, collage, self-irony, and technology seen as a metaphor for love dynamics, are just some of the tools that 'Pataphysics, among other groups at the turn of the century, brought into the Avant-Gardes, especially Dadaism and Surrealism. Furthermore, Jarry was also one of the first writers in the Modern era to experiment with visual typography. During the second half of the twentieth century, after being a mainly literary phenomenon, 'Pataphysics evolved into the creation of several institutes called Còlleges. These organized groups gathered visual artists, writers, musicians, and scientists whose work aimed to overturn the syntax of things. Based on absurdist hierarchies, they were a parody of political structures of any kind. The Còlleges decided as well that one doesn't need to be aware of 'Pataphysics to act and produce 'pataphysically.
Fabbris and Di Fabio are treading the paths of the collective knowledge of some 'pataphysical productions (texts, book and magazine designs, mise-en-scenes, shows, ephemera…). Using them as tools for collective readings, writing and drawing exercises, and some physical activities is a way to look for alternative learning formats, inherently coherent with the subversive strength of these materials.

The lecture is realized within the research project by Fabbris, supported by the Italian Council (10th edition, 2021) – a program to promote Italian contemporary art in the world by the Directorate-General for Contemporary Creativity of the Italian Ministry of Culture. The talk will be led by professor Dora García, and the talk is a part of the Academy of Fine Art's public programme.
Derek MF DiI Fabio

Their work includes workshops, scenographies, sculptures, audio-walks, poems, and events and is composed of "experiences that can be re-lived through shared-memory and can no longer be circumscribed by who / how / where."*

"Derek MF Di Fabio's work is to be listened to in bed when one speaks silently to themselves, read loudly but melodically on the dancefloor, perceived around a bonfire when our bodies together are closer to planets. It makes a claim overall: to befriend the spaces in between and to deal with respect with unpredictability and void, where life always manifests itself."**

Last year, Di Fabio opened a solo show at Almanac Projects, Turin, as well as exhibited at Fondazione Pomodoro, Milan, curated by Eva Fabbris.
In 2022 they received a master's degree from the Dutch Art Institute with a thesis on prison abolition as a quantum-feminist practice.

Since 2010, they have been working with Cherimus, an association that aims to contribute to the development of the social and cultural patrimony of South-West Sardinia through contemporary art.They co-founded the artist-run space Motel Lucie (2009-2012) and collaborated with Isa Griese as 2008daughters (2012- 2016) a project involved in sartorial production and participative performances.
* Astrid Korpooraal, 2013
** Dalia Maini, 2021
Eva Fabbris

Eva Fabbris is Exhibition Curator at Fondazione Prada in Milano.
She obtained a PhD in Humanities, and she has worked in various curatorial departments of Italian museums (Museion, Bolzano; Galleria Civica di Trento). As an independent practitioner, she has curated and organized exhibitions and conferences in Italian and European institutions, including Madre, Napoli; Fondazione Arnaldo Pomodoro, Milano; Nouveau Musée National de Monaco; Triennale di Milano; Fondazione Morra, Napoli; and Galerie de l'erg, Brussels. As guest-lecturer she has held conferences and conversations in various institutions including Centre Pompidou, Paris; Daimler Foundation, Berlin; HEAD, Geneva; GAM, Torino and numerous Italian universities.
She teaches at NABA, the New Academy of Fine Arts in Milano. She is editor of numerous artists' monographs, including Diego Marcon (Lenz, 2021), Alessando Pessoli (Lenz, 2021) Yervant Gianikian and Angela Ricci Lucchi (Humboldt Books, 2017) and Paul Sietsema (Mousse Publishing, 2016).
Her research as an art historian focuses on figures and moments of critical heterodoxy in modernism, as exemplified by her historiographical work on Gene R. Swenson and her current study on 'pataphysics, which won the 10th edition of the Italian Council grant in 2021.
.