Forelesning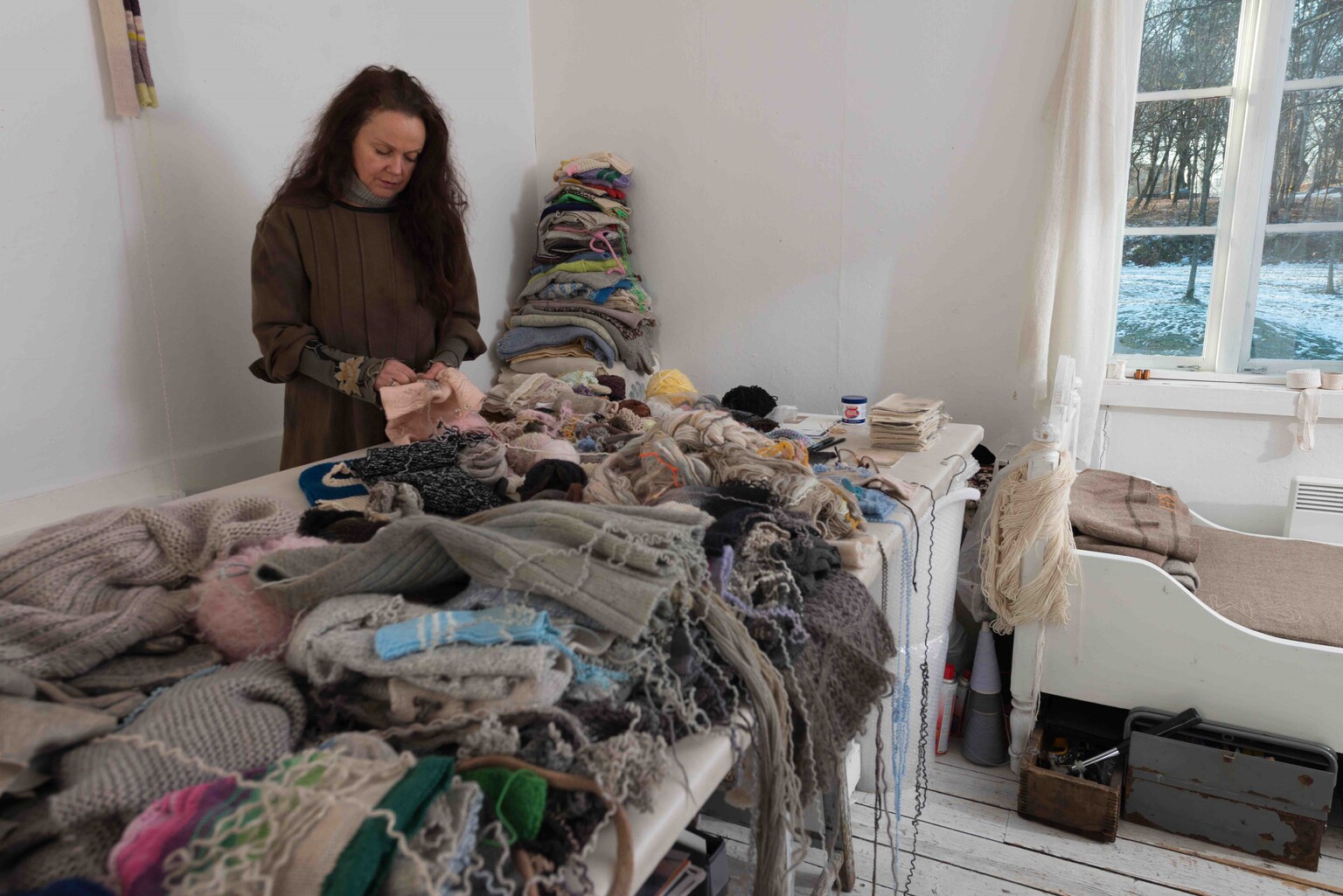 Art and Craft Lectures: Kari Steihaug
We welcome you to the open lecture "Unraveled – Textiles Reconsidered" with Kari Steihaug.
Unraveled
Textiles Reconsidered
Kari Steihaug works in the space between adding and taking away, between that which can be seen, and that which exists only as traces and memories. In her art, an awareness of something both fragile and violent is attended to. Clothing is unraveled, a dress slowly vanishes, and semi-metamorphosed garments exist precisely between the tangible and the undefined, the somewhat uncomfortable other.
She works with a material world, and the material world of her art involves many kinds of textiles. One might say that she most of all makes use of the textiles that are connected to concrete and immediate aspects of everyday life. She shows us that the concrete can simultaneously be a bearer of something immaterial, sacred, and poetic. Perhaps we can call it a reminder of transitoriness, of the multifaceted nature of what it is to be human.
When I think about her works, however, it is by no means well-formed and finished objects that come to mind. I immediately think of threads and strings and piles of unraveled yarn, of the remains of textiles.
Anne Karin Jortveit (From the text: The time it takes, catalogue Wardrobe Writings.)
Kari Steihaug (Oslo, 1962) Education: National Academy of the Arts, Bergen and Oslo, Manchester Metropolitan University. Selected Solo Exhibition: Kunstnerforbundet, Oslo (2018) Fiberspace Gallery, Stockholm, (2018) Luleå Arthal SE (2014) Gallery Naas,SE (2012) Kode Bergen (2007) Henie Onstad Art Centre Høvikodden (2005) Selected Group Exhibitions: Tendenser 2018, Galleri F-15, Jeløya, Ostholsteinmuseum, Eutin, DE (2018) Design Museum Helsinki, (2018) VII Biennial of Contemporary Textile Art, Montevideo Uruguay (2017) Contemporary Arts Center Cincinnati US (2016) Bloom International Fashion Art China (2015) Textile Biennial Rijswijk Museum NL (2015) Lillehammer Art Museum NO (2013) NOoSphere New York US (2012) Spring exhibition Charlottenborg Kunsthall DK (2012) Public Collections: The National Museum of Art Oslo, Lillehammer Art Museum, KODE Bergen, Sørlandets Kunstmuseum, Nordenfjeldske Kunstindustrimuseum, Copenhagn Art Committee, Västra Götalansregionen, Teaching: Adj. Professor Textile Art, HDK, Gothenburg University (2011-2014).

Art and Craft Lectures is a cross-disciplinary lecture series at the Art and Craft department. This lecture series highlights the breadth and depth of the art practices that the Art and Craft department encompasses. Each lecture will feature current issues pertaining to and spanning the five areas: Art and Public Space, Textile, Ceramics, Print and Drawing, Metal and Jewellery.
Kari Steihaug has been invited by Textile.