Forelesning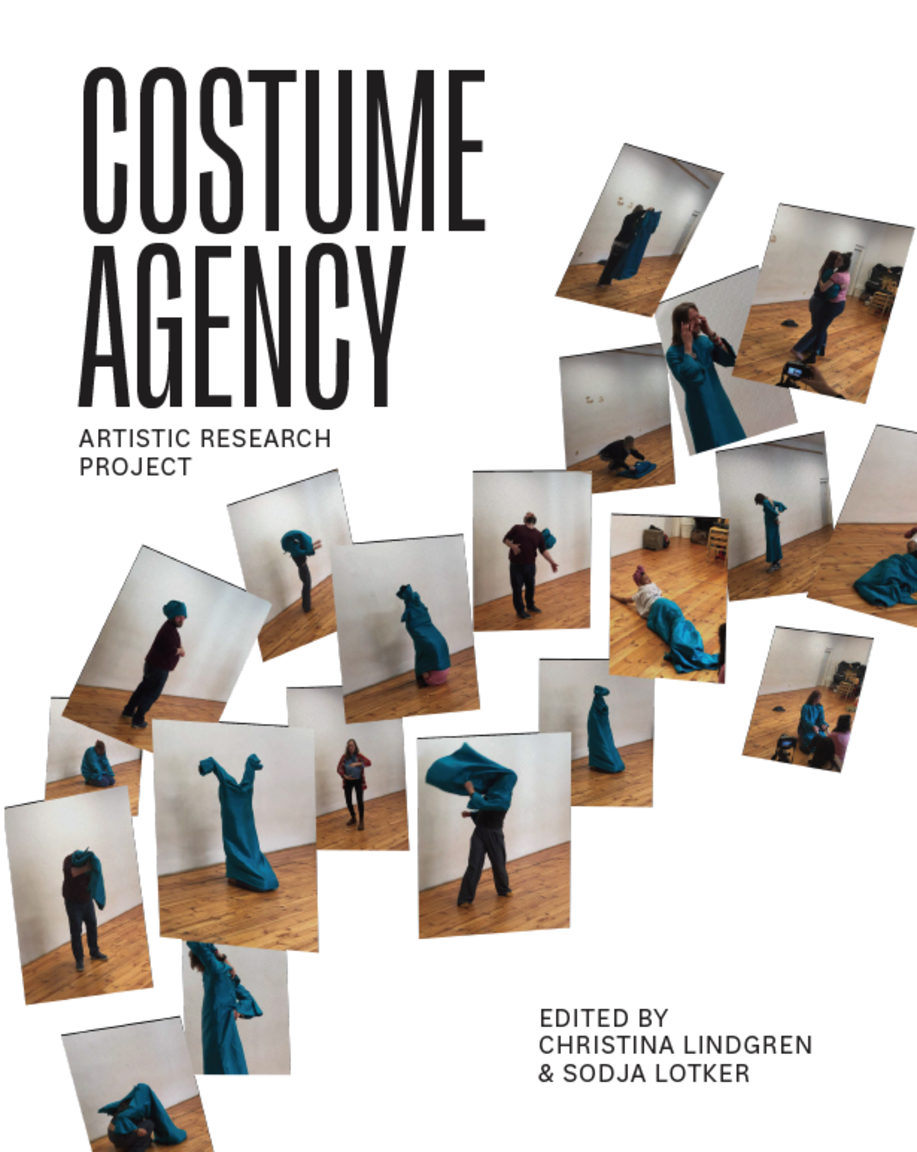 Costume Agency Artistic Research
We are happy to announce the publishing of Costume Agency – the book. This publication is a collection of costume performances and accompanying texts done during a 5-year process of artistic research exploring 'how costume performs'.
This publication also marks the end of the project and a celebration of all the collaborations we have experienced during the journey that showed us infinite possibilities of the performative potential of costume.
Join us for the our final presentation of the project, PQ Talk, where we will share and discuss.
Venue: Jatka78 – PQ Talks Stage
Date: 10 June 2023, Time: 16:30-17:30
https://pq.cz/pq-2023-info/projects-2023/pq-talks-curated-by-barbora-prihodova/costume-agency-artistic-research/
Directly after the PQ Talk there will be a book launch of the book Costume Agency Artistic Research
Venue: Jatka78 – PQ Talks Stage
Date: 10 June 2023, Time: 17:30-18:30


Thank you, to all contributors

Thank you, to all contributors: The costume designers Linnea Bågander, Fausto Viana, Signe Becker, Fridt-jof Brevig, Sally E. Dean, Katri Nikkola, María Vidal, Jasmine Xie, Fredrik Floen, Charlotte Østergaard, Zofia Jakubiec, Snezana Pesic, Natálie Rajnišová, Jitka Pospíšilová, Berit Haltvik With, Jenny Hilmo Teig, Lotta Barlach, Thale Kvam Olsen, Kristine Roald Sandøy, Vidmina Stasiulyte and Tormod Lindgren; the performers Birgitte Larsen, Marte Solem, Endre Hellestvedt, Martin Kare-lius Østensen, Nadege Kubwayo, Victor A. O. Pedersen, Tova Ekenberg, Lenka Rozehnal, Klaudie Lotker, Katriina Tavi, Krista-Julia Arppo, Meeri Lempiäinen, Salla Rytövuori, Lydia Hann, Katja Henriksen Schia, Daniel Frikstad, Debora Štysová, Simon Asencio, Jonathan Ibsen, Fredrik Petrov, Kjersti Stenby, Anna Ladegaard, Berit Einemo Frøysland, Rebekka Andersen, Matilda Gustavsson Drobina, Olivia Hansson, Cecilie Solberg, Frida Odden Brinkmann, Lydia Hann, Oda Holmvik Bredvold and Ingrid Pettersson; other contributors as Wayne Jordan, Tinka Avramova, Ran Jiao, Alyssa Dillard, Anne-Catherine Kunz, Esther van de Pas, Levin Eichert, Ida Falck Øien, Harald Lunde Helgesen, Eva Jaun-zemis, Marta Jiménez Salcedo, Ingeborg Staxrud Olerud, Liv Kristin Holm-berg, Eero Koistinen, Sanni Siira, Camilla Topuntoli, Arnt Robert Ledanger, Ida Seglen, Siren Tjøtta, Linda Lien, Geir Strøm, Signe Vasshus, Trond Lossius, Edvard Myhre, Theo Barth, Susan Marshall, Fruszina Nagy, Donatella Barbieri, Svante Aulis Löwenborg, Anette Cecilie Danielsen, Carrie Cooley Barbour, Barbora Příhodová, Stephen Lions; reference group members Knut Ove Arntzen, TRachel Hann and Mikkel Bjørset Tin, and curator of the Critical Costume Exhi-bition 2020 Yuka Oyama; Sofia Pantouvaki for hosting and co-consulting Workshop # 4 in Helsinki; Sally E. Dean for being a part of the project and con-tributing in a very special way through her in-depth research with her PhD project The Somatic Costume Dressing Room: Attending to Touch & the Poetic (working title). Thank you to all contributors to Critical Costume 2020 Conference and Exhibition. And finally, a special warm thanks to the documentary team Vibeke Heide / Sentimeter Film and photographer Espen Tollefsen, pro-duction manager Camilla Svingen / Syv Mil AS and light designer Kaja Glenne Lund, for their dedication to the project through the years, to Marta Ljubková for helping us put this book together and to Filip Blažek / Designiq, for the beautiful, beautiful design of the book!

The final presentation of the project, PQ Talk
This talk will introduce the artistic research project Costume Agency, in which the artists explore the agency of costume and how costume can generate or be the starting point for a performance.
Artistic research offers the opportunity to open up new perspectives and expand the field of performance and performance design.
Costume is an unconventional starting point for a performance. What is present from the start, or defined as the main contribution, sets the premises for the work, and team members approach the initial material with curiosity. A process that begins at an untraditional point, such as costume, can offer openness to further development and to the final outcome. If costume is the starting point or driving force for a performance, what is important in the process of unfolding this initial material? What does the costume do and how does one "listen to the costume"? How do you describe the result?
This panel focuses on artistic research as a method for developing the field of performance design. Costume Agency (2018 to 2023) is a large-scale project supported by the Norwegian Artistic Research Programme and KHIO.
About the speakers
Christina Lindgren

Christina Lindgren (Oslo National Academy of the Arts (KHIO), Norway / Stockholm University of the Arts (SKH), Sweden) teaches costume design and is the principal investigator and project leader of Costume Agency. Lindgren is an artistic director/stage designer/costume designer.
Sodja Lotker

Sodja Lotker (Prague Performing Arts Academy (DAMU), Czech Republic) is the main researcher of the Costume Agency. She is a dramaturge with a special interest in scenography/costume design. She was the artistic director of PQ from 2008 to 2015.
Sally Dean

Sally Dean (PhD at Oslo National Academy of the Arts, Norway) is an international artist and teacher in dance, costume design and somatic practices for over 25 years. She designs somatic costumes and immersive sensory performances.
Charlotte Østergaard

Charlotte Østergaard (PhD at Malmö Theatre Academy, Faculty of Fine and Performing Arts, Lund University, Sweden) has designed costumes for 65 performances. In her artistic research, costume functions as a material-discursive "tool" to explore co-creative processes.