Forelesning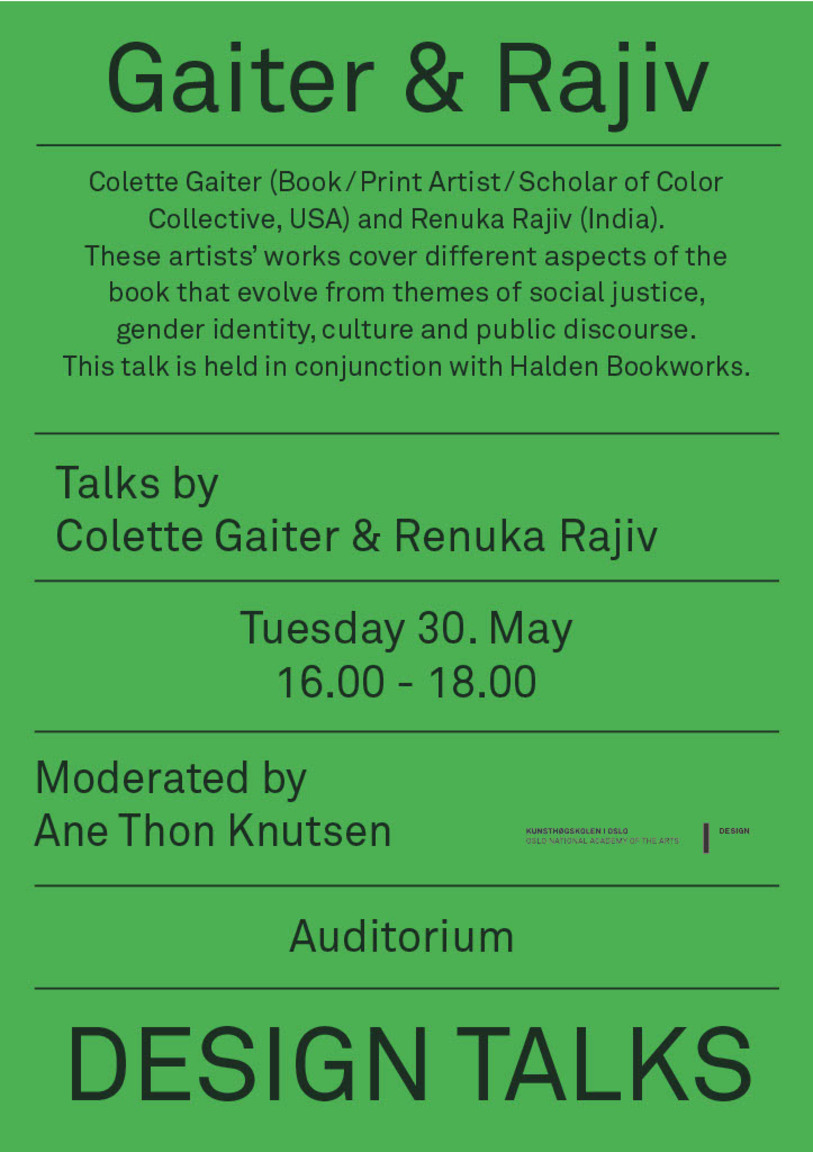 Design talks: Colette Gaiter and Renuka Rajiv
These artists' works cover different aspects of the book that evolve from themes of social justice, gender identity, culture and public discourse. This talk is held in conjunction with Halden Bookworks.
Colette Gaiter will talk about how she combines her backgrounds in art, design, and typography with words and texts to illuminate social truths hiding in plain sight. Colette Gaiter became a book artist through graphic design and writing. She is a Professor in the Departments of Africana Studies and Art & Design at the University of Delaware.
Renuka Rajiv will talk about their practice that spans across different mediums with a focus on artist books and zines. Renuka Rajiv is a visual artist who works primarily with paper and fabric. Their work explores mediums such as embroidery, paper mache, drawing, artist books, zines and post. Themes in the work oscillate between the observational and imaginative, engaging with family, friendship, intimacy and the autobiographical. They have been showingwork regularly over the past ten years as well as having participating in art book and zine festivals.
Colette Gaiter

After working in graphic design in New York City, Colette Gaiter became an educator, artist, and writer. Her visual work has been exhibited internationally. Since 2005, she writes about former Black Panther artist Emory Douglas's work and his ongoing human rights artist activism.
Her own interest in culture and how it impacts social justice inspires her books, which she started creating digitally in 1991, using the original interactive Macintosh program HyperCard. Although she uses software, her current books are printed in the traditional codex form.
As moving media gain influence in public discourse, she counters with visual books that require close reading and contemplation—at the viewer's pace.
Renuka Rajiv

Renuka has had an interest in making things since childhood, exploring
drawing, paper mache, tie-dye and stitching. They studied digital
video production at Srishti School of Art, Design and Technology in
Bangalore and a Bachelor of Fine Arts (with Honours) majoring in
printmaking at Victorian College of Art, Melbourne. Since then, their
work has reconnected with the childhood interests of playing with
fabric and paper. Most themes and content in their work is personal,
which includes the compulsion towards the hand-made. Their work
inhabits a space that accommodates the imaginative, observational and
autobiographical. Since 2012 they have been exhibiting regularly in
group and solo shows.
.