Samtale/debatt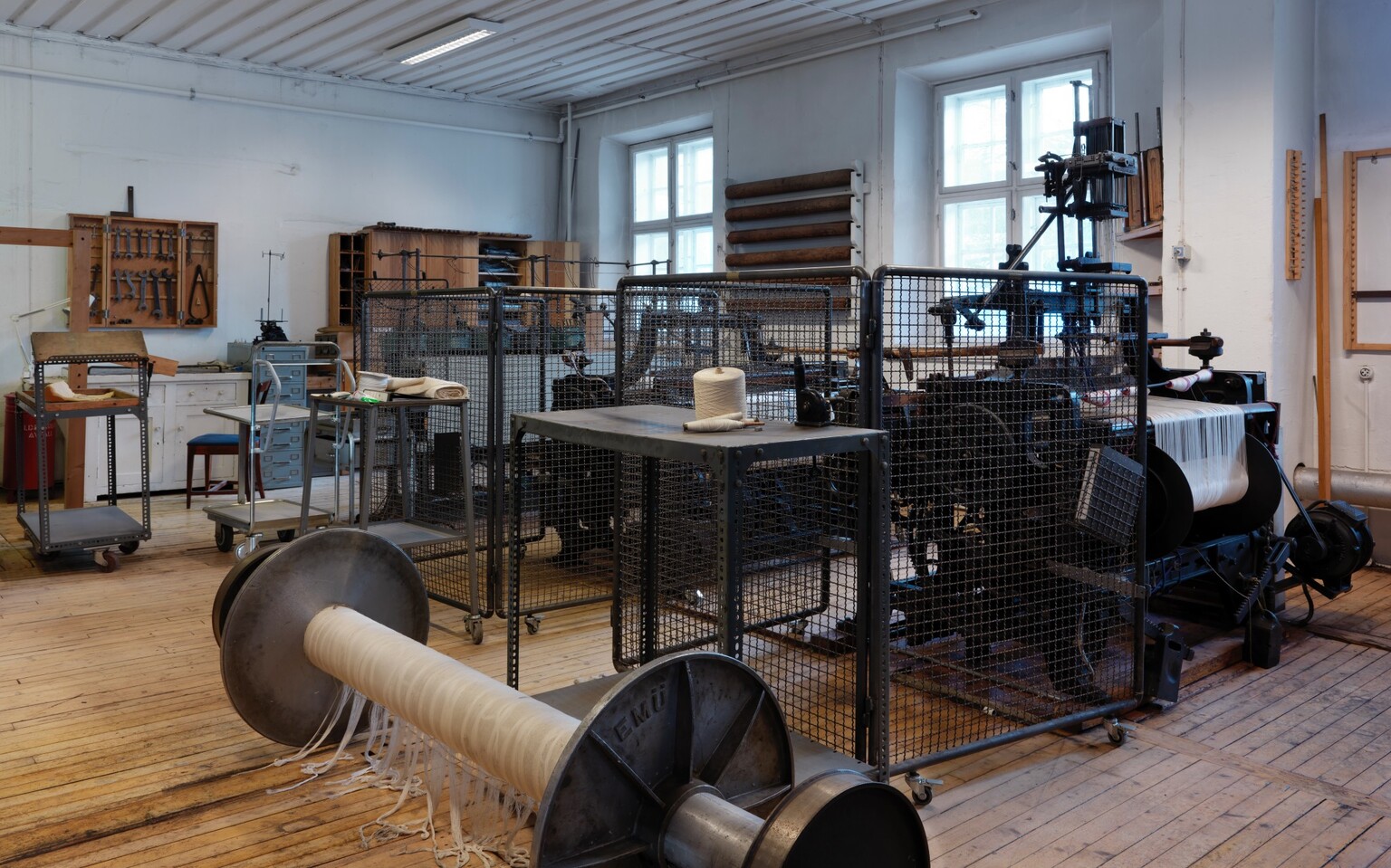 Shop Talk – "Stories, Lines and Traces – Weaving as an Artistic and Social Practice", with Franz Schmidt and Sarah Prosser
Weaving can be seen as both an artform and a social practice. How does weaving inform both art and society?
...the straight lines of the ruled manuscript, which guided the writer's hand in weaving the letter-line, can be traced back to the parallel warp-thread of the loom.
...storytellers may also gesture with their hands and fingers, and these gestures may in turn give rise to lines.

Tim Ingold, Lines
Weaving can be seen as both an artform and a social practice. Both Franz Schmidt and Sarah Prosser are 'weavers' in this respect. How does weaving inform both art and society?
In his practice, Franz P. Schmidt connects experience in both hand weaving and industrial textile production with a longstanding interest in history and material culture. His explorations are often based on studies of archive material from textile manufacturing companies and museum collections. His current KHiO and national research project involves probing the history of the weaving workshop at Prinds Chr. Augusts Minde in Oslo - a former workhouse facility. Concerned with identity issues and queer culture, the work creates connections between the histories of mills and their productions of fabrics for garments, with Franz's own biography and motivations for becoming a tailor and weaver.
Sarah Prosser is currently working as a bioregional 'weaver' in Ireland - tasked with 'connecting people, projects and place for universal well-being'. As part of a wider European network of such initiatives (Bioregional Weaving Labs) she explores how much-needed nature-based solutions and social innovations can become systemic and mainstreamed if the role of a weaver is introduced into society.
Together, Franz and Sarah lead the visitors to the old weaving workshop at Prindsen in Storgata 36, where Franz has his studio, through the practice of weaving and the context of society, new perspectives, and social development, while soliciting input into the research project.
The conversation will be moderated by Pro-rector of Research Camille Norment.
Registration of attendance is required as there is limited seating.
Registration is now closed.
About
Franz P. Schmidt
Franz is a textile artist art based in Oslo, Norway. He is a men's tailor, a weaver and dyer and has for 20 years worked with the archive and the historic production facilities at the Norwegian weaving mill Sjølingstad Woollen Mill as his main source. In 2018 he completed his PhD project Weaving Fabrics for Suits at the Oslo National Academy of the Arts where from 2019 to 2020, he was Associate Professor in Textile Art, and since 2021 Professor in Textile art in the Arts and Crafts Department.
Sarah Prosser
Sarah's wider research and practice interests include democratic and neighbourhood-driven innovation, social enterprise, affordable housing and system change approaches to transformation. Sarah previously led Ashoka and the British Council in Norway, founded Tøyen Unlimited and Human Film Festival and has a background as an academic geologist. She is currently an Adjunct Associate Professor at VID Specialized University, a Fellow of the RSA and consults for the Norwegian public sector through her company Prosser Projects.
Shop Talk
Shop Talk is a platform for KHiO researchers to share work in progress for peer input and feedback. The locations are selected to put the art practice itself in focus and we encourage active audience participation. Through "workshopping" in real time, we are able to tap into and share the wealth of knowledge and experience amassed at KHiO across departments, to support each other in the development of projects, and strengthen the community of artistic research. Uncertainty, incomplete ideas, and questions are all welcome as a basis for discussion and development.