Kurs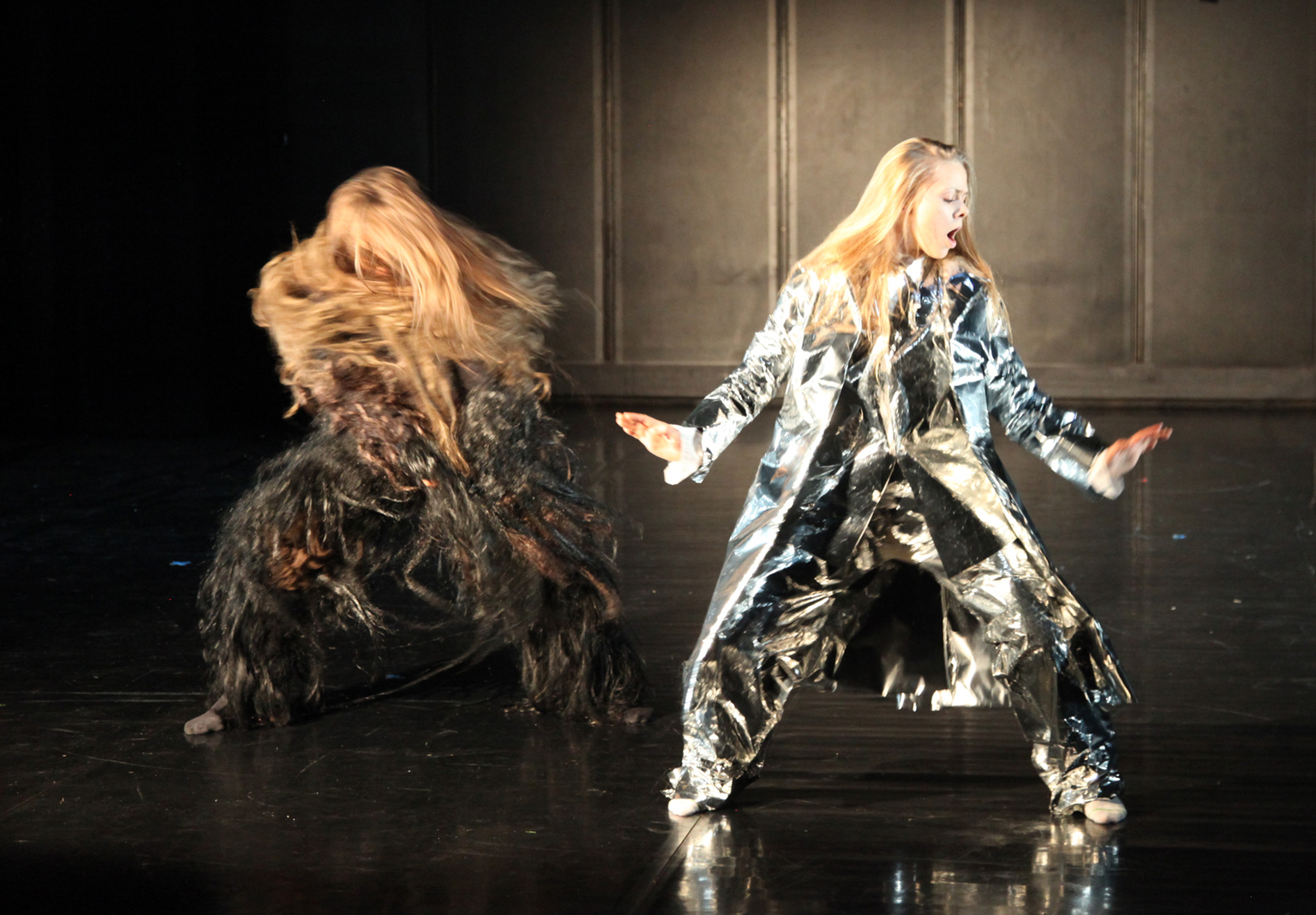 Clothes and Choreography - an interdisciplinary research
Course for dancers, coreographers and costume designers, with lectures open for all interested. Lectures by: Espen Ester Pirelli Benestad, Ingun Grimstad Klepp, Sidsel Pape, Christina Lindgren, Snelle Hall, Yuka Oyama, Mikkel B. Tin, Wencke Mühleisen, Wanda Golonka and Tua Hvelve
Photo from workshop Clothes for Dance – an interdisciplinary research 2014. Costume Kristine Gjems. Choreography Heidi Jessen. Dancers: Anita Suzanne Gregory and Charlott Madeleine Utzig. Photo: Christina Lindgren.
The course "Clothes and Choreography - an interdisciplinary research" is a collaboration between two departments at Oslo National Academy of the Arts, the Dance and Design Departments with their group of master students in Choreography and Costume design.
Program, open for all interested
Monday, August 22nd
14.30-17.00, Scene 4
Lecture: Sustainibility by Ingun Grimstad Klepp.
Tuesday, August 23rd
10.00 - 13.00, Auditorium
Lecture: History of clothes for dance by Sidsel Pape and Christina Lindgren
Wednesday August 24th
11.00 - 13.00, Auditorium
Lecture: Dance of the body by Snelle Hall
Monday August 29th
13.45 -17.00, Scene 6
Lecture: Objects by Yuka Oyama.
Part one: wearable sculptures in actions in contemporary art.
Part two: my artwork, theoretical frameworks, references and methods.
Tuesday August 30th
10.00 - 13.00, Scene 6
Lecture on phenomenology by Mikkel B. Tin.
Monday September 5th
13.45 - 17.00, Scene 6
Lecture on theoretical framework by Tua Hvelve.
Wednesday September 7th
13.45 -17.00 , Scene 6
Moderated talk: Genderperspective in media, entertainment, art. Wencke Mühleisen and Tua Hvelve.
Thursday September 8th
10.00 - 13.00, Scene 6
Lecture: Body and clothes and identity in a gender-perspective by Espen Ester Pirelli Benestad.
Monday September 12th
13.45 – 17.00, Scene 6
Lecture: Introduction to the "Four states of perception" by Wanda Golonka.
Thursday September 15th
12.00 -13.30, Scene 6
Lecture: Public presentation of clothes and choreography and discussion with audience
Course
Time: Weeks 34, 35, 36, 37- 2016
Starting Monday 22 August – Thursday 15 September
Schedule: Mondays from 13:00-17:00, Tuesdays, Wednesdays and Thursdays from 10:00-17:00
Continuation of the cooperation may extend into week 38 and 39
No fee.
Application deadline: August 8
Entry requirements: The course requires successful completion of a three-year Bachelor's degree in Costume Design or Dance.
Aim
In an interdisciplinary context the students will experiment and reflect upon:
The interaction of clothes and the body- in movement- in a performative context.
Develop specialized and deeper knowledge in the field of clothing and the moving body.
Gather existing knowledge and develop new knowledge in the field of clothing to dance.
Background
We will explore the boundaries of what is what in the meeting point between the dancer's body movements and clothing. Where does the dancer's body end and where does the clothes begin? What occurs in the fusion between the moving body and the clothes? How does the costume influence our view of the dancer's movement?
Anne Grete Eriksen and Christina Lindgren ask What are clothes to dance? - and invite students, teachers, artists and theorist to an interdisciplinary research laboratory spanning over four weeks in the autumn of 2016. The laboratory will be characterized by an investigative attitude and is process oriented. The result is a presentation/ display of the most interesting laboratory discoveries.
KHiO is one of the few art schools in Europe with choreography and costume education on masters' level under the same roof. We want to utilize this opportunity.
Starting point
The total of body and clothes can be called a "figure", a "gestalt" or "an appearance".
Apperance, accordingly to Oxford Dictionary, is defined as:
the way that someone or something looks
an act of performing or participating in a public event
an act of arriving or becoming visible
a process of coming into existence or use.
Clothes on a body has not only semiotic perspectives. We will investigate different perspectives to gain an understanding that can contain the complexity in this unity called an apperance.
The clothes of the dancer form the basis for the reading not only of the costume, but the whole dance. Costume designers and choreographers have different knowledge about what this figure indicates. An exchange of knowledge enhances an expanded and mutual understanding. Through laboratory experiments, we will examine these relationships. Through systematic investigations, we will put into perspective the interaction of clothes and body in dance in a performative setting.
Research
First perspective: Clothes and body as signs: Costume as Communication: The social life as a system of signs.
Relevant issues: What does the ordinary clothes we all wear in the daily life signals? What styles do we see and how does it affect our view of the one who wears the clothes? Is there a "neutral" costume?
Second perspective: The technical specifications of the costume and the consequences on the total scenic effect. Clothes as shape, colour and material. 
Relevant issues: What are the effects of the material specifications on the total scenic expression? How does costume emphasize the physical movement? Muscles. Power. How does light influence our perception of the fabric? What is the colour of black at the stage? Sustainability and consumerism.
Third perspective: Clothing and body and its sculptural possibilities: Costume as shape, colour, material in movement.
Relevant issues: What are clothes? How can clothes define the body? Clothes as objects/ wearable art and props. The limit between the body and clothing as a space in-between. Reconstruction of the body. Reconstruction of our view of the body.
Fourth perspective: Nudity, dressed and undressed
Relevant issues: Our view of the body, sexuality, and nudity on stage.
Theme nudity and on the stage in different cultural settings. The experience of viewing in performances in different countries / cultures.
Fifth perspective: Gender perspective.
Body, clothes, dance in a gender perspective.
Students attending the course
KHIO: MA1 and MA2 Costume Design: 4 students
KHIO: MA2 Choreography: 6 students.
Open: 6- 8 for national/ international dancers (etterutdanning)
Open: 3 for international costume students (etterutdanning)
Involved teachers from KHIO
Professor Choreography Anne Grete Eriksen / Academy of Dance, KHIO
Professor Costume Design Christina Lindgren / Design Department , KHIO
Costume designer and - maker at the Costume Departement KHIO Signe Vasshus.
Dance history: Assistant professor Snelle Hall
Associated
Fellow Norwegian Programme in Artistic Research: Yuka Oyama: Object and person activated in contemporary art practices
Researcher on Costume Doctoral Candidate Tua Helve Aalto University Helsinki 
Professor Hochschulübergreifendes Zentrum Tanz Berlin, Wanda Golonka: Transformation
Ingunn Grimstad Klepp: Clothes and consumption, SIFO 
Choreographer Mia Habib: Nudity on stage, dressed and undressed
Esben Esther Pirelli Benestad: Body and Identity Transformation
Dance Researcher Sidsel Pape and Professor in Costume Christina Lindgren
Clothes for dance through 144 years
Changes and specifications in this plan may occur.