Forelesning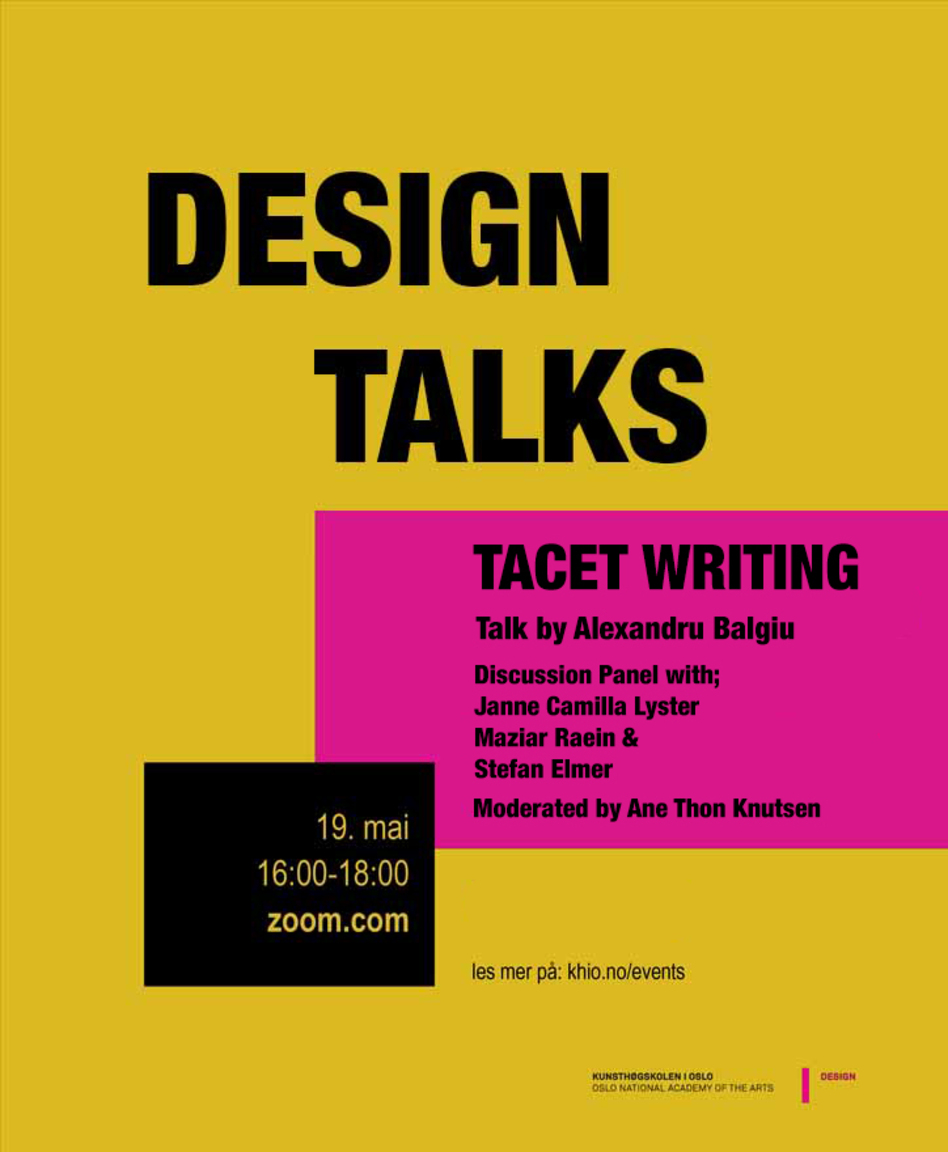 Design Talks: Open Research Forum
Tacet Writing - A talk by Alexandru Balgiu in which he explores the language systems of musical and choreographic scores and the embedded and tacit graphic language they employ, followed by a discussion panel.
This talk for the Craftsmanship Research group will be followed by a discussion panel with Janne-Camilla Lyster, Maziar Raein & Ellmer Stefan moderated by Ane Thon Knutsen.
Design Talks: Open Research Forum is the first of a series that aims at sharing the ideas and findings of a research project, while the project is in progress – a chance to share research as it develops. This particular talk is open to the students, staff & Research Fellows of the Department of Design and Dance at KHiO, and students and staff of NMH.
Craftsmanship
Is a three year Norwegian Artistic Research Programme project lead by the percussionist Kjell Tore Innervik of the Norwegian Academy of Music. It aims to explore the role of the tacit in the transmission of Norwegian instrumental traditional music (folk music) form generations of teachers to students through one-to-one teaching. The goal is, to find a language and vocabulary that can describe the craftsmanship and skills of the folk musicians and the tacit language employed in the transmission of this musical tradition.
As part of the cross institutional cooperation in this project KHiO's Department of Design led by Maziar Raein in conjunction with Ellmer Stefan (Design) and Janne-Camilla Lyster (Dance), are researching how the embedded and tacit graphic design languages – as expressed in musical and choreographic scores convey and instigate meanings and understandings, that ultimately manifest in expressions of music and dance.
Format
16:00 Introduction
16:05 Tacet Writing by Alexandru Balgiu
17:05 Break
17:10 Panel Discussion and Q&A from audience
18:00 End of session
This is the link to the event. You will be asked to register before accessing the event.
Participants
Alexandru Balgiu is an educator, designerwriter and bibliomaniac about the age of a Heidelberg GTO 52. You can catch him reading, playing and disseminating in Lausanne (écal), Lyon (énsbal), Paris (doc) or the bookshop next door.
Learning from the forest and the river.
Ellmer Stefan is a type designer based in Oslo, Norway. His practice combines design, research, teaching and self-initiated projects in the field of writing, lettering, typography … and beyond.
Janne-Camilla Lyster is a Norwegian choreographer, performer and writer. She has worked in the field of contemporary dance since 2006, and in 2019 she completed her artistic doctoral project Choreographic poetry: Creating literary scores for dance.
Maziar Raein is a graphic designer and educator and researcher. He has established and participated in a number of research groups and projects internationally. He also curates the KHiO Typographic Archive and has been published in Graphic, Typographics, Eye magazine as well as contributing to a number of other books and journals.
Ane Thon Knutsen is a trained graphic designer with a PhD from the Oslo Academy of the Arts. She has a unique knowledge of letterpress and is one of the few who manages and uses this technology in an artistic context in Norway. She owns and works in her own book printing workshop in Oslo and has over ten years of experience with teaching and training.