Utstilling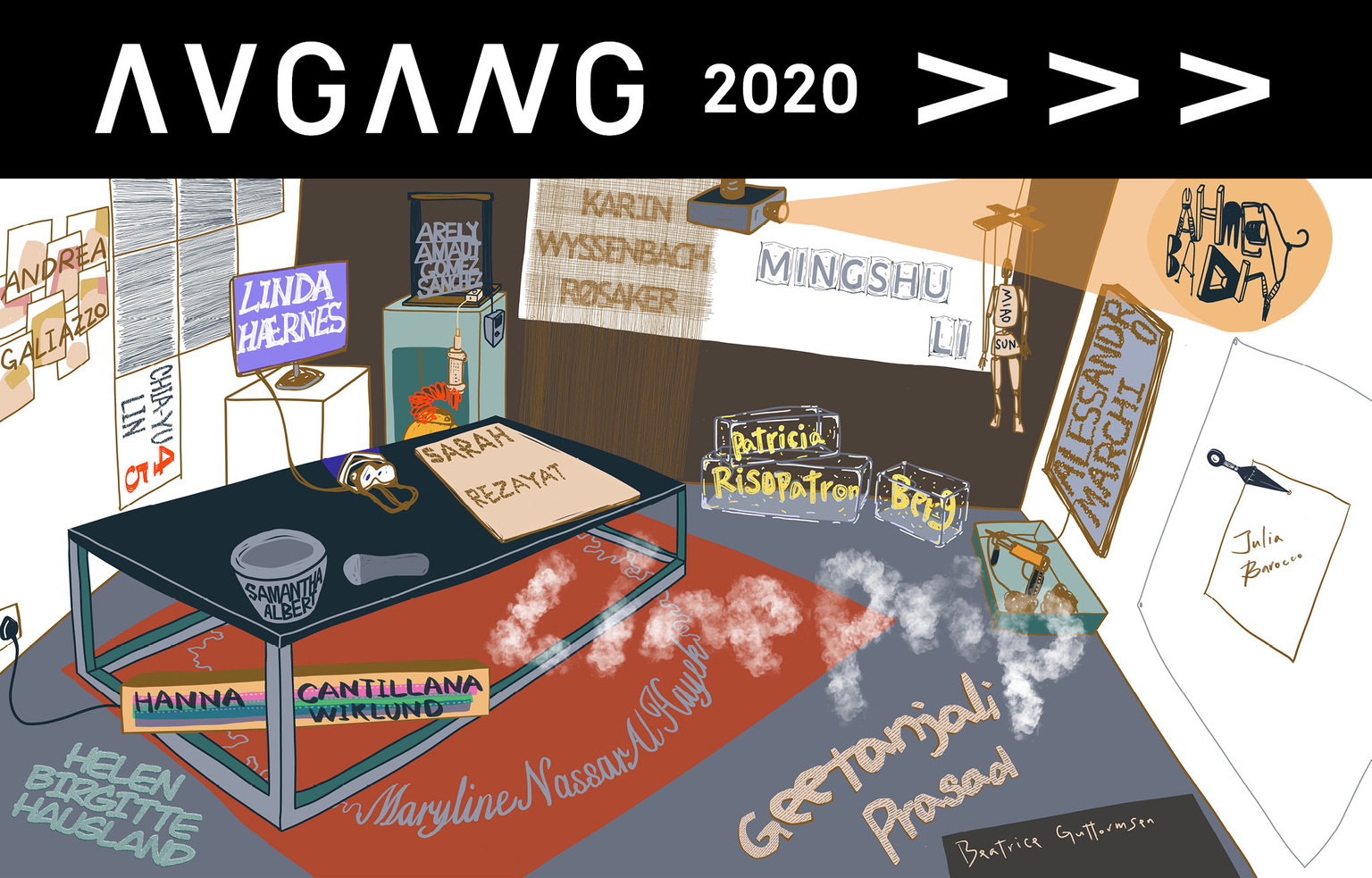 Avgang 2020: MFA in Medium and Material-based Art and MFA in Art and Public Space
I don't have a clue how to become an internet-based ceramicist forms and formulates a void that occurs when an artistic practice is deprived of the main medium, the defining material, or the institutional or public space from which that practice emerges.
Time/venue: Due to the national measures to stop the spread of the corona virus, all public events at KHiO are cancelled and dates are no longer valid. 
We, nineteen graduate students of KHiO's two MFA programmes, Medium and Material-based Art, and Art and Public Space, as well as two teachers and a curator, have given this void tangible form as a text, image, and audio montage of individual and collaborative contributions.
What happened was a caesura. We allowed ourselves and others space to respond to it in diverse ways. We named the said void, made it palpable, gave it expression in words and images, artistically, personally, in abstraction, as a class, and individually. This was important, for us, in order to once again make evident the urgency of our artistic work; and, too, in order to articulate what it means to restrict access to spaces of artistic knowledge production that, while obviously not essential to life, are certainly systemically relevant.

In this way, we made explicit the necessity of the physical, social, and discursive spaces that had been shut down, also in order to handle and safeguard them with greater care in the long term! We articulated why, more than ever in the digital age, we need looms, workbenches, kilns, printing workshops, and physical encounters in shared spaces.

The idea of writing a text together was hatched even before we knew what was to come. There was a desire to articulate something common to what is, too often, focused on the individual. To us, the form of a collaborative text made up of individual contributions that cross-reference each other seemed suitable for picking up small threads—threads that accompany us, that connect us, and that we would like to share. These threads are as much a part of our individual practices as of the collective psyche. In the course of the evolving events, the threads running through this text were woven into a rope which we could hold on to, and into which we could integrate those particles that seemed to be dissolving everywhere else.

The publication will be released on, June 19. If you are interested in a printed copy, please send an email with your inquiry to: chrikrok@khio.no

Take good care of yourself and others!

Samantha Albert, Arely Amaut, Ahmed Badry, Patricia Risopatron Berg, Julia Boracco, Andrea Galiazzo, Beatrice Guttormsen, Linda Hærnes, Helen Hausland, Mingshu Li, Chia-yu Lin, Alessandro Marchi, Maryline Nassar Al Hayek, Geetanjali Prasad, Line Prip, Sarah Rezayat, Karin Wyssenbach Røsaker, Miao Sun, Hanna Cantillana Wiklund, Sunniva McAlinden, Apolonija Šušteršič, and Joerg Franzbecker.