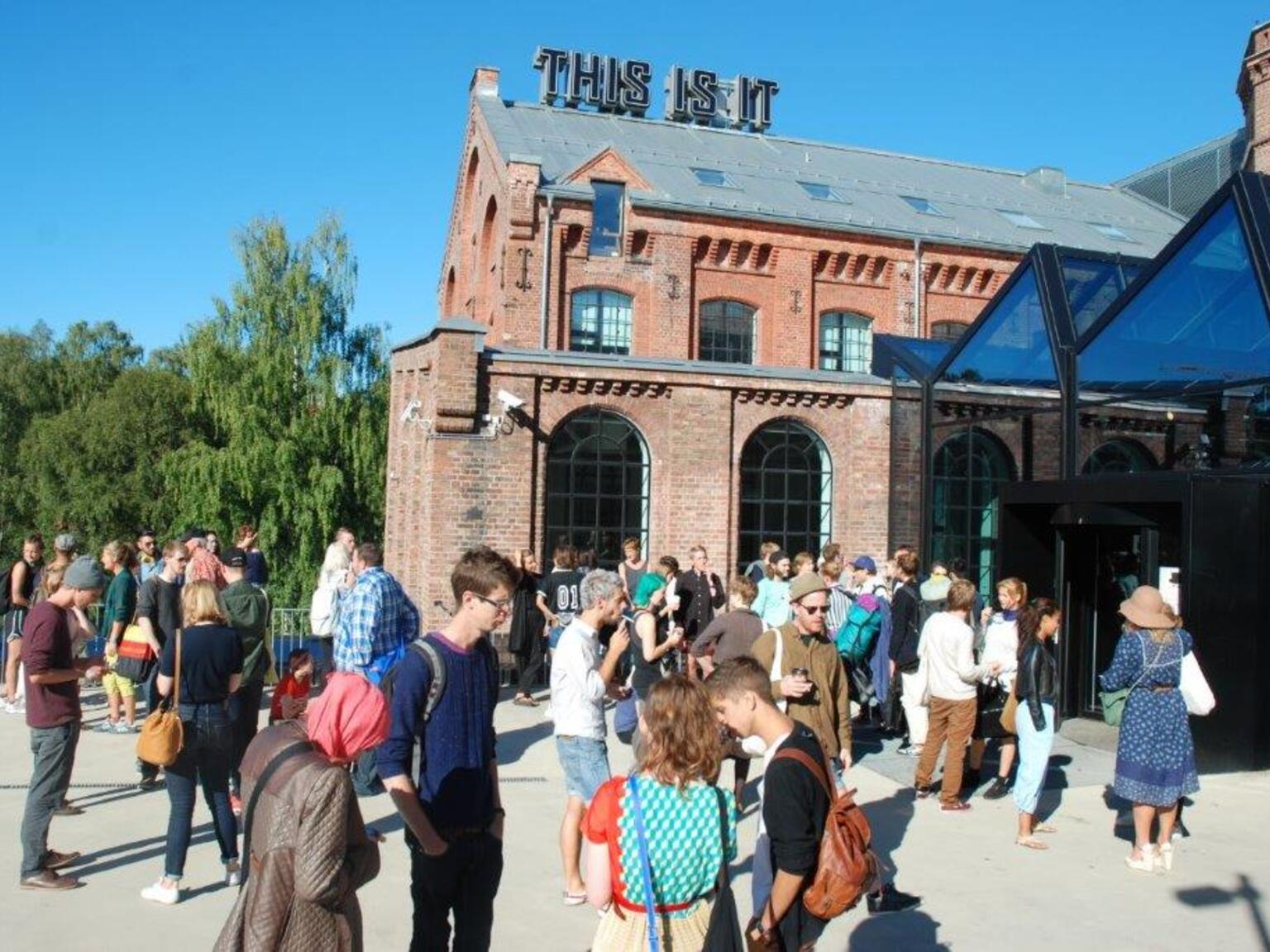 Five new teachers to the Academy of Fine Art
The Academy of Fine Art has employed five new teachers in a six year fixed-term. All five will start mid August 2019.
Tris Vonna Michell (Professor 75%, expertise within the field of sound as well as lens- and time-based formats) has been supply professor at the Academy of Fine Art, KHiO, the last three years.
Master studies in Visual Arts, Academy of Fine Art, Städel Schule in Frankfurt-am-Main, 2005 –2007.
Bachelors of Art (specializing in Photography), Academy of Fine Art, Glasgow School of Art, 2002–2005.
"I find teaching to have a critical influence on my practice, whereby I am constantly learning and exchanging, while also enabling collaborations with colleagues and communities on new sustainable structures, resources and content."
"Over the past few years I have been heavily involved in developing new film works and sound installations. The history and adaption of documentation strategies, along with its reception, is also an integral part of my methodology. I implement research to instigate new works, directions, detours, hence it becomes an inherent component of the aesthetic and theoretical fabric of my practice. My long-term research area is sound and concrete poetry and specifically the Letterism-movement, which has been a constant presence in
my artistic and curatorial practice."

Liv Bugge (Associate Professor 50%, sculpture) has been employed at the Academy of Fine Art as a PhD-fellow since 2013.
PhD, Academy of Fine Art, KHiO, 2013–2018
Second Postgraduate Laurate, Higher Institute for Fine Art, Belgium, 2001–2004.
National Academy of Fine Art Oslo, 1997–2001.
"After the rise of the discussions around the Anthropocene and the current global situation in terms of climate change and the state and effect of late liberalism, there is a urgent need to reformulate our way of being in the world. I think art has potentially important tools for suggesting other ways of seeing, doing and being. I see the production of art as a political tool, a tool for experimentally finding a voice and language that moves between and beyond the language of the majority-culture, and a tool to intersect formulations and fields of interest and imagery."
"Coming from a sculptural background, my work is interdisciplinary, including site-specific, sculptural work and moving images are the essential outcomes of my production of artworks. During 2019 I will round off two contexts or projects that have been very important for me, the artist-run platform FRANK, and the PhD- fellowship I have had at KHiO. Both of these projects have in different ways involved self-organization, and the building of discourse and community. Together with the students I want to explore what it means to have a practice radically grounded in material experience, and use this as a lens for exploring what it means to be human, and the relations to the non-human and non-living. Creating a group environment, inspired by feminist pedagogy helps all to contribute and learn from and with each other, including myself."

Pedro Gomez Egana (Professor 50%, sculpture and installation) is a visual artist, born in Colombia, living in Oslo. Professor of sculpture and installation, Academy of Fine Arts - Department of Contemporary Art, University of Bergen.
PhD Art, Fine Arts, Bergen National Academy of Arts 2008–2012.
Master in Fine Arts, Bergen National Academy of Arts, 2006–2008.
Bachelor Music–Composition, Music, Goldsmiths College, University of London, 1998–2001.
"After growing up as a musician, I progressively shifted my interest towards a practice that questioned the relationships between performativity and the exhibition of objects and images. My sculptures, immersive installations and video works take a look at our relationship with technology from historical and current-day perspectives. These works explore how notions of time, agency and affect are defined in our interaction with technology, be it industrial machines, ancient inventions, or science fiction narratives. This includes also the intersection between the industrial and mystical, as well as the psychological undertones of digital culture. My practice could thus be said to explore questions surrounding three main research areas: historical machines, present-future affects, and shaping attention."
"Through nearly 20 years of professional artistic practice, my parallel engagement with art education has become an invaluable component. I have developed to be an artist who benefits from, and believes in the potential of the art academy as a place where artistic practice and discourse can take place in unique and powerful ways. My approach to teaching seeks to encourage discussions on objecthood, spatiality and the event in relation to immediate circumstances, as well as broader cultural contexts (societal, institutional, political). I find it fundamental that artists consider how their work exists in tension with broader historical and cultural layers that might be present. Notions of staging, dramaturgy, temporality, agency and territory are fundamental in my teaching."

Marthe Ramm Fortun (Associate Professor 100%, sculpture and installation) lives and works in Oslo and Paris. She is a current resident at Cité Internationale des Arts, and teaches at the Academy of Fine Arts.
Post-academic independent study studio program, Higher Institute of Fine Arts HISK, 2013–2014
Master of Fine Arts, School of Culture, Education, and Human, New York University, 2006–2008
"I see teaching as an opportunity to intervene upon obsolete languages together with students and colleagues. I am concerned with practices that build consequences rather than affirming the monumental, as well as life spanning artistic practices that cross genres to survive, countering a slanted, discriminating art marked not with silence, despondency and complicity, but rich, evolved and eloquent poetic and discursive languages."
"Ways I operate as an artist include performing site specific texts using elusive sculptural boundaries to inscribe closed off institutional spaces with persistent and poetic feminisms. Like wrenched and walking archives, the performances form temporary groups that look around in joy. Flower eaters and fluid leakers lay claim to agency and subjectivity against the numbing affect of unresolved trauma and anger and its retort to the collective subconscious. Books, bricks and bodies traverse the borders of the nation state and are flung across faulty canonical timelines."

Melissa Gordon (professor 75% – expertise in painting/drawing) lives in Brussels and will commute between Oslo and Brussels.
PhD , Fine Art, Kingston University, 2016–2020
Masters, Fine Art, De Ateliers, 2003–2005
Bachelor Painting and Printmaking, BFA Painting, Rhode Island School of Design 1999–2003
Melissa Gordon is a painter who works physically and conceptually. "All of my work is situated within the discourse of painting, even though I often use silkscreen, performance and consider the installation elements as a further painterly lens."
Gordon is both a writer and works in an editorial fashion with other writers and artists, producing feminist magazines, organising exhibitions and conferences. Her recent research focuses around the value of gesture, and she is currently writing a PhD with a focus on the behaviour gesture in relationship to liquidity in painting.
"I am very interested in engaging in an environment in which knowledge production, through investigative, experimental pedagogy is something to be involved in as a teacher who can bring students with them into these discussions. I am excited to bring with me to Oslo a wide network of contemporary artists with whom I have worked and am engaged with – in publishing and exhibiting their works and in conversations. This level of discourse is something that I think is important as an artist which when teaching, and I hope to transmit and expose students to these contemporary discourses."