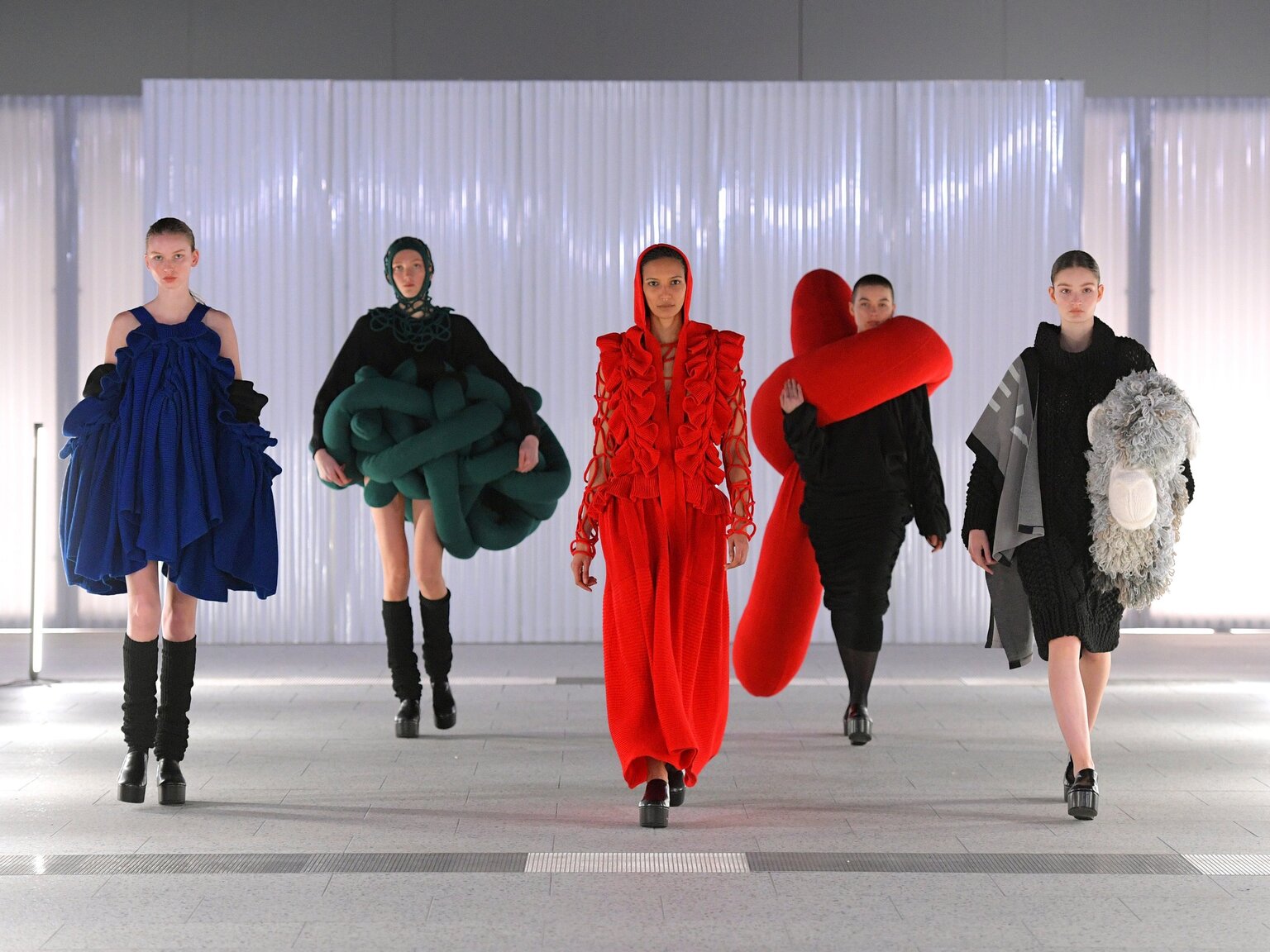 Designers' Nest 2022
Rintaro Iino is the recipient of the Internship Award at this years' Designers' Nest. Held at Copenhagen Fashion Week the show supports the best fashion graduates from the Nordic countries.
KHiO are proud to announce we had not just one, but two finalists in this years' Designers' Nest. Rintaro Iino and Bror August Vestbø both got to show their Masters' graduate collections on the catwalk.
As an avid collector of vintage, Bror August has repurposed vintage clothes that challenge the concept of taste and have unresolved potential. Read and see more of his collection "Miss France".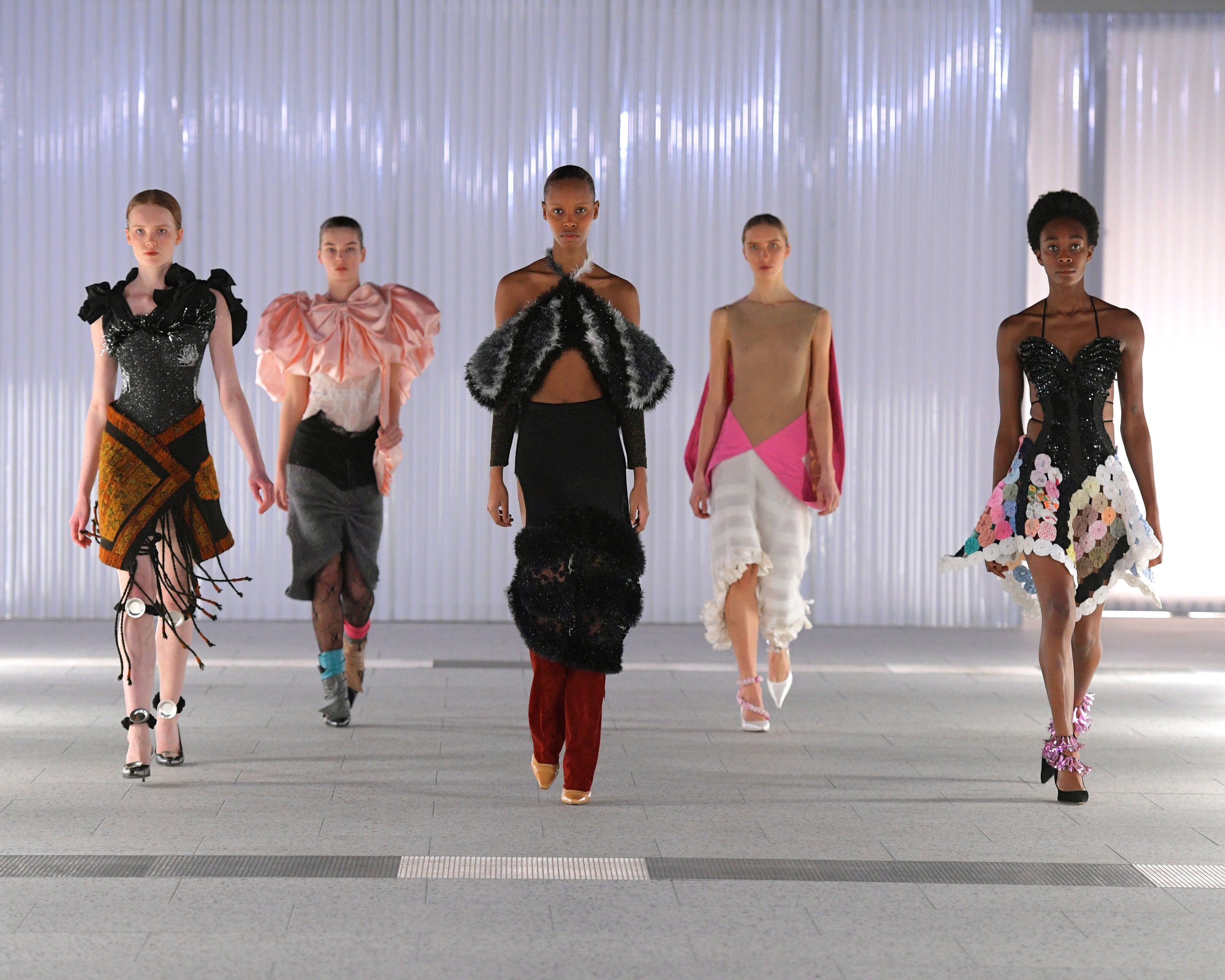 Rintaro Iino won the Internship Award with his "Black Sheep" collection. The Creative Directors of Trussardi, Benjamin Huseby and Serhat Isik, have personally selected Rintaro to intern at their studio in Berlin. Huseby and Isik are also the Creative Directors of GmbH, and Trussardi will be relaunched under their direction.
"I was so honored to be chosen for the internship since the two brands are very interesting and they have a very different background." Rintaro Iino tells us he is excited to experience the overall flow in the brands and contribute to the design team in Berlin, where he will work for GmbH and the rebranding of Trussardi.
"Studying at KHiO was really nice giving me time to reconsider what I really want to do. The tutors helped the theoretical side of my creation and I could spend a lot of time making my concept stronger and deeper."

Using wool yarn and knitting techniques only, Rintaro Iino's sculptural knitwear collection elevates one of the oldest traditions of handicraft to a new level. The work is based on the story of the life of an actual New Zealander Merino wether sheep. Merinos are normally shorn annually, but this sheep escaped from the farm and wasn't shorn for six years while it was hiding in a cave. As a result, his wool coat had become a guarding wall, an armour that protected him from predation, which earned him the name "Shrek", after the fictional ogre. Rintaro has translated the story into a collection of sculptural knitwear that symbolises solitude in the form of large knitted silhouettes, separating and protecting us from the pressures of the social world. All knitted elements - braided ruffle knits, knitted stuffed boa, knitted tubulars, cord knits and chunky sweaters - are linked by either hand knitting, knitting on a domestic machine or digital knitting. No sewing is used at all. All wool yarns used are from Hillesvåg, one of the biggest Norwegian wool yarn companies.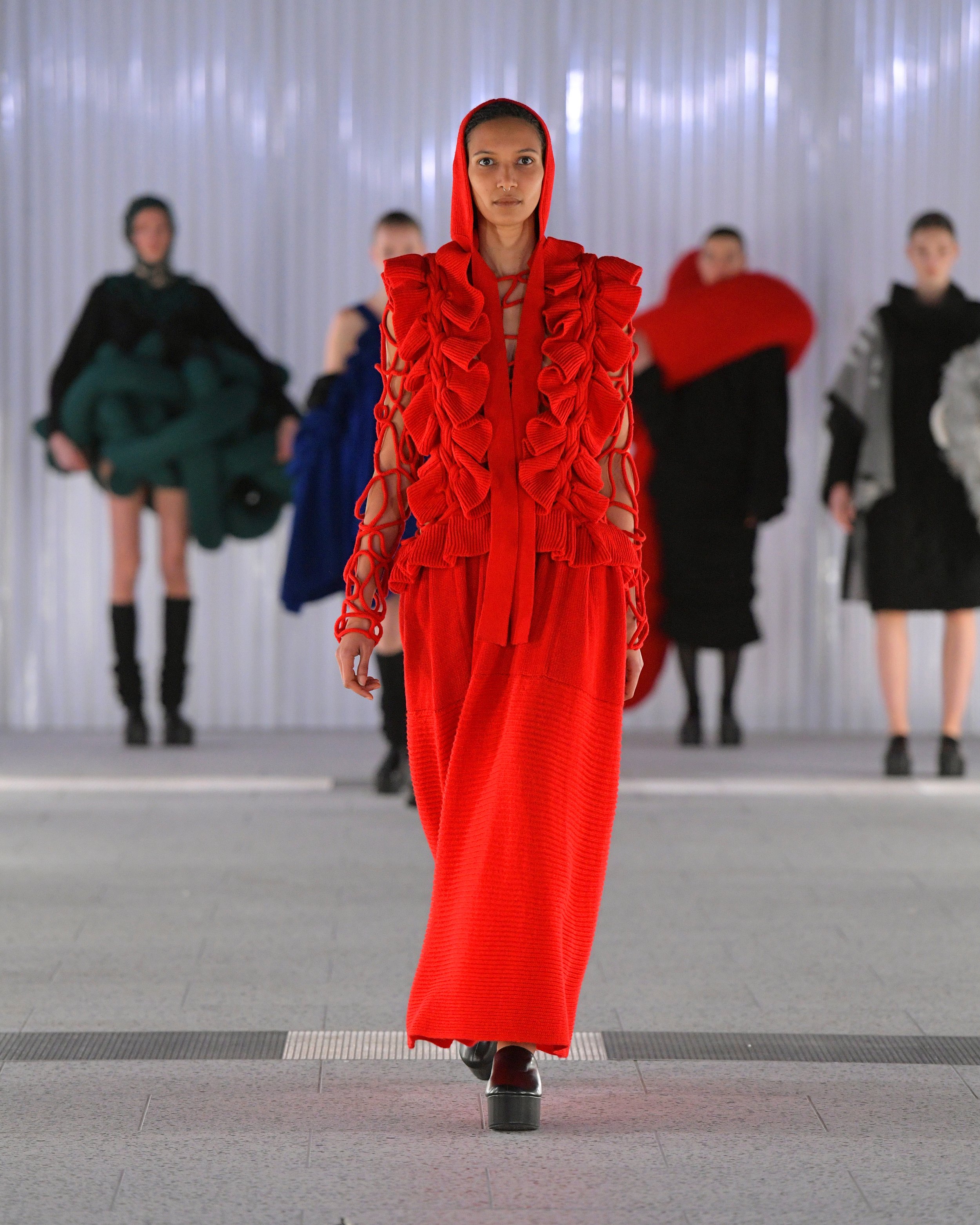 The Designers' Nest Award 2022 was received by Boram Yoo, an MA-graduate of Aalto University. She wins 50.000 DKK (€6,700) as early support of her work and receives a study trip to UEDA College of Fashion in Osaka, Japan.
Leevi Ikäheimo, BA-graduate of Aalto University, is the winner of The Exhibition Prize 2022. Awarded by Pernille Stockmarr, curator at Designmuseum Danmark, Ikäheimo will now be featured in the museum's upcoming large-scale exhibition The Future is Present, opening in June.
The internship prize is the result of a new collaboration with the creative directors of the Italian label Trussardi, Benjamin Huseby, and Sehat Isik from GmbH. They have selected Rintaro Iino, MA-graduate of Oslo National Academy of the Arts, for an internship at Trussardi at their studio in Berlin.
And once again for 2022, Browns Fashion and Designers' Nest join forces in supporting emerging Nordic talents. Ida Petersson, Womenswear and Menswear Buying Director at Browns, has picked Frederik Taus, MA-graduate of The Royal Danish Academy, to develop a sustainable collection for the retailer in collaboration with sustainable production agency The Bear Scouts.