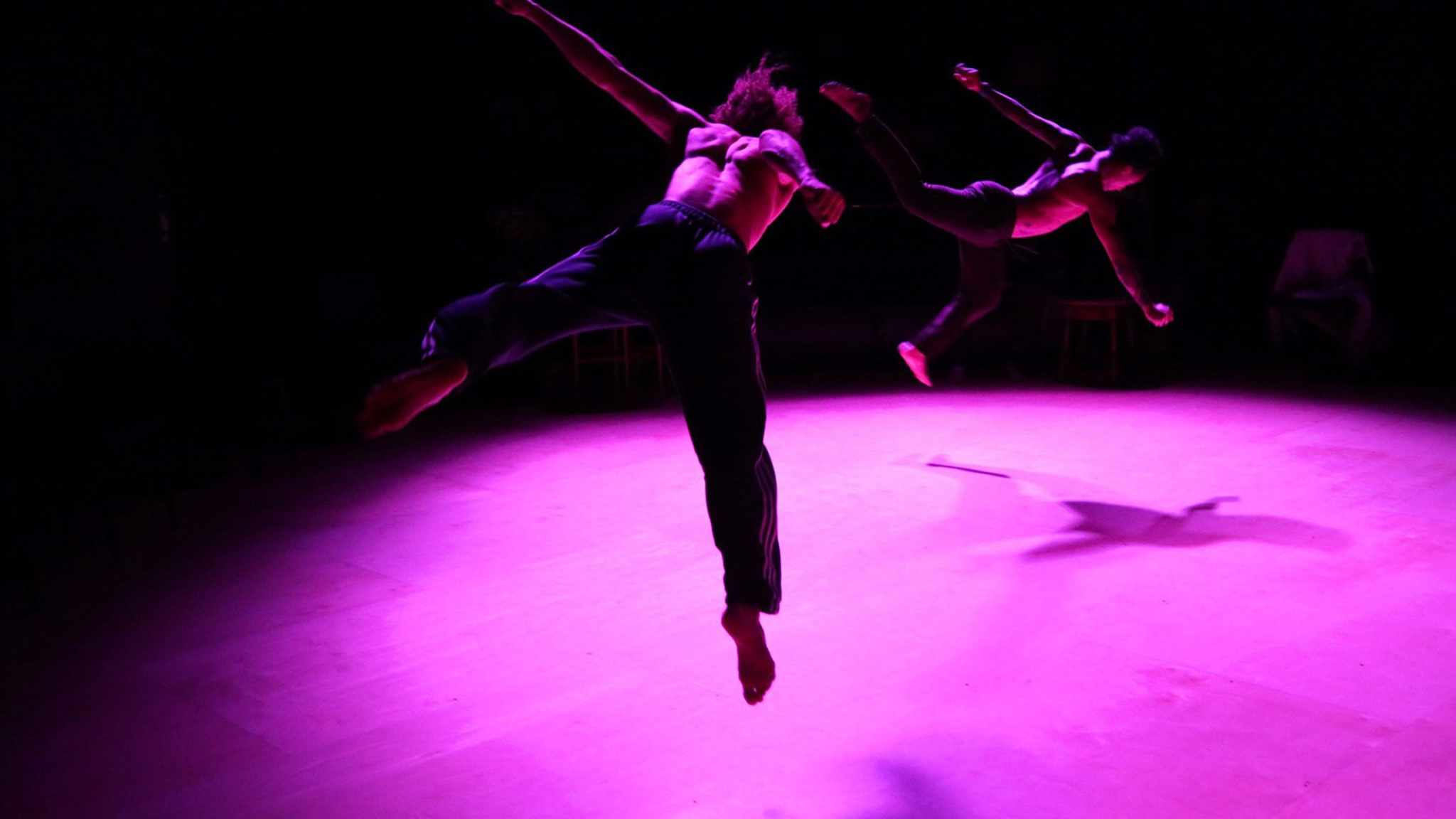 Master's in choreography
The master's programme in choreography is a two-year full-time programme. It builds on a broad understanding of choreography and is for students who wish to develop and deepen their artistic understanding through creative practices and critical reflections. The programme's key subjects are: choreographic tools and methods, project work and performances, performance theory and philosophical aesthetics, and the master's project. The subjects include also the module Nordic Choreographic Project (NCP) which is shared and run in collaboration with the master's programmes in choreography in Stockholm (SKH), Helsinki (TEAK) and Copenhagen (DASPA). Each semester the Nordic choreography students will meet around shared themes on various locations in the Nordic countries.
The master's programme emphasizes interdisciplinary collaboration, artistic development in the tension field between tradition and innovation, and gives insight into planning, realizing, and assessing tasks and projects in collaboration with others. Choreographic issues are explored artistically as well as in a historical and social, national and international context.
Subjects are addressed in various formats such as workshops and study tours, lectures and seminars, projects and performances. Teaching takes place in groups, individual tutorials, and through self-study – in continuous dialogue with teaching staff, other students, research fellows and guest teachers. Parts of the programme are in collaboration with the master's programme in dance and other study programmes across disciplines, both at KHiO and at other institutions, such as Nordic Choreographic Project.
The unique facilities at the Academy of Dance provide excellent working conditions and professional standard stage experience. Students also have access to a large library in the fields of performing arts and visual arts.
The programme offers methodical and professional skills in choreography, a national and international network, and experience in project management. Additionally, the programme prepares students for research and for applying to the PhD programme in Artistic Research and other relevant doctoral programmes.
Specializations and interests
The core group of teachers has the following interests and area of specializations:
Movement development, choreographic composition and staging
Docudancing (choreography drawing on ethnographic fieldwork and documentary material)
Trauma and memory studies
Performance Studies
Prefigurative practices, including notations and scores
Dance Dramaturgy and Performance Theory
Current Artistic Research projects
The core group of teachers and research fellows affiliated with the programme are engaged in the following artistic research projects:
Craftsmanship (in collaboration with the Design department and NMH)
Library of gestures - movement choir research
Choreographic investigations of the Noa Eshkol Archive
Choreography as meaning-generating aggregate
Choreography as modes of displacement and dissemination
Love on the Dance Floor / Social choreographies of love
MEMORYWORK (in collaboration with the Art and Craft department)
Singularities and the shared Commons (explorations of authorship in dance and choreography)
Social Dramaturgy
Somatic Costumography (hosted by the Design department)
Pool of teachers
The pool of teachers in the programme includes Saša Asentić, Olive Bieringa, Jonas Kure Buer, Jonathan Burrows, Dragana Bulut, Bojana Cvejić, Mette Edvardsen, Anne Grete Eriksen, Ingri Fiksdal, Niklas Gansterer, Rosalind Goldberg, Deborah Hay, Solveig Styve Holte, Marius Holth, Lisa Baudouin Lie, Janne-Camilla Lyster, Chrysa Parkinson, Anders Paulin, Manuel Pelmuş, Per Roar, Torunn Robstad, Eszter Salamon, Eivind Seljeseth, Hooman Sharifi, and Elle Sofe.
Curriculum
Brief Programme Description
The Master of Choreography programme is a two-year full-time study that is based on a Bachelor's degree in dance or equivalent education and/or experience.
The programme is for students who want to specialise and challenge themselves in choreography, both artistically and methodologically, conceptually and contextually. The programme educates students to be able to work independently as creative artists and choreographers within various traditions of dance as a performing art and in collaboration with practitioners from other artistic disciplines.
The programme is based on experimental and dialogue-based learning with an emphasis on reflective thinking. Students shall develop their choreographic understanding and practice, artistically as well as contextually. The course will emphasise the importance of interdisciplinary cooperation and communication in choreographic activity, and it will give students an introduction to written reflection and documentation.
The programme introduces and prepares the students for artistic research and development, including potentially taking a PhD degree, through the use of research-based teaching.
The programme is locally anchored with an emphasis on international network building. This network building includes an inter-Nordic component that is offered in partnership with the other Master of Choreography programmes in the Nordic region, that is in Stockholm, Helsinki and Copenhagen. This Nordic component is integral to the programme and offers the students a larger and more academically robust learning environment, encounters with selected performance venues in the region, and a Nordic and international network.
The Master's programme will provide students with competence to work as choreographers and creative artists whether as freelancers or in established companies and institutions, with artistic research and development, and as active agents in the performing arts field and society at large.
The programme corresponds to 120 ECTS credits and qualifies students for admission to the PhD in Artistic Research and other relevant doctoral programmes.
Admission Requirements
The Master's programme is based on a three-year Bachelor's degree in choreography or dance (180 ECTS credits) or other relevant education. Applicants must document a minimum of 80 ECTS credits from disciplines that are relevant to the Master's degree. Applicants must also document their choreographic practice. Applicants with a lower content of dancerelated or choreographic subjects in their degree may also apply for admission if they can document other relevant education and/or practice/work competence of a scope and level that may also qualify them to admission to the programme.
Applicants must document their proficiency in English, for example through a TOEFL test with a minimum score of 500, an IELTS test with a minimum score of 5.0 or other equivalent documentation. Applicants who document an educational background from another Nordic country or from an Englishlanguage country do not need to submit further documentation of their proficiency in English. The admission to the Master's degree programme takes place in three phases:
a formal assessment of the application and the applicant's competence
artistic assessment of the applicant's qualifications, on the basis of the artistic works cited in the application as well as a written reflection on the applicant's motivation
an audition consisting of a mix of choreographic and written assignments, including an interview
Only applicants who are deemed to be qualified in both phases 1 and 2 of the admission process will be invited to phase 3, the audition.
The admission process will be based on an overall assessment of the applicant in regard to the following:
choreographic expression, individuality and creativity
the ability to reflect on choreographic work
composition and improvisation skills
motivation
collaborative skills and personal suitability
Learning Outcomes
The learning outcomes of the Master's programme are described as follows:
Knowledge
Upon completing their education, students shall
be able to creatively and critically use various choreographic and aesthetical perspectives and traditions in their own and others' creative work
have knowledge of project management and have gained insight into choreographic issues related to professional ethics and copyright
be able to analyse and relate choreographic perspectives to current processes and problems in various traditions of dance and in society
have knowledge of artistic research
Skills
Upon completing their education, students shall
be able to manage and assess various choreographic assignments and projects in various contexts
be able to use knowledge of project management and demonstrate collaborative competence in the work on choreographic projects.
be able to use various methods and processes in order to develop contextually relevant performance formats and audience relationships
be able to contribute and develop the field further
General competence
Upon completing their education, students shall
be able to use relevant methods in order to articulate and carry out complex artistic projects and work as creative artists in various professional contexts
be able to work as a responsible artistic leader, maintain questions of professional ethics in the creative work, and reflect on the choreographer's role in a project
be able to participate in relevant discourses in the national and international contexts.
Structure and Progression
All the courses in the curriculum support, develop and lay a foundation for the professional competence the students will need later during their professional careers, as described above in section 1.4 ("The Programme's Learning Outcomes").
The programme's academic content has been divided into the following courses:
Choreographic Tools and Methods
Project and Performance Work
Nordic Choreographic Project
Performance Theory and Philosophical Aesthetics
Master Project
ECTS credits are used to indicate the scope of the study/work required by the programme's courses. 60 ECTS credits correspond to a year of full-time study. One ECTS credit corresponds to 25 to 30 hours of work by the student. Hours of work include all work, in addition to teacher-led teaching, workshops, seminars, lectures and work on assignments, project work, independent studies, etc. Some courses may rely heavily on teacher-led instruction, while other courses emphasise the student's independent work.
Exchange
Students at the Oslo National Academy of the Arts have the opportunity to participate in an exchange programme at another institution of higher education during their studies. Students at the Master of Choreography programme may participate in such a programme during semester 2 or 3, that is during the second half of year 1 or the first half of year 2.
Updated information on the Academy's exchange programme agreements is available at www.khio.no.
These exchange agreements are valid for master's in choreography:
Teaching and Learning Methods
The education is based on artistic, research-based and experiential knowledge, and is part of the critically reflective artistic development at the Oslo National Academy of the Arts. The teaching is based on a dialogical view of learning.
The programme consists of an interchange between various learning methods, including teacher-led learning, supervised project work and independent work. Collaboration is central to certain parts of the programme. The working methods may consist of studio-based assignments, workshops, group and project work, fieldwork, seminars, lectures, written assignments, independent study, field trips, institution and exhibition visits, and attending performances.
The teaching takes place both in groups and individually, and the focus is on the individual student's development. Students are expected to reflect on and take responsibility for their own learning. In a collective art form such as the performing arts, this entails that each individual student takes responsibility for the group's progression. The importance of understanding this collective dimension is underscored by the active use of various types of collaboration (often based on mandatory assignments that are to be solved and shared with others), peer review by other students, and dialogue-based feedback. Sharing work processes and assignments is central to the programme and will be done in various ways, ranging from online documentation and informal studio presentations to more finished productions.
The Project and Performance Work courses and in particular the Master Project include a large degree of independent artistic work. This independent artistic work will be based on creative experimentation and demonstrate both reflection and a maturation of artistic insight. The students themselves choose which area within the field of choreography they want to specialise in and must set up a relevant bibliography in consultation with the educator in charge.
The programme's coursework requirements are
mandatory attendance
active participation in the education
completion of all the mandatory assignments in each course
Further information on coursework requirements is available in the individual course descriptions.
The programme is conducted in English, so that all the courses can be completed and all the academic choices can be made without the students mastering Norwegian.
Provisions on absence and leave have been laid down in the regulations concerning studies at the Oslo National Academy of the Arts.
Assessment
All coursework requirements must be fulfilled in order for the students to receive their final course assessment.
The students' work in the programme shall be supervised and assessed on an ongoing basis. Supervision and assessment are a continual process related to the programme's learning outcomes and content. The ongoing assessments are based on the educators' assessments, the peer review by fellow students, the student's own reflection on his or her own development, and the fulfilment of the coursework requirements in each course.
In addition to the ongoing assessments, a course may also be concluded with written reflections, a practical demonstration or an artistic result in the form of a production or display that is assessed on the basis of the course's learning outcomes.
The assessment usually takes place in cooperation between the student, the educator/supervisor and/or the Head of the programme. The Master Project will be assessed by three examiners (two internal and one external).
For further information on how each course is assessed, see the various course descriptions.
The student must pass all of the first-year courses in order to progress to the second year. All of the programme's courses must be passed in order for the student to achieve the degree of Masters in Choreography.
The programme uses a pass/fail grading system.
Further provisions on assessment and exams have been laid down in the regulations concerning studies at the Oslo National Academy of the Arts.
Quality Assurance
The Oslo National Academy of the Arts has systems for assuring and enhancing the quality of all parts of the education. Students are important contributors to this work, for example by participating in student evaluations and the annual learning environment survey.
Admissions
There are no plans for admitting students to master's in choreography the coming year.
About the Academy of Dance
The Academy of Dance was founded in 1979 as the National College of Ballet and Dance (Statens ballettskole). Since 1996 it has been part of Oslo National Academy of the Arts (Kunsthøgskolen i Oslo), which brings students of different disciplines together to form a broad, international community of arts and artistic skills. The unique facilities at the National Academy of the Arts, including well-equipped stages and studios, mean that students at the Academy of Dance have excellent opportunities to develop in a state-of-the-art working environment.