Performance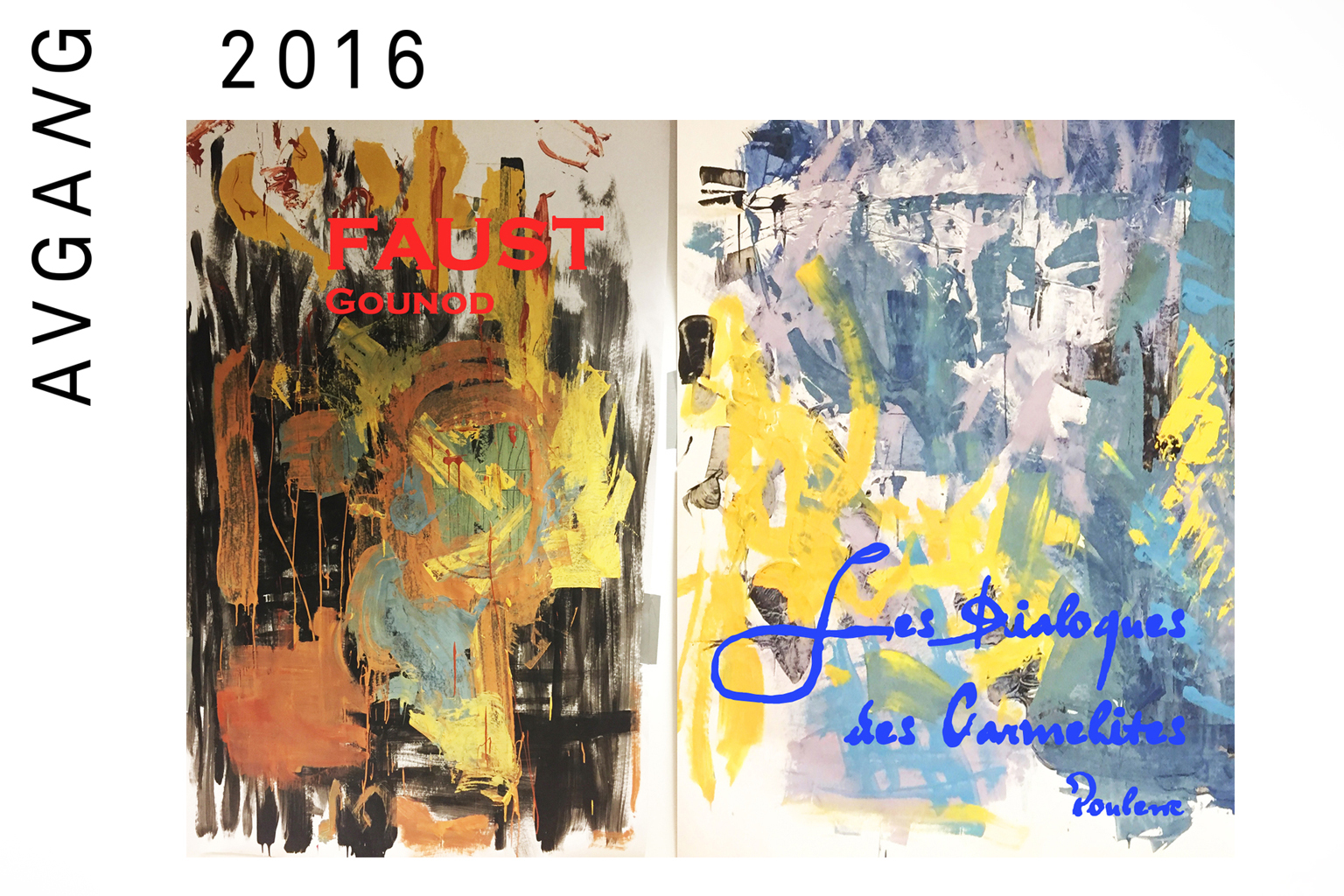 Avgang 2016: Academy of Opera students perform Faust and Dialogues des carmélites
Bloody massacre on a group of nuns and a man selling his soul to the Devil: Graduating students perform excerpts from operas Faust by Gounod and Dialogues des carmélites by Poulenc.
Stage direction
Catarina Gnosspelius
Conductor
Gregor Bühl
Costume
Eli Beate Vevang
Scenography
Anja Elise Granlund
Margarita Kolesnikova
Mads John Thomseth
(from bachelor programme in interiour architecture and furniture design)
Cast
Faust av Charles Gounod
Faust: Espen Solsbak
Marguerite: Anna Matilda Sterby
Méphistophélès: Emil Havold Naeshagen
Valentin: Eilert Egil Taugbøl Hasseldal
Siebel: Therése Thylin Lindmark
Dialogues des carmélites av Francis Poulenc
Blanche de la Force: Agnes Auer
Soeur Constance: Ingvild Gomnæs Loen
Novelle Prieure 1: Eirin Kvamo Løvstad
Novelle Prieure 2: Renate Ekerhovd
Mère Marie: Marcela Randem
Mère Jeanne: Therése Thylin Lindmark
Soeur Mathilde: Anna Matilda Sterby
Marquis de la Force: Emil Havold Næshagen
Un officier: Espen Solsbak
Le Geolier: Eilert Egil Taugbøl Hasseldal
Faust
Opera from 1859 by Charles Gounod. Libretto based on the novel by Goethe. (Extracts composed so that the main storyline of the opera remains.)
Introduction:
Faust, and aging doctor is depressed and dissatisfied with his life.
Valentin, a soldier, enters with his sister Marguerite . He receives a lock of hair from her.
Siebel, a young man in love with Marguerite, follows their actions.
Storyline
Faust curses both science and faith. "Come to me, Satan!" he calls out. Mephisto arrives, wondering how he can please the doctor. Faust makes a pact with the devil and offers his soul in exchange for Youth (represented in an image of Marguerite).
Valentin is leaving for war, carrying the lock of hair as a lucky charm close to his heart. Siebel offers to guard Marguerite while her brother is away. Valentin prays; if he dies on the battlefield, let him watch over his sister from above.
Mephisto reveals his true self in the legend about the dance around the Golden Calf, a ball where "Satan himself is the conductor". His presence is now in the air, making everyone uneasy.
Siebel, proud of his poems ("flowers") to Marguerite suddenly drops the papers. Is this the work of the evil sorcerer? After caressing a picture of Marguerite, Siebel regains his power and hope. "Satan, I laugh at you!"
When Mephisto sees the poems on Marguerite's doorstep, he laughs. He will find a gift more exquisite.
Alone, Faust feels life and warmth running though his veins. He opens his heart for the love of Marguerite, but he also wants to save her from ruin. When Mephisto returns with a bag filled with jewelry, Faust wants to leave – in vain. Mephisto and Faust hide.
Marguerite is pondering over her earlier encounter with Faust. She sings a ballad of the King of Thule – a story about true love – but can't help thinking about the doctor. When she finds the jewelry she is enchanted and tries it on, pretending to be a lady - ready to meet with a man ...
Valentin, returning from the front, rushes in to protect his sister. Faust and Valentin duel, and with the help of Mephisto, Faust kills Valentine. Mephisto casts a spell over the clearing where the lovers now shall meet.
Under the watchful eyes and malevolent laughter of Mephisto, it is clear that the seduction and ruin of Marguerite is now inevitable.
Dialogues des carmélites
Opera from 1956 by Francis Poulenc. Libretto Georges Bernanos, based on the true story of the Carmelite nuns who were guillotined in Paris in 1794. (The full opera, but shortened.)
Storyline
Revolution, terror, screams.
Blanche de la Force, pathologically afraid of everything, tells her father the Marquis that she wants to enter the Carmelite monastery. This shall sooth her poor nerves.
In the convent, during the daily routines, the jolly Sister Constance tells Blanche that she has had a dream that the two of them will die together.
That night the old prioress dies in pain and agony.
The two young nuns are left to pray in the crypt, but when Constance leaves Blanche is completely terrified. Mother Marie enters, and soothes her.
Two new prioresses are selected and they hold a speech to the assembly; "There is terror around us, but our duty is to pray - and God decides who will be martyred, we don't". The nuns pray Ave Maria together.
A revolutionary enters, announcing that the nuns have to give up their religious habits. With Mother Marie leading them they refuse, and consequently are arrested. But Blanche sneaks off, secretly followed by Marie.
In her old aristocratic home, Blanche now plays the role of a servant since her father has been executed. Mother Marie enters, wanting Blanche to join the nuns again. Blanche explains that she has always lived in fear, and that she has no idea of what to do. Marie tells Blanche of a house where they can meet the next day, but Blanche is too decrepit and Marie stays with her.
In prison, the nuns have experienced their first night. Mother Theresa assures them that the next night will be much easier, and that they now can be martyrs, although she stated otherwise. Mother Lidoine reminds them that Jesus himself was afraid in the olive garden. Constance is worried; Blanche has to come back … because … because of her dream.
The revolutionaries enter with a list of names (the authentic names from 1794 – we didn't want to change this, although our version of the opera has fewer nuns). All these women are accused of fanaticism, crime, incitement and illegal activities in the name of God - and therefor condemned to death.
The nuns gather for a final blessing.
The next day, the Carmelite nuns slowly mount the scaffold, one by one, singing the Salve Regina. At the last minute Blanche appears and walks with Constance to her death, but also to her conciliation. (The words that Blanche sings at the end of this opera are the actual words the nuns sung in 1794, from the psalm Veni Creator.)