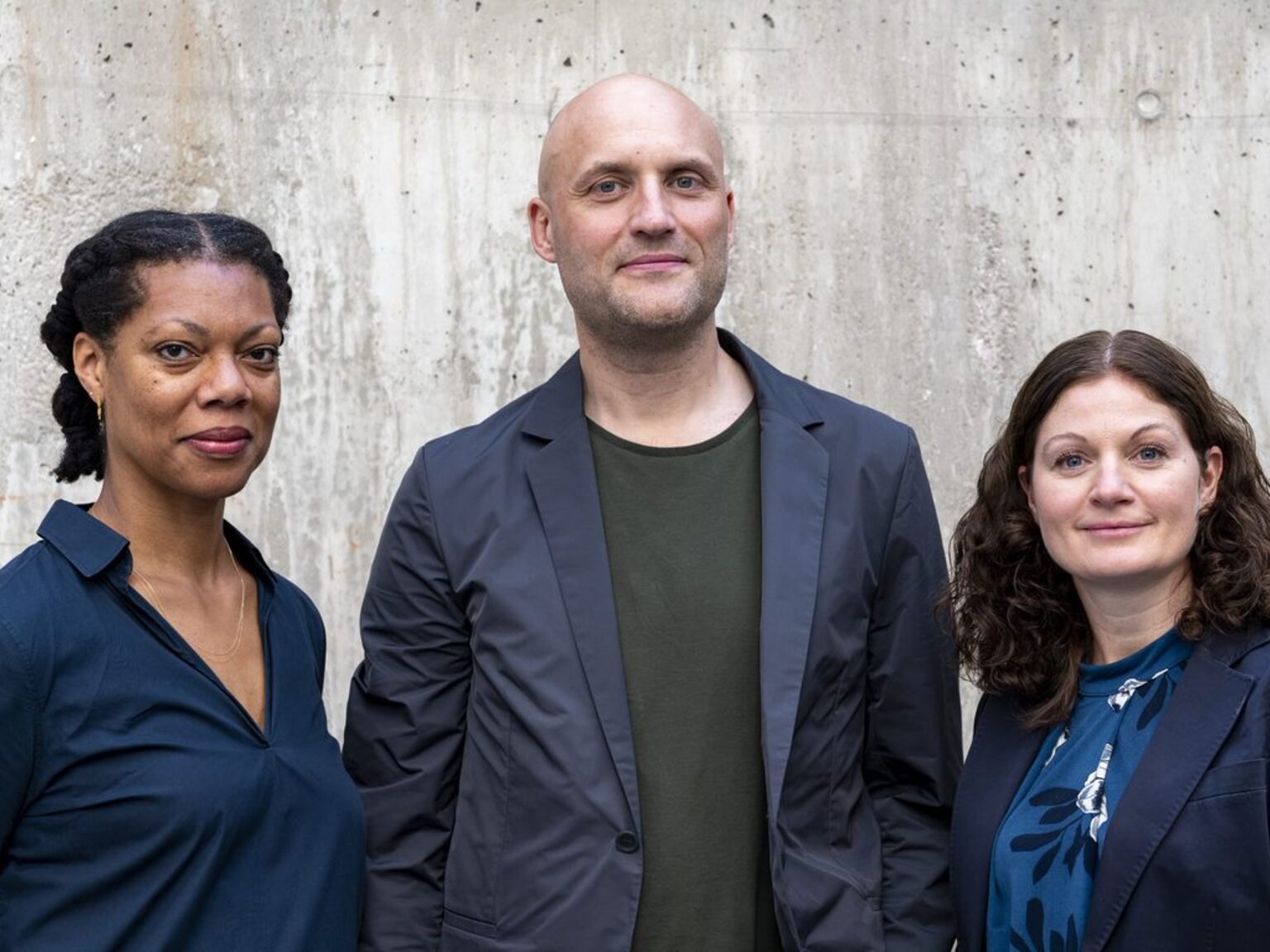 Meet the New Rector and Prorectors
The new rector at the Oslo National Academy of the Arts, Markus Degerman, will be working together with Heidi Haraldsen, the elected prorector of education, and Camille Norment, the hired prorector of research, to promote dialogue and help the Academy focus on its core tasks of research, education and knowledge transfer.
"Students at the Academy get one of Europe's most cost-intensive educations," the new rector explains. "We have around 43,000 square metres of floor space, 600 students, highly sophisticated facilities in our many workshops and an extremely capable staff. As a student, if you avail yourself of these facilities and the staff's know-how, you will find a wealth of opportunity here. Not only that, but we're located right in the heart of Oslo and reach out to a large audience. I'm convinced there are many potential students who haven't yet fully grasped just how fantastic the Academy's programme is for those who study here."
Markus Degerman, speaks with warmth and enthusiasm about the Academy, where he was recently elected rector. This is a position few others wanted to fill following the many debates on Me Too, discrimination, racism, freedom of expression, and identity in the aftermath of the Black Lives Matter movement. And challenges still remain from the work on merging six separate institutions of higher education into a single academy, as well as from issues concerning higher education guidelines and the future of art education. Degerman has already served as the acting rector since autumn 2020, when the previous incumbent resigned his position and Degerman himself was the dean of the Art and Craft department.
What motivated you to apply for the position of rector?
"I really enjoyed myself at the Art and Craft department – it's a wonderful place to work, with colleagues who are both good at their jobs and a pleasure to work with. I wanted to stay here longer, both at the Academy and in Oslo. But the Academy was in the middle of a turbulent time, with debates raging about for example racism and identity, and I was worried about what would happen going forward. For my part, the debate on identity was an extremely demanding one because of my own Swedish-Finnish background, and when it was uncertain who would lead the Academy after both the director and the rector left at almost the same time, these issues caused me to reflect on my own future here. So I decided to put my hat in the ring – I saw it is an opportunity to work on education from an even more overarching perspective. That is attractive to me and something I really enjoy working on."

You have a background from various disciplines as an artist and curator within both visual art and architecture, and when you arrived at the Academy in 2019, you came from the position as professor and department head at the University of Tromsø's Academy of Arts. What led you to a career in the field of art?
"It was because of my upbringing with a Swedish-Finnish background. I think that when you have a multicultural background, you see that there are other perspectives – whatever is deemed right or wrong is perhaps not as applicable in another context. So you become interested in culture. This is a wide-ranging term, but in my case it was a question of art. It's been said that artists differ just as much as their art does. For instance, some artists become keenly interested in the materials themselves, but my own approach to art is one that is transferable to many different fields, enabling me to work in many different ways. I have for example worked on both visual art and architecture, and education is also a field that suits me well. I studied at the Umeå Academy of Fine Arts and also in Stockholm at the Royal Institute of Art, the Konstfack University of Arts, Crafts and Design, and Nyckelviksskolan, and I also made the deliberate decision to apply for the position of professor and department head at the Academy of Arts in Tromsø. I've thought through my education and career choices, and I like the challenges that working as a rector give me."
The Academy is Norway's leading institution of higher education for creative and performing artists and designers. What areas will be prioritised in the upcoming years?
"I want to focus on our core tasks: research, education and knowledge transfer. This sounds very easy, but it can often be difficult, and the Academy has in fact focused on many other things instead. I will of course also base my work on our electoral programme and the Academy's strategic plan, which is in effect until the end of 2022. Before Christmas, we will take the first tentative steps to creating a new strategic plan for the Academy, and that will then be a major focal point during the spring. It will be vital to include the entire school in drafting a common strategy. We have highly engaged and capable people here, both the students and the staff."
"If we are to think in a long-term perspective, we have to be serious about being an independent, specialised institution of higher education with a PhD programme. We have a wealth of expert knowledge and know-how, but as an institution we are not that large, even as we have chosen to move in a direction that will require more of us. By focusing more strongly on our core tasks, I still think we will ensure our autonomy in the future. Being part of a university system makes it difficult to be exempted, but I think we must accept these extra elements that we are assigned in such a system and instead try to find ways to use them that will serve our purposes."
"The educational landscape has changed greatly over the past thirty years, from when I and many other employees at the Academy were students, and it is important to gain an understanding of what we as a school want to achieve in the future. In any case, I think it is both right and important to retain a firm focus on artistic practice – that has to underpin all our endeavours. I also think that culture will become more and more essential in the upcoming years. That makes it important to facilitate a well-functioning infrastructure, cultivate a staff that continues to be relevant and qualified, and keep our excellent location!"
Education 
The prorector of education, Heidi Haraldsen, has a doctoral degree in performance psychology from the Norwegian School of Sports Sciences and a degree in educational science from the University of Oslo, and has previously also studied at the Norwegian National Academy of Ballet. When she was elected prorector of education, Haraldsen was serving as the head of the Academy's teaching training programme in dance and theatre, a role she will continue to perform while serving in the part-time position as prorector.
"I encountered art through music and dance already as a kid," Haraldsen recalls, "and I believe this has enriched my life. Art can help us with the challenges we face as human beings. People have to be doing well in order to learn, and how each person feels will affect not only the given individual but also the entire group. I want as many people as possible to enjoy art in its various guises, and that is why I spent so much time working with children and young adults. Sadly, this is no longer the case in Norway – it's not until high school that pupils are given the chance to engage with the theatrical arts. We have a recruitment problem in that regard. That is why I believe we must focus more on those who will be taking over the baton, and I see a potential on the education side."
What is your motivation for serving as prorector with an overall responsibility for education and the learning environment?
"Given my background within the arts, educational science and psychology, I am strongly motivated to serve as prorector and to develop the Academy's educational culture in order to achieve the best possible results. I'm really looking forward to launching the Education Panel, our new staff forum that will have its initial meeting on 30 September. This will be my team, and together we will develop the education that the Academy offers."
"I also have a passion for student democracy, for having venues where students are taken seriously. We have to succeed in achieving more – together and across boundaries – and also dare to give our students a chance. And next year we simply must have an orientation week for new students!"
Research
When the Academy became an autonomous, specialised institution of higher education with a PhD programme in artistic research, the need for a prorector of research also arose. Camille Norment has acted in this role since the end of the 2020 spring semester and has now been officially hired as the prorector of research, filling a new two-year fixed-term position. Norment is an interdisciplinary visual artist, composer, musician and performance artist who also has a strong background in research, partly from her experience as a researcher at Interval Research in Silicon Valley, and partly from working as a professor of art and technology at Malmö University in Sweden. Her longstanding interdisciplinary experience touches on most of the fields of art and research at the Academy, but a career within art has not always been an obvious choice for her.
What led you to choose a career within the world of art?
"I know this is going to sound like a cliché, but it truly was art that chose me. I've taken vocational studies within several disciplines, but it is perhaps art as a practice and perspective that best represents my relationship with knowledge. The position of prorector of research was attractive to me precisely because of my own expanded area of research expertise. Thanks to its PhD programme in artistic research, the Academy enjoys a unique position. The research takes place through artistic practice and exploration and experimentation. It is the process itself that makes artistic research so special, and that is a crucial distinction from academic research."
Camille Norment has a BA in comparative literature and art history from the University of Michigan Honors College and an MFA in visual art and an MA in interactive telecommunication from New York University. She was also a fellow in the Whitney Independent Study Program in New York.
"Going forward, I'll be working with the newly appointed Research Panel to look at how we can retain the uniqueness of both our PhD degree and the Academy as an art institution," Norment says. "I look forward to engaging in conversations and discussions on how we can use for example ethical guidelines in our work. There isn't a readymade solution to these issues, and that is why such a dialogue is necessary. I think we're already well under way with a fruitful dialogue. For me, my own artistic background has been helpful in conversations on these issues – I definitely believe in leading by example. Our job is to challenge art and research, and if we lose this quality in art, we've erred."