Exhibition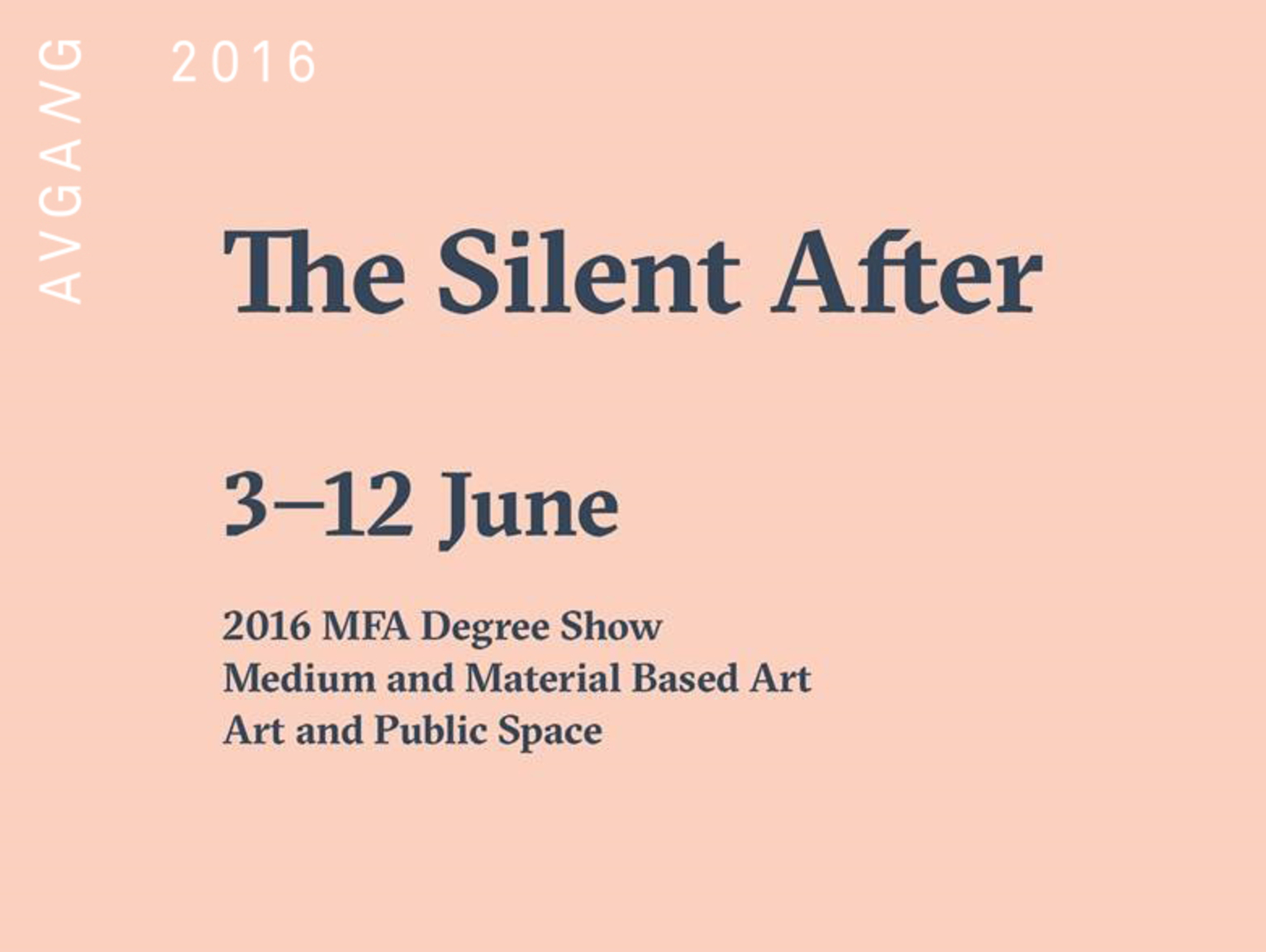 Avgang 2016: MFA Degree Show, Medium and Material Based Art / Art and Public Space
The graduating students from the Master's in Medium and Material Based Art and Master's in Art and Public Space programmes at the Department of Art and Craft show their degree work at Oslo National Academy of the Arts.
The Silent After
The Silent After privileges the notion of exhibition as a form for public engagement over the curatorial sense of a constructed narrative or an examination of the problematics and politics of a particular theme. This MFA Degree Show has been conceived as a meeting of individual works that underscore the diverse range of practices that constitute, challenge and redefine the field of Art and Craft. This project has also centred, for the very first time, on the question of the dynamics between the Medium and Material Based Art cohort and the newly created Art and Public Space pathway within the Art and Craft Department. Although no specific frame or angle was imposed on the students in the lead-up to this exhibition, a series of recurrent themes and concerns come into view when looking across the work.
The pieces on show are, for the most part, relatively silent. It is an emancipatory silence, however, that in many cases intimates indictments and cries of protest—a lack of protection, the loss of reason, the forced displacement of populations, mute fear. This is not a silent reflection of isolation, reclusion or loneliness, but rather a dérive across ideas relating to survival, madness, loss and, and in a certain way, a sense of not belonging to the group, of excessive individuality. It is an intelligible and audible silence rarely exemplified by abstraction, but rather nourished by references to history, science fiction and explorations of the relations between culture and nature, the production of knowledge, and in particular, the liberating power of literature.
- Eva González-Sancho, curator of this year's Degree show for master arts and craft.
Work by Ahmad Umar questions the construction of the artist's personality and identity through the complex problematics surrounding the repression of homosexuality in Islam, looking specifically at the relationship between authority and morality. The project translates into the poetics of the death of the artist himself and one of his selves, represented firstly by a white ceramic reproduction of the artist's body, wrapped, contained, imprisoned and protected by verses 80 and 81 of the Quran; and secondly by a sarcophagus made to fit his body.
Andrea Scholze's ceramic objects are scaled to half the size of a human body, and are exhibited in highly narrative installations. They take the form of compositions most often based on historical artefacts and stories culled from science fiction and film. Scholze constructs her own particular relation to and experience of what she defines as a "sense of time," with individual works and installations looking simultaneously forward and backward.
The work of Emilie Skogstad Aasheim proposes a journey through a geography of drawing surfaces and textiles, inscribed by the artist as a practice of existential topography. Her use of natural dyes, graphite and paper reveal an attention to elements that, in their essential condition, affirm the near-viral characteristics of the organic and the real-time of systemic growth that extends beyond the production of the work and approaches the idea of unity and completeness.
Eric M. Kelly's work brings together body language and an interest in pure materials, exploring the semantics of science fiction as well as 3D and CNC technologies. The artist places "objects" on the body as segments of a superior formation, responding to the pretense of reduction to an ideal form that could represent a higher, inexhaustable order.
Hans Christian Lichtenberg Nielsen works with storytelling as medium. His fragmented texts speak of belonging, of a search for persons in post-apocalyptic worlds. His audiences are provoked into participating in this search—and thus, into the act of authorship—through the specific rhythms of his stories, which partly flow from his listeners and their reactions.
Julie Ebbing's work deals with the construction of identity. Her installations consist of found objects and remains, from animal traces to nail clippings to empty bags. They are characterised by their unfinished condition and span a variety of media such as printmaking, drawing, text and objects, to form a vibrant and extremely eloquent corpus.
Klara Pousette's practice explores the way in which certain crafts and textiles become socially endowed with a sense of femininity. She makes repeated use of the head of a pony adorned in feminine embellishments in her works, which offer an acute commentary on stereotypes that infantilise femininity.
Real stories form the basis of Kristin Strøm's work, which are generally recreated in their natural environments. Her work takes up questions of the need for affiliation, individuality, otherness, mental stability and related ideologies—each approached through their larger social implications.
Through a diverse array of techniques, Line Solberg Dolmen creates complex habitations that "sweetly" invade natural and architectural spaces with tents, primitive cabins and other enclosures. The artist's installations point to possible alternatives for dwelling and cohabitation, creating hospitable spaces that suggest possible uses and offer shelter and protection.
In Marie Hepsø's work, images of body fragments are stripped of their vitality and singularity to become structure, material and machine. The body is ap¬proached as a physical container and as a memory of psychological emotions and stress. Hepsø's segregation of the body gives access to its parts but denies an experience of wholeness.
Marie Skeie's work reflects a clear analytical and critical position within the current social and political landscape. She presents herself in the role of witness and narrator—a disquieted narrator of histories constructed in a language that the artist deems of utmost importance: that of asking questions. Here, art has the capacity to undermine the innumerable answers that Marie receives and passes on to us.

Matthew Quentin Midtskau takes a critical and ironic stance on the basic premises that sustain the cultural and socio-political systems in which we live. His apocalyptic manifesto is based not so much on fiction, but on a narrative of violence and collapse that has become unsettlingly familiar in recent times. His sculptures serve as a means of survival for this scenario, and might prove useful sooner than we think.
Moa Håkansson works with sculpture, installation and text in an organic, subjective and contradictory continuum, as a strategy for constructing a Way—particularly one of failure and discovery. The element that does seem to impose order is the title of each work, which exploits its power to regulate and to contain formlessness. The pieces provide volumetric surfaces to which the artist adds elements and materials loaded with symbolism, telling stories of movement, struggle and paradox.
Nari Yun's work takes up notions of cultural and personal memory, intergenerational knowledge and tangled moments in time. These ideas are approached through installations marked by extreme delicacy and precision, composed of ceramic knots that construct fine strands of light. Each node is the container of a small history.
Ragna Misvær Grønstad explores the ways in which we perceive reality through literary texts. Figures such as Simone de Beauvoir, Guy Debord and Hannah Arendt navigate her boundless aquatic world—which she refers to as Saltvannsblomstene (salt water flowers)—as representatives of liberation, poetry and punk, the singularity of the individual and his/her emancipation.
On an apparently innocuous scale, Stine Hartvigsen uses dolls to refer to human beings, which, through their multiple, often dual, versions, represent the emotional states that characterise the human condition. These figures are presented in groups, in silence, evoking states of quiet chaos and bewilderment.
Sven Roald Undheim's interactive sculptures speak to a sense of trust in the solid and functional construction of machinery. But his installation imparts a mood of disquiet and danger through objects that the spectator is invited to activate.
Vibeke Frost Andersen explores landscape as a field for an incisive and violent analysis, a contested territory through which we may arrive at an understanding and visualisation of the powerful forces at play in our time. The artist names these forces—energy, capital and the circular structures and mechanisms that sustain them—as a responsibility that she assumes and represents through different media: drawing, installation, video and teaching.
Text about the students by Eva González-Sancho, curator of this year's Degree show for master arts and craft.
Catalogue
The Silent After is accompanied by a catalogue which has been conceived and designed alongside the 2016 MA Design Degree Show and features a commissioned text by cultural worker and organiser Laurence Rassel.
This year's students:
Art and Public Space
Medium and Material Based Art
Emilie Skogstad Aasheim
Julie Ebbing
Moa Håkansson
Nari Yun