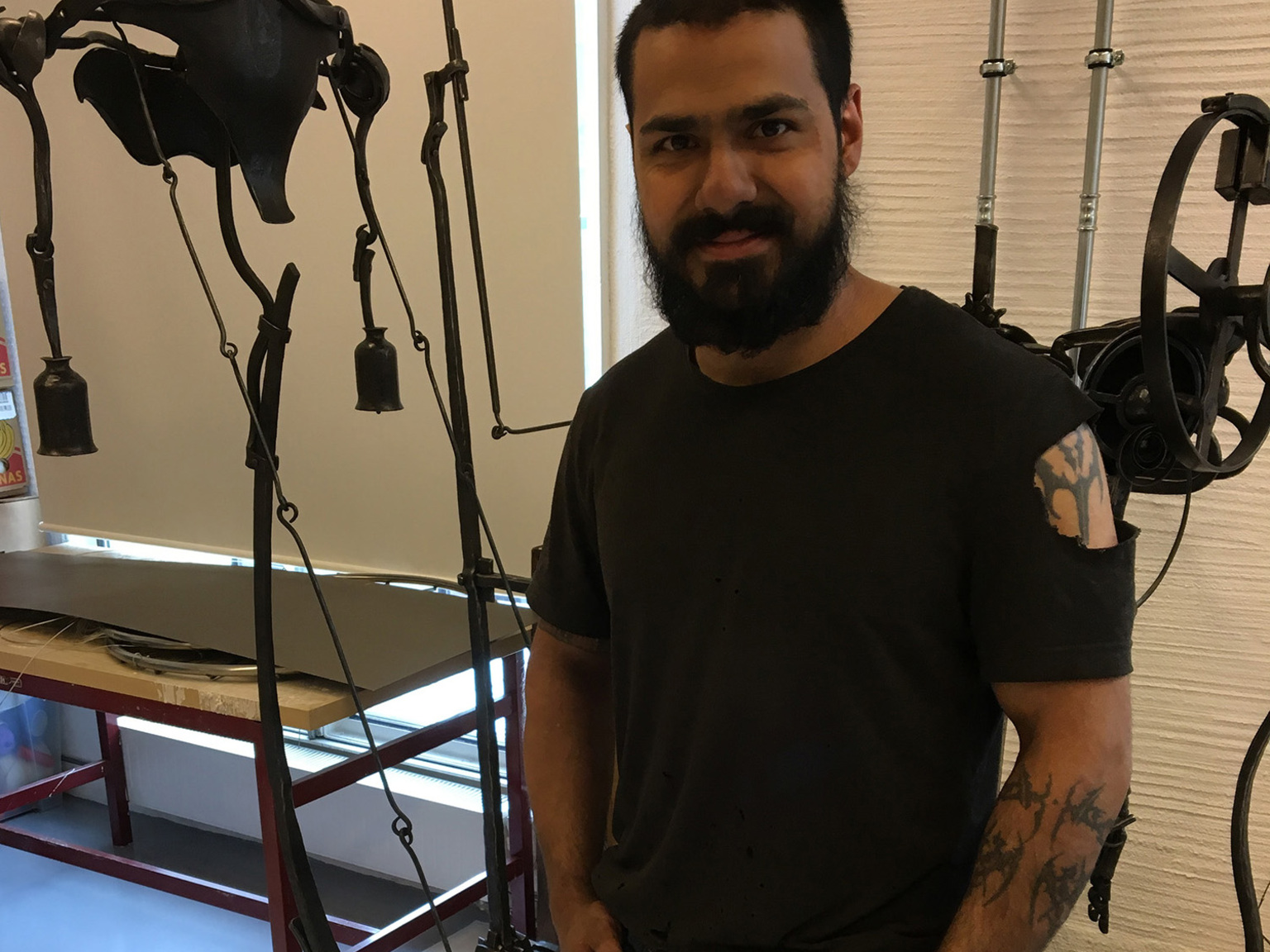 What it's like to study at the Oslo National Academy of the Arts: Art and Craft
Work hard and take responsibility for your own progression as a student are the recommendations from Sven Roald Undheim, who has completed a five-year programme at the Art and Craft department. "I think you'll find people who have the same attitude to their work as you do," he says of the department. "There's always someone like you here."
Sven Roald Undheim (28), Master's degree from the Art and Craft department
"I have always known that I wanted to learn how to forge metals," Sven Roald Undheim says. "I applied to the Academy because there are so few places where you can train in the art of smithing."
Before he began his studies at the Academy he attended the special effects programme at the Nordic Institute of Stage and Studio (NISS), at the same time as he began working with metals. He had mixed feelings about beginning at the Academy.
"I expected that it would be pretentious here, perhaps because of a few negative experiences at the preparatory school I went to," he explains. "I didn't imagine I would enjoy myself so much here and get so many friends. I envisioned myself rather doing smithing by myself. But here I've met so many dedicated and talented peers. I think you'll find people who have the same attitude to their work as you do. There's always someone like you here."
Similar to all the programmes at the Art and Craft department, the Academy's metalwork programme allows the students to freely use all the studios the Academy has to offer. Courses are available that allow students to use as many as 23 different studios, which in total cover 33 different disciplines.
"My advice to new students is that they learn things outside of the particular programme they've applied to. For my part, I studied ceramics, 3D printing, bookbinding and jewellery, and I also learned casting, cold forging and enamelwork. I think I've dabbled in just about everything except textiles. There's a chance that the courses will give you feedback and theoretical tips that help you along in your studies."
His most important advice to new students is to not just go with the flow and wait for someone else to decide what they are supposed to do.
"You have to take charge of this yourself," he explains. "I would advise new students to work hard and stay disciplined. Of course, you can always cruise through your studies here without doing all that much, but what would the point of that be? If you don't use the opportunity this school has given you, you're taking the spot of somebody else who really would have made an effort. Freedom is important at this school and I think you should take care not to limit yourself while going here. But you also have to earn that freedom and work hard."
A life outside of the Academy awaits him now. Undheim's dream is to acquire his own smithy, which he could then run along with other artists.
"Fortunately, there are several courses we can take that prepare us for professional life," he adds, before concluding: "And now that I've completed my Master's degree here, I can look back at five wonderful years. I've become very fond of this school."
PHOTO: Sven Roald Undheim along with his graduation works in metal from the Master's exhibition The Silent After.