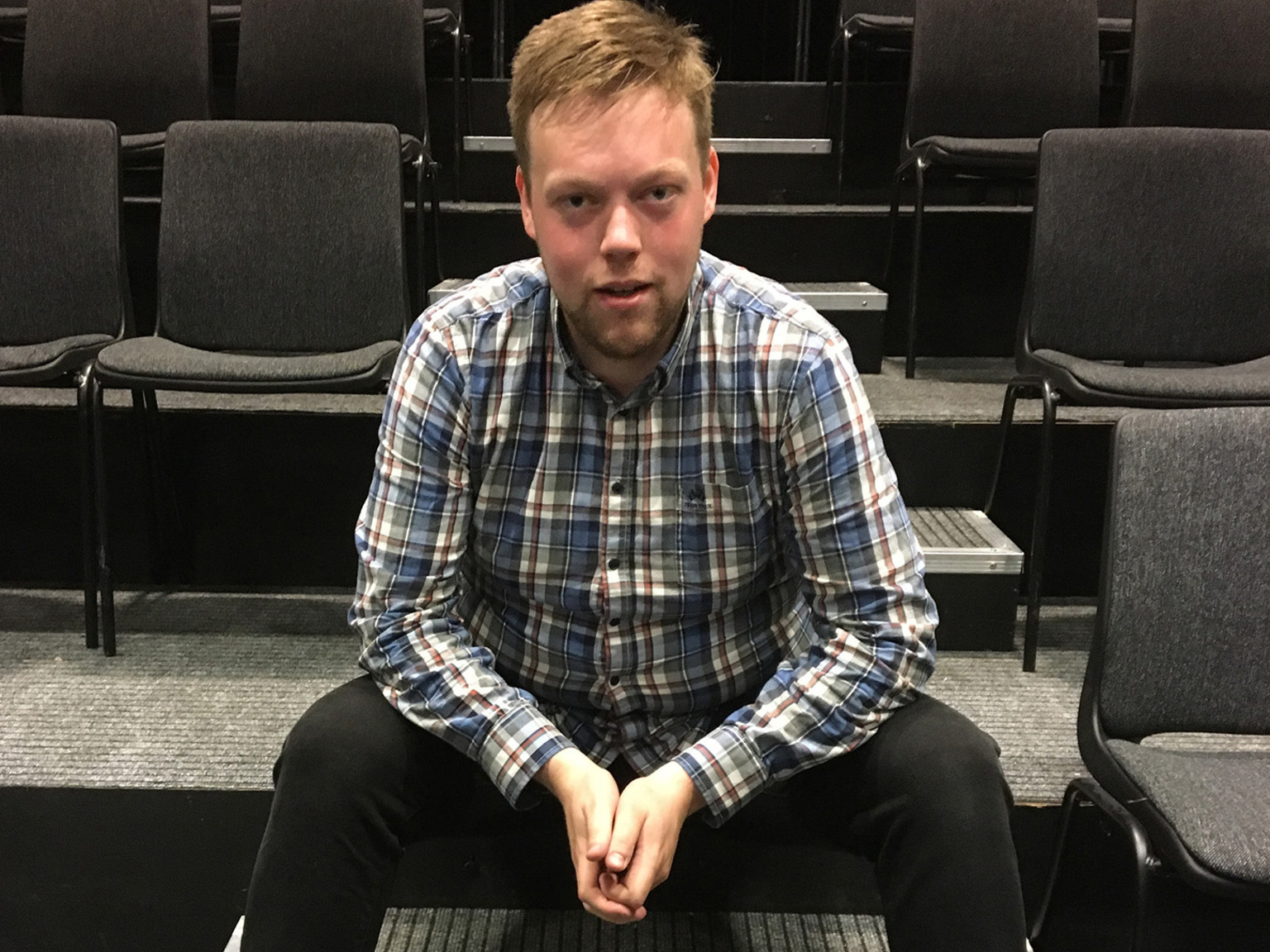 What it's like to study at the Oslo National Academy of the Arts
"The day I found out I had been accepted – that was an amazing day," says Henrik Eilif Borge, who completed his Bachelor's degree at the Academy of Theatre as one of eight students.
Henrik Eilif Borge (24), Bachelor's degree from the Academy of Theatre
When Henrik Eilif Borge joined a local acting company for children and youth in Sandvika outside of Oslo, he finally knew what he wanted to do in this world: act. And afterwards there has been no doubt.
"There was never really anything at school that excited me, and the after-school activities I was involved in were also just something I did because I had to," he recalls. "But when I began acting, there was finally something that grabbed me. It was a space where I could step out of my own life and become someone else. It was wonderful!"

Applying to the Academy of Theatre is surely one of the toughest application processes in Norway. There are around 600–700 applicants, and it takes three demanding auditions and about half a year before the applicants find out whether they've been accepted. Only eight spots are available.
"I mean, getting in here is like the Holy Grail," he says. "And the summer when I found out that I had got in I was probably totally unbearable – I was just so high on myself!"
His advice to new students at the Academy of Theatre is that they try to remain humble, keep in mind how many other talented actors applied for the programme and remember how much the final selection of eight students is down to chance and good fortune.

"To be honest," he recalls, "I had prepared myself mentally for rejection, that if I didn't get in here, I would apply to other schools. I attended the Forstudium Teater at Schous Plass here in Oslo, where I began to realise that there are different schools that are more suited to different kinds of budding actors. But when I first decided to apply to the Academy of Theatre, I worked incredibly hard to get in, and the day I found out I had been accepted – that was an amazing day!"
During the three years he has attended the Academy, Borge has acted in seven productions.
"There's been a tremendous amount to do over these three years, so I've been spending a great deal of time at school," he says.
Some of the highlights he can look back at include working with the director Ole Giæver, which resulted in three short films released before the summer break, and a production of Dennis Kelly's Love and Money.
"Love and Money is a play I would like to put on again," he adds, "because it has something important to say about the way people relate to money. And one thing I've learned from going to this school is that all the preparatory work you put into a production – all the visits to museums, all the reading of other texts, immersing yourself in the entirety of the world that the text represents – all that is entirely visible when you put on a play."

Borge would have liked a greater emphasis on the students having to initiate projects themselves and be more active in their own careers, because the fact is that not all the aspiring actors will be hired by an institutional theatre company in Norway, as was the case before.
"Make active choices in your own education!" he urges. "Don't believe that anything will be handed to you on a platter. Speak out when you think something's wrong, though in a constructive way, of course. And find out what you really want to get out of this education and what it is you like. I wasn't hired by a theatrical company straight away after I completed my Bachelor's degree now, but strangely enough I'm fine with that. I'll have this education with me as part of my toolkit, and I've found out that I want to act in plays that affect people and not just entertain them. I now know what I should talk to directors about and how I should present myself to casting agents."
Equipped with what he's learned at the Academy, Borge is going out into the world this autumn to so some acting.

PHOTO: Henrik Eilif Borge sitting in the auditorium where he acted in Love and Money just a short while ago..