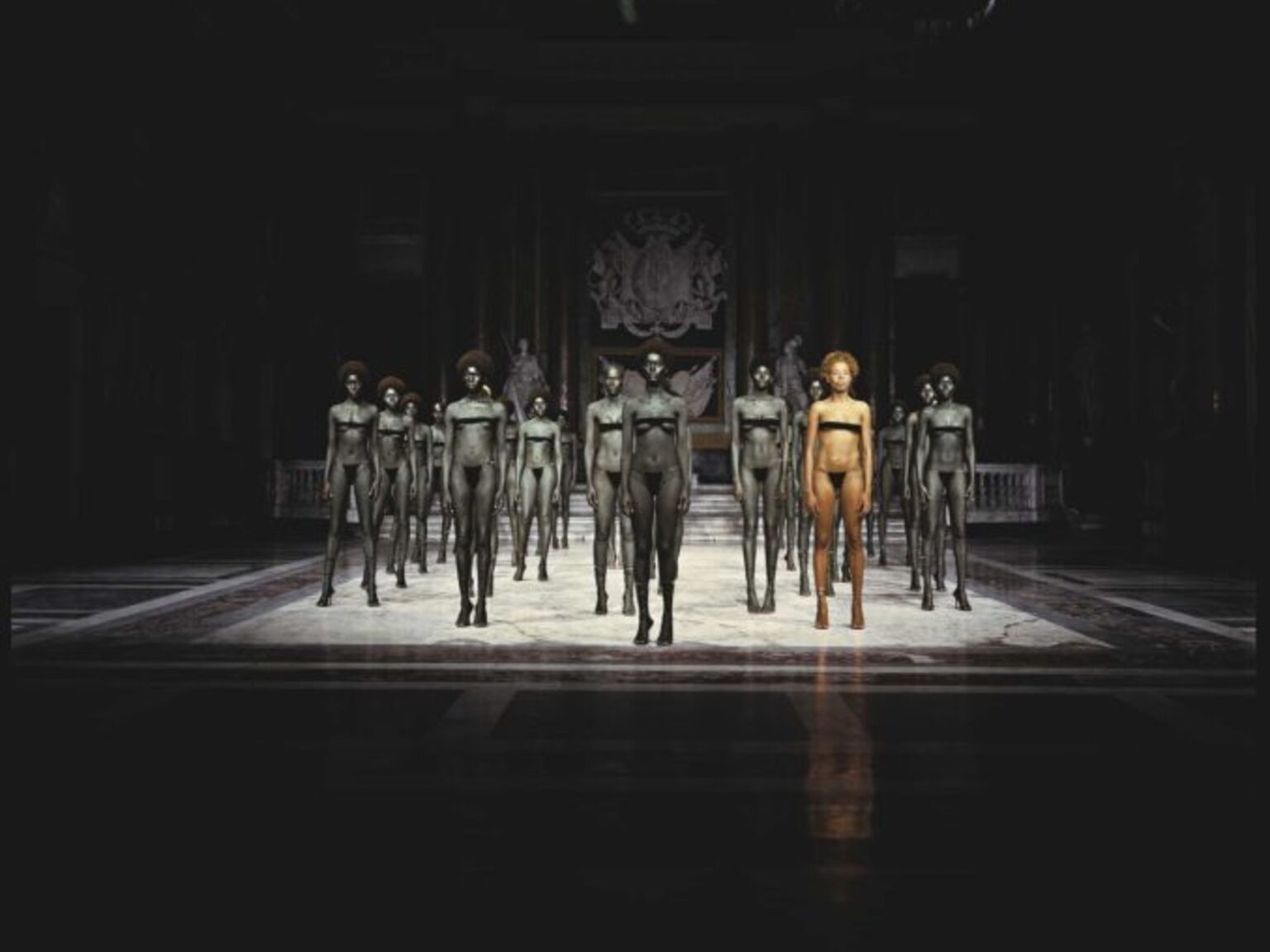 vb.48 721
KORO – Norway's national body responsible for curating, producing and activating art in public space – in consultation with KHiO, has moved the artwork vb.48 721 by Vanessa Beecroft.
Along with the artwork, a text has been published.
Vanessa Beecroft's work vb.48 721 has in recent years been at the center of a debate about what a work of public art can say about representation, body image and pervasive colonial mentalities today within our lives and institutions. The debate has been stimulating and productive for some, exhausting and demanding for others. All throughout this time, the work itself has remained untouched, commanding a dominating presence within what is intended to be a central social zone at the entrance to two stages used primarily by theatre, dance, and opera students at KHiO.

While there have been many credible calls to remove the work altogether, with its presence and content making it difficult for many students to use the space as it is intended, there are also those who believe it should remain up, whether on its own merits or as a symbol of the need to preserve freedom of artistic expression.

Leadership at KHiO, in dialogue with KORO - Public Art Norway, has decided to rehang the work where it was originally installed when it was first acquired. The rehanging is an acknowledgement of its historical placement as well as a signal that the work itself is not untouchable, that art in public space is not immune to constructive dialogue, learning and broader developments within society and culture.

With this move begins a three-year process of thinking about these issues and connecting them to broader conversations both in Norway and abroad regarding how certain works of public art do or do not keep up with social and cultural values, and what should be done with them if there is a broad enough consensus that they do not. This process is meant to be thorough, democratic and open. It will conduct itself primarily through a writing platform that will collect and publish editorial content aimed at enriching the debate, contextualizing it within international conversations, and, at the end, provide a rigorous basis for evaluating the future of the work. Material will be published from 2022.

A first step of this process will include new text about the work itself, updating the original curatorial text that remains the only public written material for the work within KOROs collection database. This process is initiated and coordinated by KORO and developed with an editorial working group consisting of representatives from KORO and KHiO.
The artwork is owned by KORO and deployed at KHiO. It has now been moved from the stage square (scenetorget) to its original location by the stage entrance.