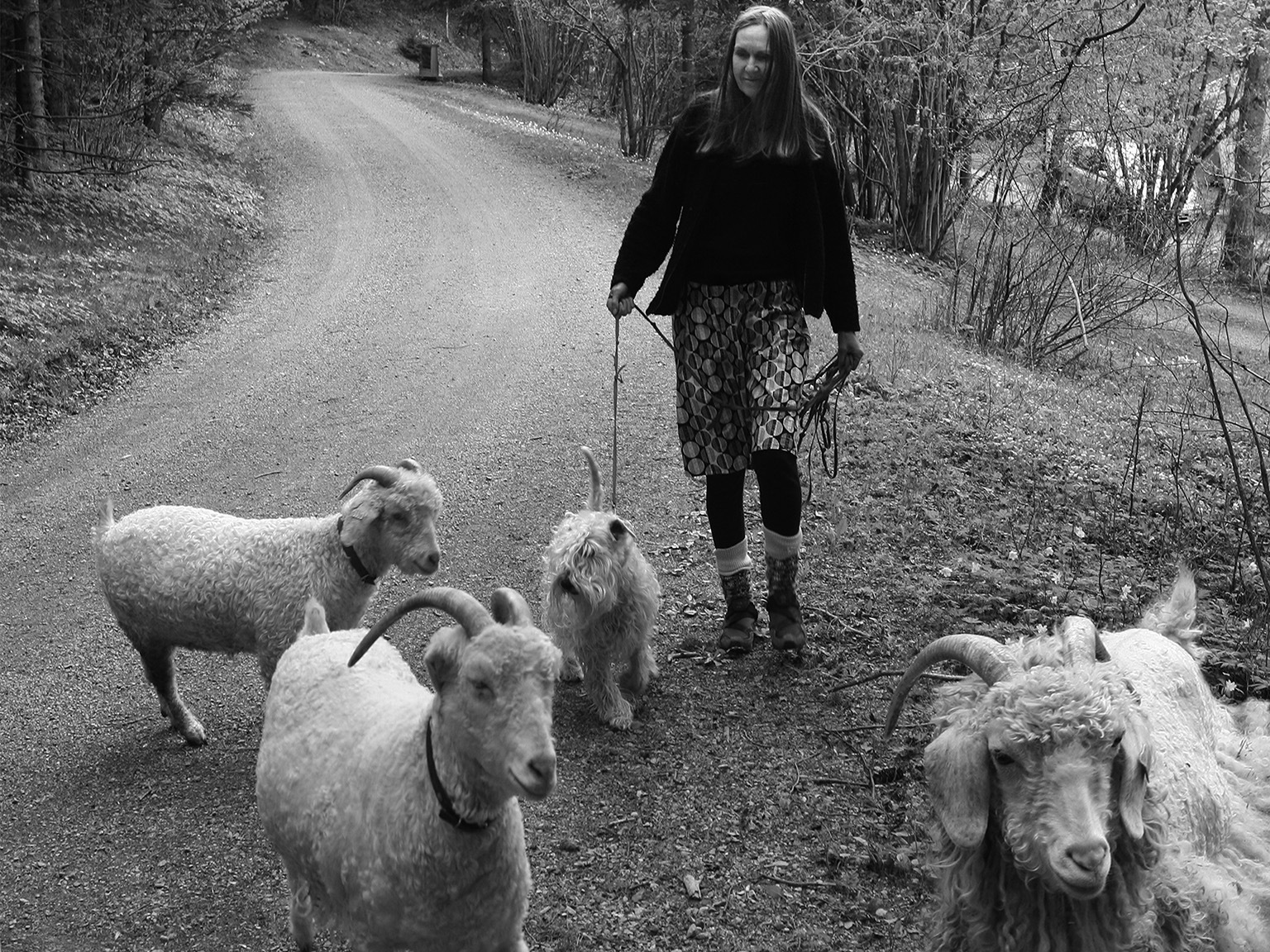 The Lady of Shade under the Spotlight
Dyveke Sanne prefers life in the half-shade. According to her, it's when light and darkness intersect that the opportunities are the greatest. Dyveke is most well-known for her work on the Svalbard Global Seed Vault, a luminous monument harbouring a shadow of its own – our threatened biodiversity.
"We say that we shed light on things from different angles, and think that we've done our job, or that we've gained a complete overview," Dyveke says. "But there's always something that eludes us in either space or time. We have the hunter's focused stare and not the prey's expanded vision. If our eyes had been placed at the side of our head and also had square pupils, as for example goats do, we would have had a 340-degree field of vision. This would perhaps have been of greater use to us in a world that, from our current vantage point, may seem rather unpredictable in so many different ways. I'm interested in everything that lies around or over or under. This is probably the case with anyone engaged in art – in one way or the other."
Dyveke is an associate professor at the Department of Art and Craft, where she has worked since 1998. Her own artistic output is wide-ranging but pertains above all to public art. Her works are context- and site-specific and often relate to an active, participatory audience, with lights and movement as key elements.
"After I finished studying at the Academy, I continued to explore various phenomena and meanings that often pertained to light and shadow, ranging from the purely psychological or philosophical to the more scientifically investigative. I gradually become more interested in the meaning of the site itself, as related to the same questions of centre and periphery."
Temporary discussions
Under the auspices of the Vegskille programme, which carries out art projects in five municipalities in the Gudbrandsdalen valley, Dyveke is currently working on a local developmental project in Vinstra. This two-part project, which she has called Markers of Temporary Discussions, consists of two site-specific installations in addition to an online discussion forum.
The installations will consist of two wooden, tower-like constructions serving as cairns. They are to be placed at some distance from each other and will communicate through blinking lights placed at their apexes. Outfitted with wheels, the installations can be moved around to mark various sites in the Vinstra area that are particularly relevant for debates and conversations in regard to the new urban structure that, following the re routing of the E6 motorway through Gudbrandsdalen, is being developed there.
"Because maps are so instrumental to the abstraction of a site, I took old nineteenth-century maps as my starting point, along with the triangulation stations that underpinned the cartography and that were often built as cairns or wooden towers. The five stations in the mountains around Vinstra, located at sites once used for igniting beacons, also served as important reminders of what lies beyond the horizon. The light emanating from the installation's apex marks the given place, the wheels represent mobility, and the interior of the construction has the potential to spark off a conversation – not unlike a Trojan horse, but the inner darkness of the cairns does not house anything apart from the thoughts you invest yourself or share in a conversation with others."
Fragmented truths
When Dyveke attended the Academy in the early 1990s, a paradigm shift was taking place within the arts and art theory. The Berlin Wall had fallen and Eastern Europe was opening itself up to the world.
"It was precisely because of the things going on in the world that I was able to truly understand what postmodernism was, namely a transformation of social structures. The books the cultural theorist and architect Charles Jencks wrote in the 1970s about postmodernism and American society – which, just as an example, went from having a single radio station to having two hundred – provided a concrete image of replaceable and equivalent truths. We spent years trying to understand and discuss philosophical, ethical and aesthetic issues, almost as a matter of life and death. It still feels really important to me that I took part in that."
"As I see it, all the conversations taking place side by side – the fragmented public discourse and the pleasant belief that nothing is better than anything else – have played a part in enabling the developments we're seeing in Europe and the US right now. The reduced shadows of the past, ones that we thought we had under control by lifting them up to the light every now and then, have taken root as new communities promoting new utopian visions."
"This has indirectly had an effect on the second part of Markers of Temporary Discussions. I realised just how divided, abridged and fragmentary the information on the upcoming re organisation of Vinstra was, and that this is not particular to this case or this place. It also became noticeable how challenging it can be for young people in particular to get their bearings, especially – and paradoxically enough – when it comes to local matters, considering all the access they have to the world at large in today's digital society. That's why the second part of the project came to be about how young people today can themselves help create an open online forum, one that allows them to call attention to and focus more strongly on local issues and contexts and map out their changing local environs. This might be a way to give youth a sense of responsibility and to enable more people to participate in the conversation and thereby have a say in important decisions concerning our common future. It will also be this group of young people that decides where and when the two cairn constructions are to be relocated – they are the ones who will be most active in keeping the discussion and the conversation going."
Symbols of digital realities
Dyveke lives and has a studio in a protected area in Asker, surrounded on all sides by an apple orchard, outfields and animals. "For me, it's not so much about a romantic lifestyle. Being among animals keeps me grounded and helps me retain my identity as a human being. It highlights certain connections I'm either unware of or don't understand. A few years ago, when I was working on this project where I would film our Angora goats as they encountered people who were out for a walk, I discovered something I hadn't noticed before. I used to always get loads of questions about the goats from passers-by, who would squat down in front of a goat and talk to it smilingly and carefully clap its frizzy hair. But now they would just squat down next to the goat and smile to a mobile phone they were holding out, or to another camera, and the toughest of them would even put their arms around the goat to include its enormous horns in the picture. So basically, in a short space of time, the goats had become hunting trophies and symbols of digital realities. And even though I had noticed that people had stopped asking me about the goats, it was a tad ironic that it was first when I myself had distanced myself by using a similar medium that I could observe what had actually happened."
"Since I am interested in the nature of shadows, Plato has of course been an important figure. He has greatly influenced the way we divide the world into the soul and the body, where the corporeal, physical world becomes a shadow, or counterfeit version, of the true and actual world governed by abstraction, thoughts and rationality. We have inherited and cultivated an anthropocentric way of thinking, where humankind presides over nature by virtue of our ethical primacy. Now we know where this has led us."
"We have long since gone from being in nature, to staring at it, or into it. Now it seems we're taking this abstraction one step further. And it's taking place on many levels at the same time. Just in the area where I live, the trails are being upgraded for recreational purposes with extensive signposting, QR codes and apps, in addition to various measures aimed at physically preventing any form of unease when encountering the other. And time is a key factor in all of this. Things shouldn't take too much time."
The flow of time
"I don't use the workshops at the Academy, but I do use the school itself as a workshop for ideas. At the moment I'm busy with supervising students and holding group critique sessions, and I'm also involved in the fairly new Master's programme called Art and Public Space. For ten years I was personally involved with all the students at Art and Craft, first during the kick-off for the first-semester students and then as a coordinator for the final semester leading up to the BA exhibition. As a result, I've seen over time how both students and teachers challenge one another and benefit from discussing things across disciplinary boundaries. I've seen this same interdisciplinary exchange both at the PhD level – in that case with even more parallel competencies – and at the Art and Public Space programme, where virtually all of the Academy's various disciplines are represented. Thinking together with other people from different backgrounds adds depth and creates a sense of belonging to the changing field of art. This is one of my primary fields of interest."
"I'm also very interested in conversations. In a conversation, time can serve as a co creator during the encounter, where the creative space emerges when people go beyond the expected. In my opinion, this is one of the primary tools we have as humans, both in relation to one another and in relation to our surroundings. Such conversations require both a flow of time – or at least the notion of such a flow, even if it doesn't really exist – and presence. Whether I'm supervising students, meeting a colleague or working at a studio or anywhere else in Norway when I'm carrying out one of my own projects – once we've finished talking about practical matters, when the prepared and formal discussion is over, then we've reached the unexpected, that is the part of the conversation that no one takes notes from, but carries along with them."
"At a more general level, at school, I believe that time and space are also important when it comes to quality assurance, reporting and strategic work. Comprehending artistic processes and qualities is not something that can necessarily be done on the spot and doesn't have an expiration date. I'm afraid that things are being pigeon-holed into boxes that are too many and too constricted, and that we're losing that undefinable element that art requires. Of course, we do need to have some systems and rules of the road in place, but we have to make sure we're providing enough space so that we don't become self-satisfied and self-fulfilling."
The Svalbard Global Seed Vault (KORO 2008)
The entrance and the installation Perpetual Repercussion are the only externally visible elements of the Global Seed Vault, located in the High Arctic archipelago of Svalbard. The vault, which opened in 2008, has been blasted into the mountainside and is meant to house up to 4.5 million different types of edible plant seeds, which are duplicates from other seed collections scattered across the planet. The vault functions as a bank where the countries that deposit seeds can withdraw these seeds when needed. No genetically modified or patented seeds are allowed.
Dyveke has covered the roof of the vault and parts of its façade with fragmented mirrors and other refractive elements that reflect the surroundings and cast light back in every direction. When it is dark outside, the seed vault glows with a turquoise and white light. The vault is meant to prevent the world's repository of seeds from being harmed by catastrophic threats such as war, pollution and climate change.
"Everyone of us involved in this project understood how important it was," she says. "After I did some lengthy background research to begin with, I was struck by how food is part of these broad, complex contexts and by how little I knew about who wields power in this area. It became a kind of wakeup call for me, realising that it is possible to go through life without knowing anything more about the most basic thing of all – the food we sustain ourselves on. Now, however, I know that powerful, shadowy interests are involved here, interests that are hidden from public view and that that we only have limited insight into."
"The seed vault's existence reminds us of our own position in the grand scheme of things, and of the state of the Earth and the struggle for food. Powerful international interests, which have also sponsored the seed vault, are involved in this struggle. They sell patented seeds that provide larger crops, but only a single one. This means that new seeds must be bought every year. Not only that, but they also sell herbicides that are specially designed for these same seeds. This gives them enormous monopolies on food, destroys biodiversity and depletes the topsoil. This is merely the latest in a long line of changes that stem from the monoculture and modern agriculture of industrialised nations and that are currently being marketed as a good deal for the impoverished parts of the world."
"You know, I went back to Svalbard in November 2015, for a seminar with colleagues here at the Academy who were also organised in the Norwegian Association of Researchers. And it was the first time I really saw my work up there, because during the opening ceremony there had been so many people to talk with, so many journalists and other people, that I really didn't have time to let it all sink in. So when I was standing there once again in the intense lighting, and my colleagues asked me to talk about the piece, I just couldn't. I had suddenly been thrown eight years into the past, to a time where I was working outdoors in pitch darkness and the bitter cold of January – those conditions are hardly imaginable now that the climate has changed so dramatically. But it was all probably a bit much. Fifteen-hour shifts without food or drink because there was no toilet there, and because I had to lead both shifts who worked there every day. And then it was back to my barrack, where coincidence would have it that I spent most of my time alone. I had to sleep with the light on, so that I was clear-headed, and didn't trip, if something should happen – a polar bear wandering by, for example. In the hallway there was this black-and-white picture of a polar bear that had tried to break down the door to the barrack. So when I was asked to talk about my work, I just stood there, with tears rolling down. Thankfully, I was surrounded by the best colleagues in the world."
CV Dyveke Sanne
Dyveke Sanne has studied at various institutions such as the National Academy of Fine Art, the Institute of Spatial Arts, Art and Architecture, and the National College of Art and Design, all in Oslo. In 1993–94 she received a grant for postgraduate study in Hamburg and New York.
Sanne has been commissioned for a number of public art projects and has received several awards, including the Norwegian Lighting Prize for her Perpetual Repercussion project at the Svalbard Global Seed Vault in 2009, and for entry, titled "Frangipani", to the international competition in 2006 for the tsunami memorial site at Bygdøy in Oslo.
Sanne has also been an art consultant for Public Art Norway (KORO) for several years, including chairing the art selection committee for the new concert hall in Stavanger as well as serving on the advisory panel for the proposed memorial site after the 22 July tragedy in Norway.
---
Academy Profiles is a series in which, each month, the editors of khio.no present one of the specialist staff members at the Oslo National Academy of the Arts. The presentation will usually take the form of an interview, and will appear in Norwegian and English. The aim of the series is to paint a fuller picture of activities at the institution and to promote international contacts and interest in our academic and artistic research.