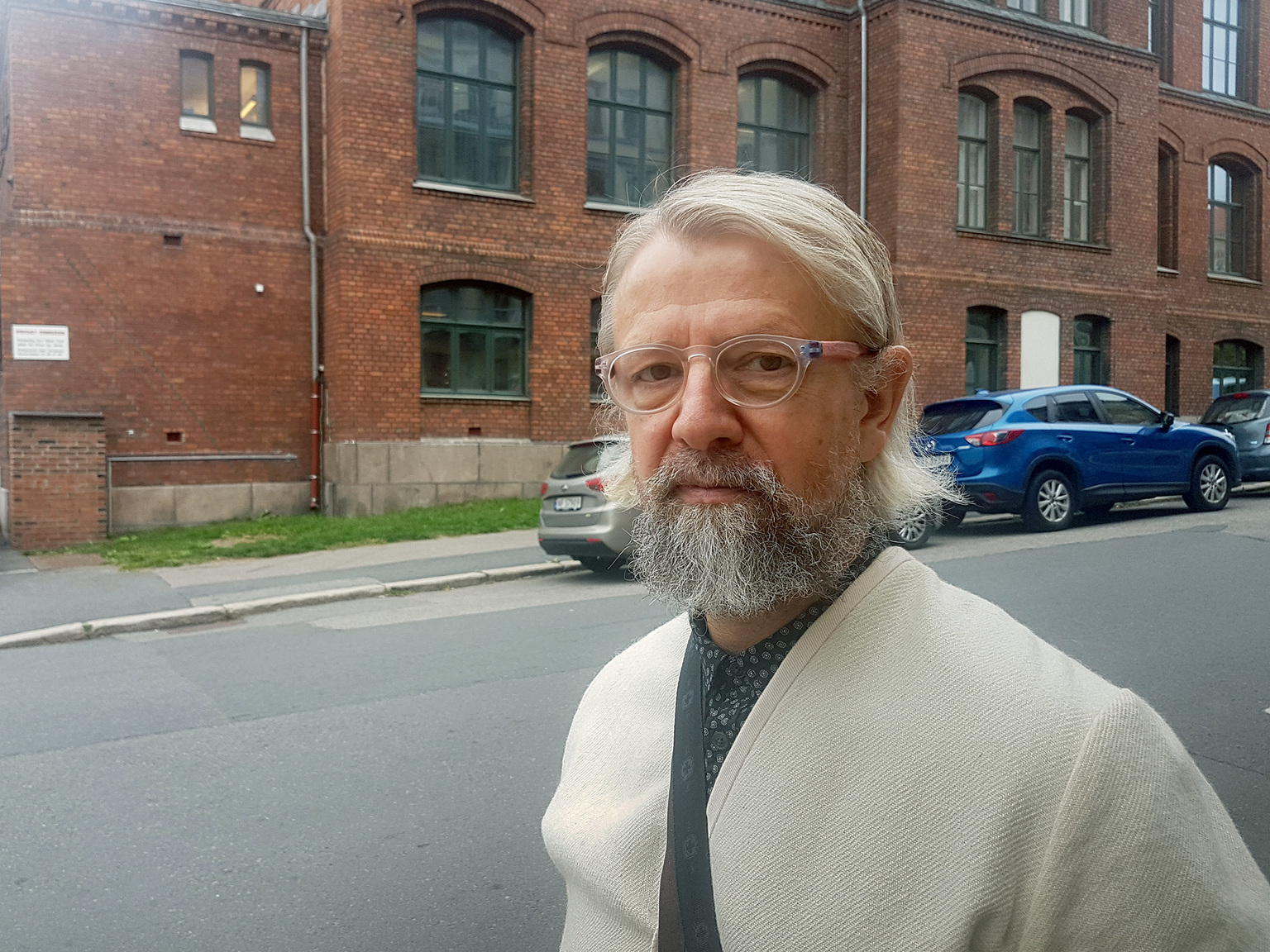 The Context Designer
"It wasn't the result of a good plan so much as a series of chance events," Barth says about his route into the field of art and design. As a teacher of design theory and methodology, he is expanding the relationship between theory and practice.
 "Archaeologists fascinate me. They are hybrid specialists who possess both nifty dexterity in their digging techniques and theoretical understanding."
Theodor Barth is professor of design at Oslo National Academy of the Arts, where he teaches theory and writing for Masters students. Why does he talk so enthusiastically about archaeology?
One reason is that earlier this autumn he attended an archaeology conference in Kyoto, where he was invited to organise two seminars, to give lectures and produce a poster. Another is that the unusual link between design and archaeology reflects a crucial aspect of Barth's work: his own hybrid position. For he also has a background in social anthropology (receiving a doctorate in 2010), which provides him with historical perspectives beyond those usually associated with art and design. Barth also regards limitations to be productive, both those that constrain design and writing tasks, and those he adopts on the basis of internal logic, while at the same time allowing the chance aspects of encounters with people and materials to mark the direction his projects take.
Not least, Barth's stay in Kyoto illustrates his ability to cross-fertilise theoretical reflections and practical issues.
"The poster I designed had an unusual format, 180 x 90 centimetres. The design evolved during my stay in Japan. It was the first time I had ever been to the country, because I had vowed not to go there before I had some clear reason to do so. I stayed in a ryokan, a traditional guesthouse with tatami mats. After banging my head on the door a sufficient number of times, I realised that the poster and the doorway had exactly the same dimensions. So too did the tatami mat, which I then took both as a template and as building material. The Japanese conceptualise maps and the terrain using the same format, which became a guiding principle for my project," says Barth.
Chance events
There was nothing inevitable about Barth's career in the field of art and design. After completing his social anthropology studies, he looked for a job and found an opening with an architects' and artists' collective (Felleskontoret & Galleri rom at St. Olavs plass). The members of that group wanted him to write texts about their projects. From 1992 onwards he became increasingly drawn into the world of designers, architects and artists.
"It wasn't the result of a good plan so much as a series of chance events that brought me into the visual field," Barth says.
Gradually Barth's textual work shifted away from writing about the projects and became part of the actual work process and an element of the works themselves. His texts found their way into purchased works, he developed a periodical and created sculptural text works. One seminal project was Da'At, a commission for a public artwork in Fredrikstad (2004), produced in collaboration with Hans Hamid Rasmussen (professor of textile art in the Arts and Crafts department), and Thomas Saenger.
"Hans Hamid was creating benches, on which Thomas painted smaller benches with still smaller benches on top of those, so they formed a diminishing series. Based on a historical incident in which local residents rescued a Jewish doctor from the Nazis with a protest march in his support, I wrote a pantun poem, which we then mounted as a forty-metre-long text on the edge of the spirals that form the benches. This meant the benches were enlarged again. The project was the start of my cultural researches. One thing led to another in a process no one could possibly have predicted in advance. You could say that's where I lost my virginity as an artist."
Typography and books
Although it might have been chance events that led Barth into the field of art, it was only natural that he should end up in the Design department. He is particularly interested in typography, books and their bindings, and talks enthusiastically about what happens "when the ink kisses the paper" and about design as a marriage between materiality, form, a heightened feel for language, and legibility.
Most recently these interests have found expression in the book Bøkenes hamskifte (The Moulting of the Books) (2016). Like most of Barth's projects, this too has been a collaborative venture. Together with Martin Lundell, who teaches graphic design and illustration, Oddvar Thorsen from Oslo Public Library, and Steffen Kørner, a photographer and former MA student of design, Barth contemplated the future that awaits the books at Oslo Public Library when the institution moves to its new premises.
"At the same time, I'm also interested in the unpredictable outcomes that the art field offers. One of the things I like about our school is that it's only a short distance from the rule-bound to the spontaneous, from the footsteps of Marcel Duchamp as a basis for artistic research to design."
Theory and practice
Barth's theory lessons aim to ignite students' interest in communicative ways of working in relation to aesthetic reflection.
"Students are often more visually than textually oriented. That's why it's important to show them the benefits of reflection, and that it can also be pursued through other media. Written work is optional here, but there are a number of other choices one can make to boost reflection."
In the first part of the theory course, for example, students approach their reflective work via the media of their specialisations, while in the second part they present their results in writing. In this way, their texts become part of their practice rather than something separate from it. In the second year (MA2), the two approaches are combined.
"Sometimes you get the impression of a shift happening in the way students relate to theory. In the past it was largely about activating the students' theoretical insights, and I've seen good results even among students who have problems with reading and writing. The point we're at now is that students seem to be asking for more lectures and formal teaching of theory."
Public education
One thing that many of Barth's projects have in common is their tendency to push the limits of what feels comfortable in the field of aesthetic experience and learning, and to explore possibilities at the grassroots level. For example, in 2009, as part of his theory course, Barth organised a month-long workshop for his design students in a shopping mall at Romsås in the Grorud district. He invited the renowned art theorist Nicolas Bourriaud to hold the course. Bourriaud is best known for the theory of relational aesthetics, which classifies and considers interpersonal relationships as a form of artistic expression. Barth described the results of the course in a letter from Romsås:
"The Romsås we encountered was rather different from the alienated portrait Dag Solstad gives of the place in his novel Forsøk på å beskrive det ugjennomtrengelige (Attempt to Describe the Impenetrable); for example we didn't come across the Pakistani women who run a Koran school, and who love cooking and knitting blue elves' hats before Christmas."
This September Barth got his MA design students to paint a wall in the courtyard of a tenement in Fredensborg, Grünerløkka, as part of the course.
"I regard what I'm doing as a kind of designing of context. I produces frameworks in which things can either happen or not happen, but what happens depends on the designers and artists. What my teaching and activities do is help expand the possibilities the designers and artists have at their disposal. It's about creating contacts between people."
Clothes-conscious
Members of staff who attended this year's summer party at the Academy probably noticed Barth's unusual clothing. He was wearing a so-called ghillie suit, a military camouflage costume which looks as if it's covered in straw. Like his approach to language and ideas, Barth's dress sense is characterised by an interest in juxtapositions that are not immediately obvious, but are productive in the contexts they take part in.
"We work in open landscapes. Seeing and being seen is one of the premises, which makes it attractive to look for escape routes. Playing on the associations that clothing suggests but which then turn out to be wrong is a way of creating productive confusion that I find really enjoyable and instructive."
Like language, Barth uses clothes as a tool to explore his relationships to himself, to others and to the age in which we live. Often with tongue in cheek.
"Another ambiguous costume I have is a Japanese gown. It resembles the kind of thing worn by a professor in Oxford, although it's semi see-through. It's like a professor's gown – but not quite – and so I often use it on top of my other clothes when teaching. For me, clothing is not about flagging up a certain identity, but about avoiding it," says Barth.
Background
Theodor Barth studied anthropology at the University of Oslo, receiving a doctorate in 2010. He has been a fellow at the Department of Philosophy and Communication Studies at the University of Bologna, and at the École des hautes études en sciences sociales/semantics School for Advanced Studies in the Social Sciences / Semantics at La Maison des sciences de l'homme in Paris. In the mid-nineties he did fieldwork in Zagreb and Sarajevo.
Since 2012, Barth has been professor of theory and writing in the Design department at the Oslo National Academy of the Arts.
Read more about Barth Lundell, Kørner and Thorsen's Bøkenes hamskifte.
Take a look at Essays – Et forsøk, a collection of essays written by students under Theodor Barth's direction.
See a list of selected projects and features.
---
Academy Profiles is a series in which, each month, the editors of khio.no present one of the specialist staff members at the Oslo National Academy of the Arts (KHiO). The presentation usually takes the form of an interview, and is published in Norwegian and English. The aim of the series is to paint a fuller picture of activities at the Academy and to promote international contacts and interest in our academic and artistic research work.