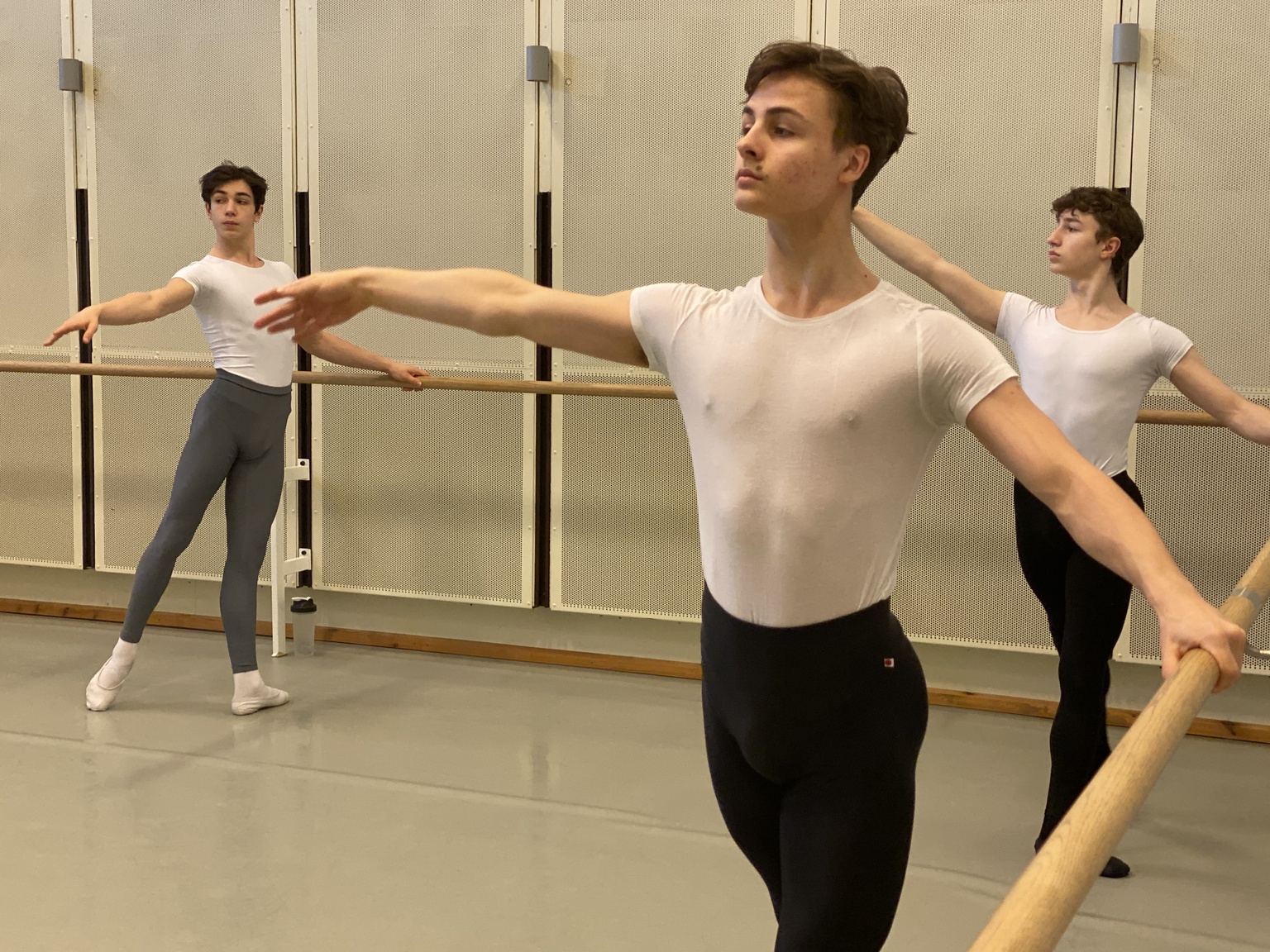 The Ballet Dancer
Lauritz Carl Rendbæk did not begin dancing ballet until he was twelve. Despite getting late into the game, he is now attending the Academy and dedicating himself to a career as a ballet dancer.
"Ballet, and dance in general, is not some sport where you just perform some movements – there's more to it than that," Lauritz says. "People may find the big jumps or the pirouettes impressive, but you can also stir up emotions and move the audience. I think that's a fantastic thing about dance."
Lauritz is 16 years old and is a first-year Bachelor's student in classical ballet. His first lesson begins at nine o'clock, but he is usually at the Academy by around eight every morning in order to stretch out and do some strength training.
"Sometimes I have no idea how I get up early in the morning to go in and stretch out and get ready. But somehow, it's just worth it. There's something inside my body that continues to go to the training room and enjoy it. That makes me happy – I feel that I achieve something, and I just can't stop doing it. The day I don't enjoy dancing, it's no longer worth anything."
The pianist is in place a minute to nine, and seven male students from the first to the third year are ready for the first practice session of the day.
"I usually just take it one day at a time and tell myself, 'I'm just focusing on today.' On a given day I might focus on breathing correctly, or I'll focus on my arms, so that every day has a purpose. This is because you don't get anything from going in as a robot and doing the same things every single day. You don't improve much from that. But it's really hard – or it's not," he laughs, "I'm not sitting here and bragging. But that is at least what I'm trying to do."
Motivation
"In comparison with other places I've been, what I really like about the Academy is first of all that I think the facilities here are top-notch. They give you the space you need to be a passionate dancer, I feel. The staff give us a lot of responsibility, something I think is wonderful, and I feel they've helped me to evolve from being a school ballet dancer to start on a real dance career with training and all that. The instructors here at the Academy are fantastic – they're just so excellent at what they do. And I really appreciate that. The sense of community is also very strong – everyone is welcome here, it's appreciated if you let herself go and kind of throw away that whole thing about having to be perfect. It's wonderful that you can be a group of people here at the Academy who have completely different goals in life, but all these goals are ambitious. I do have friends who aren't dancers, and many of them do have trouble at times understanding why I stay back at school and put in a few extra hours of practice, why I can't just relax. But here it's seen as a normal thing to be professional and be 'on' all the time. I think that's wonderful. Motivation comes from the inside, of course, but I feel that I get really motivated by the surroundings here because there are so many people who are just as passionate. It's simply fantastic to go to school here."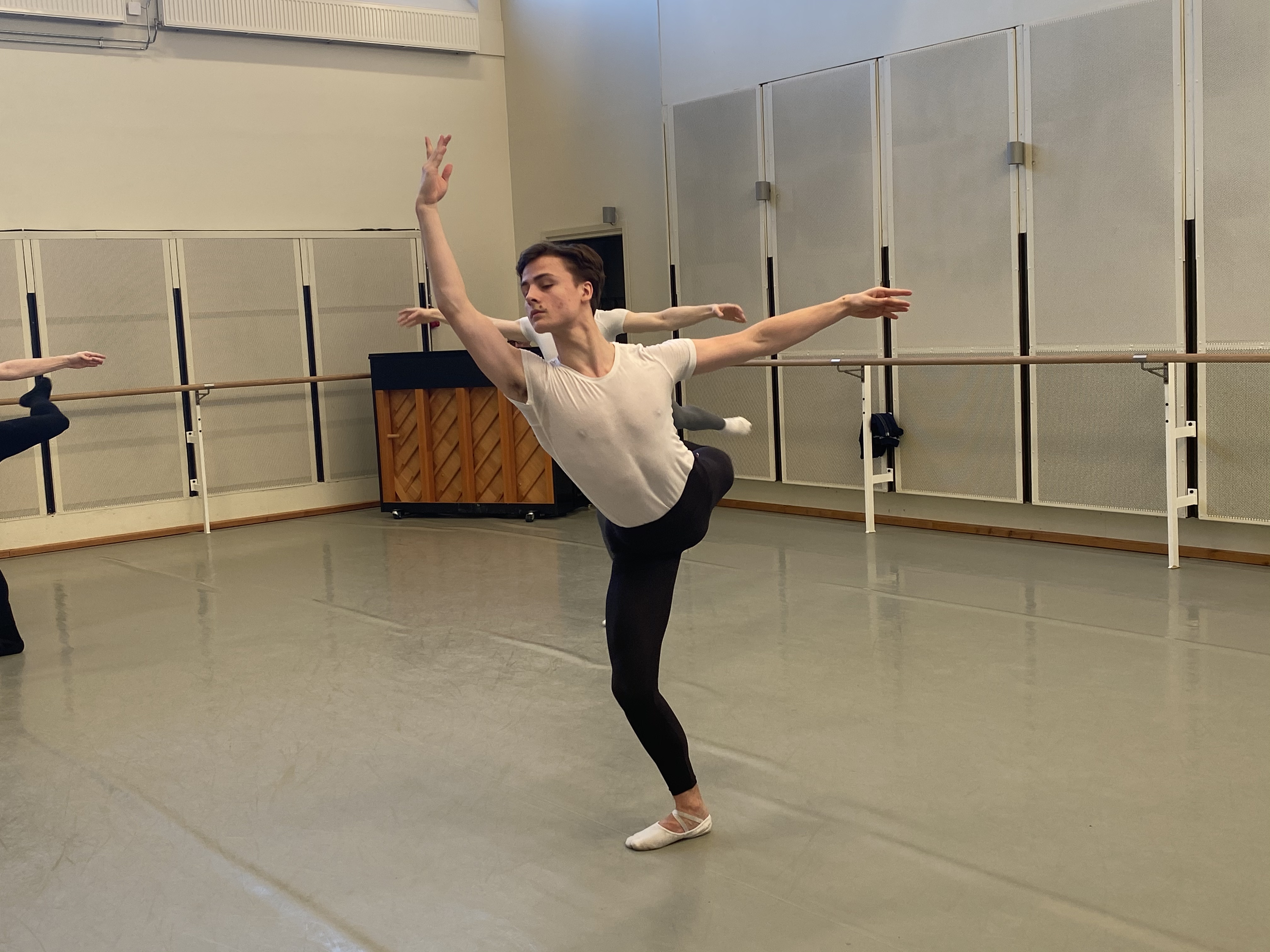 Late to the game
"My relationship with ballet started when I was perhaps around five. My mother danced ballet, and I sometimes tagged along when she was at practice. I would sit out in the hallway and watch a film or something. I remember thinking that ballet was actually a bit boring, but there was something about the music. I wasn't allowed to peak in, but I could hear the music and hear the instructor leading the class. I was a gymnast at the time – ballet just wasn't my thing. My mother's instructor said that I had such good feet, so I had a trial lesson. I was just a little boy who liked to be physically active, but my father wouldn't let me dance, so I had only the one trial lesson and that was it. And so I became a football player and gymnast."
Lauritz recalls that when he was twelve, his mother again suggested he try ballet.
"By that time I no longer had a relationship with my father. And I thought it was really late, but I had to try it out. I was a gymnast and so I had a really robust body. But I still wanted to try ballet, and so I walked into this room and everyone was standing there so slender and nice and majestic. And I was wearing a vest and joggers." He laughs heartily at the memory.
"I remember it clearly. I was asked to stand at the barre, and then the instructor called out 'fifth position', and I had no clue what that was, so I assumed this totally weird position. But she also thought I had really good feet. So I actually ended up being admitted to the class. I went there for a year and I began to love dance more and more. Gymnastics was more something I just did, unlike dance, which began to become a personal thing for me, something that was also hard for me because I had so many emotions. It was hard if I felt that I made a mistake and wasn't performing well enough. But there was just something about it – I always smiled during training, and I loved the dramatic bits and everything."
After just a year there, he was admitted to the Royal Ballet in Copenhagen.
"Some of my roommates at the Royal Ballet began studying at the Academy in Oslo, and they encouraged me to apply here. They said the instructors here are really good and that it would be good for me. So I travelled for an audition here, and then fortunately I got in. I've never regretted the decision. I'm very grateful. In addition to expert ballet instructors, the Academy invests a good deal of time in widening our horizons in regard to other dance genres and techniques. In a new era, you have to dance many different genres – you don't have to be the greatest modern dance star, but it's important to know about modern dance and jazz. It may help you within classical ballet, and there are also many dance companies that do different things that aren't just classical."
At eleven o'clock, the students start their second lesson of the day – variations – under the tutelage of guest teacher Mikhail Zavialov, who normally teaches in Portugal and who has previously been the principal dancer of the Kirov Ballet. "Challenge yourself," he tells the students. "If you fall, you fall. It doesn't matter – we are working. I want to see the effort." The students extend themselves higher and wider. "Do you see – no problem!" he says to Lauritz after an especially big jump and a steady landing. "Actually, this is one of the most difficult things in the world," he adds.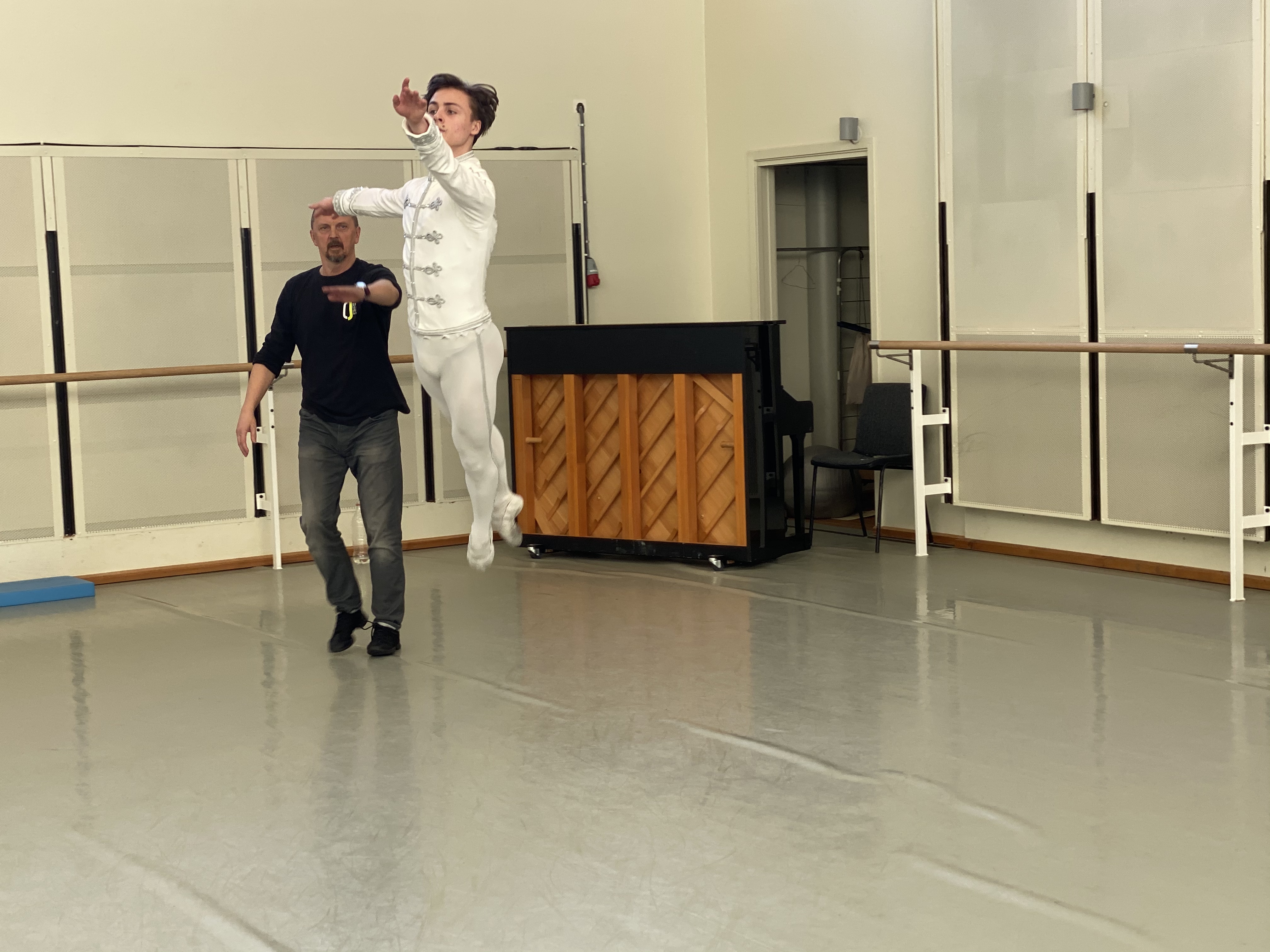 Goals
"Of course, there are certain dance companies I'm extra keen on working for, and certain roles and goals I envision, but at the same time I feel that you should be careful when you formulate specific goals. If you only have a single, grand goal, and then achieve that, it becomes difficult to move on – you lose interest. That's why I think the best thing is to constantly be searching for new challenges. Of course, everyone wants to be the best – you didn't go to the Academy with the aim of standing in the back row – but no matter the role, my dream is to experience the energy of the stage and give many people some fantastic experiences. That's when I'm satisfied with myself."


Application deadline for Bachelor's Programme in Classical Ballet in 2020 is 20 February.