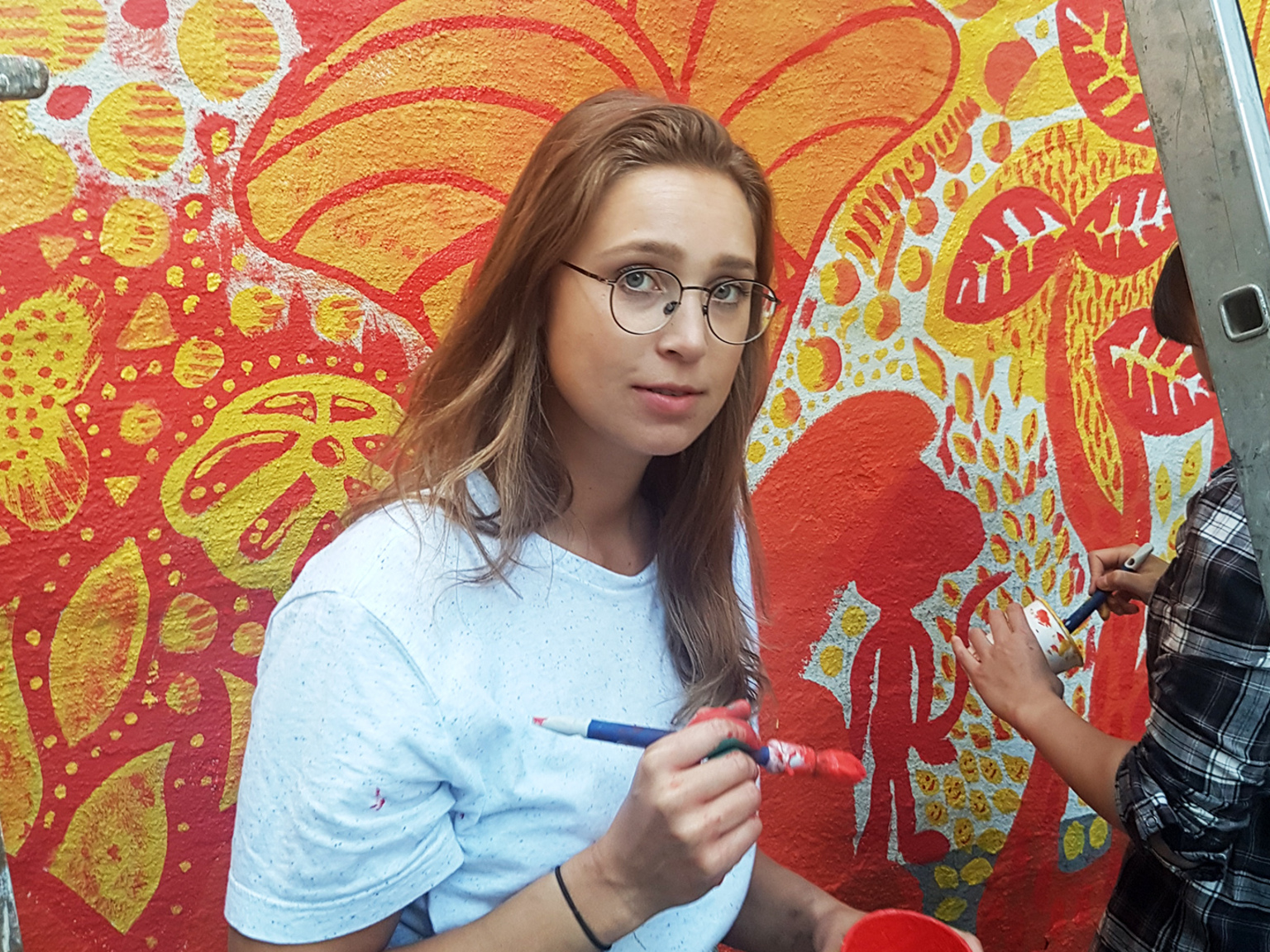 Master's students painting their way to the stars
In Idunsgate 3 a palm tree can be seen growing all the way into outer space. The tree is the brainchild of Master's students in design, who are realising Goethe's theory of colours in a courtyard in central Oslo. "The plan was not to have a plan!" explains project manager and Master's student Emma Staubo (pictured).
See the report on the mural painting at the NRK website .
Theodor Barth, professor of design theory and writing, has provided the Master's students in design with pails of paint based on Goethe's colour wheel. In the course of a single day, Monday, 12 September, the students were charged with transforming the courtyard's cream-coloured wall into a rainbow-coloured fantasy of growth that reaches for the stars.
"We didn't have a very specific plan when we began – or rather, the plan was not to have a plan!" says Emma Staubo, a Master's student who served as the project manager for the mural painting. "Right now it looks like it's going to be a jungle growing all the way to outer space. We are working very much back and forth and constantly talking things over. We have to take a few steps back to see what we're doing, and then we go at it again. How high up on the wall we'll go is primarily limited by a fear of heights."
The local residents were invited to take part in the work and make suggestions and spontaneous comments throughout the process.
"Yes!" interjects Sofie Vik, a local resident. "More outer space!"
Like everyone else living in the buildings around the courtyard, she has been invited to make suggestions and state her opinion about the students' work.
"I really, really like this," she adds. "It's so nice that they're adding a bit of colour here!"
Going out on a limb

"I have made quite a few mural paintings before," says Master's student Julie Aida. "And I like it, especially because you have to go out on a limb. You have to work with the given limitations and just attack it like a large-scale work."
She adds that it's wonderful to be able to move around and enlarge the work. From her previous experience with murals, she also knows that it is better to paint without any possibilities of retreat.
"Of course, you can always paint over areas you want to do differently. But in that case you have to wait until it dries. So all in all it's better to have a go and stick with what you've got. I think it's loads of fun!"
Puzzle run in design and writing

This semester is like a sort of puzzle run for Master's students in design. Their first assignment was to create a clay figure without looking, and as soon as they opened their eyes they were to jot down the words that popped into their head. These words were then read aloud to the other students in the courtyard at Idunsgate 3, which in the 1970s became the first street in Oslo to be converted into a recreational area.
"In the first task they worked in an intimate, small-scale format, while in the present task they're working in a large-scale, life-sized format," explains Theodor Barth. "The first task required them to formulate something that was to be read out loud to the others, while the present task requires them to write something only they will read. This is something we'll take along with us when we go for a long field trip into the woods."
Regarding the task that has led them to the iconic courtyard in central Oslo, Barth notes that "the task and the reflection surrounding it are meant to help the students develop their persona, that they reflect on what happens when they write something for their eyes only and what happens when they share texts with other people. Do you write more candidly when you write only for yourself, or not?"