Habitat – art in nature
Master's students at the Institute for Art and Public Space have access to unique experiences when they collaborate with professionals outside of the Academy. In partnership with Galleri F15, four students will exhibit their works in and around the Alby farm in Moss. The Habitat exhibition will run for four months.
"We're getting a lot out of this collaboration, and we're hoping for more in the future," says F15's director Dag Sveinar. As he sees it, the students have approached the area and their final projects in a very good way.
"The students have developed their projects over a long period of time, and we have also had time to get to know one another," he explains. "As a result, we understand their individual wishes better and can put the students in contact with people who help them take a deep dive into the topics they are interested in. We have for example put them in contact with the farm's neighbours, the county governor, a biotype expert from the Norwegian University of Life Sciences and the municipality."
Sveinar adds that he and his staff have themselves learned a good deal from the professionals that the students have been in contact with.
Animal Conference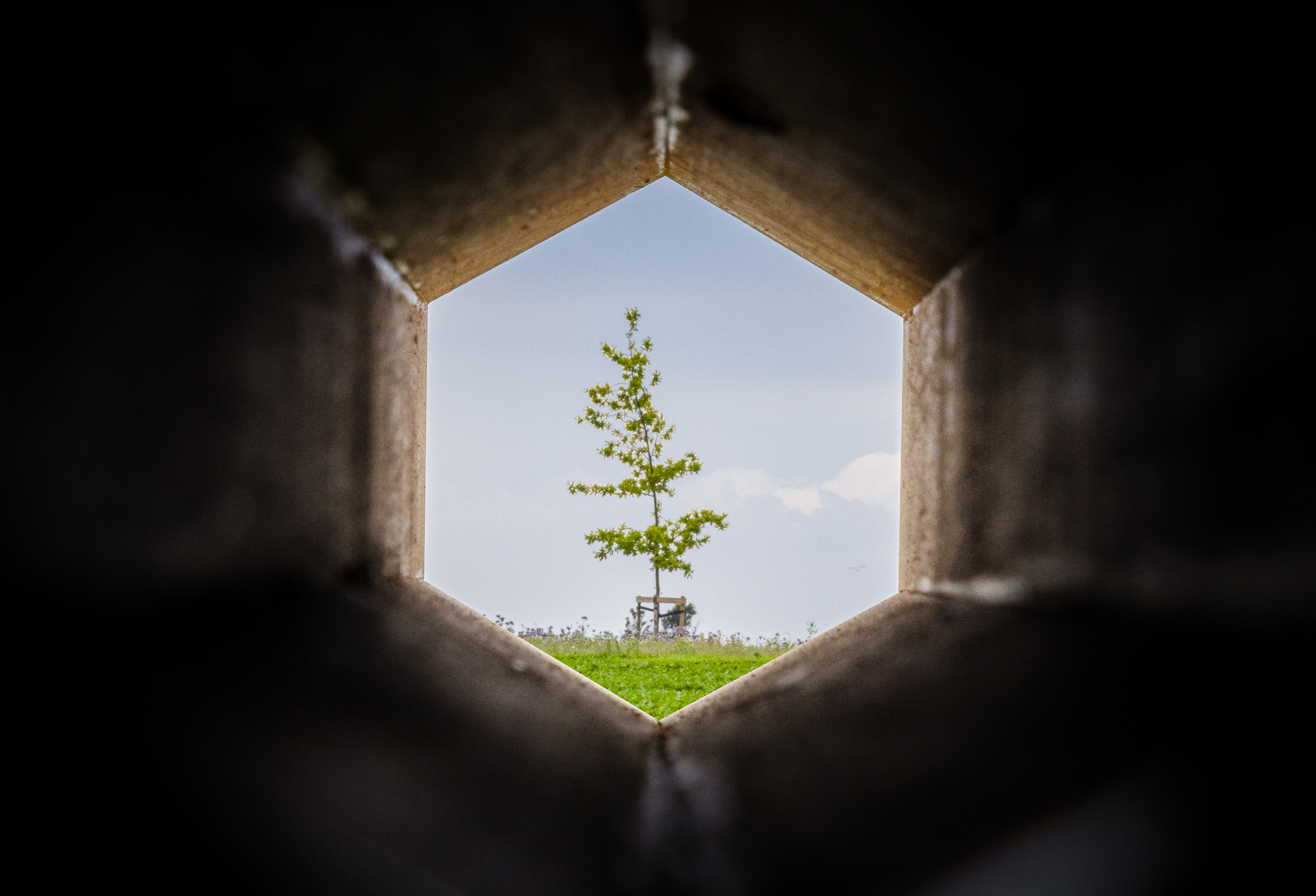 "Since I am German, with a Jewish background, I am interested in exploring my family and my heritage," Sarah Sekles explains about her project, titled Animal Conference. "And when Dag Sveinar pointed out the oak sapling that had been planted in the middle of the field by the gallery, in memory of the 500-year-old tree that the Nazis cut down to make space for their cannons, it really fit in with the rest of my project."
Along with the farmer who owns the land, Sekles planted a meadow in a circle around the oak. Her idea is to attract insects and animals to return to the area and give them a voice without any human intervention.
"I interviewed two brothers about the history of the Nazis and how they put up their fortifications in this meadow, which lies along the Oslofjord. It took the Nazis only a few minutes to chop down this over-500-year-old oak. We also spoke about the local fauna and about the area in general. They were such excellent conversationalists – I loved listening to them!"
Galleri F15 is a venue for ever-new contemporary projects, but Sarah Sekles' project will become a permanent installation in the farmer's field. The main goal is to increase the local biodiversity, but Animal Conference will also become part of the remembrance of the lost oak.
"When people come here, all I want is for them to observe the tree and the meadow, even as they listen to the four recordings of the brothers talking about the local history, their own personal memories and the fauna here at Alby. This is a project that will constantly change along with nature, with the aim of creating an inquisitive approach to understanding, where all people have to do is listen to nature."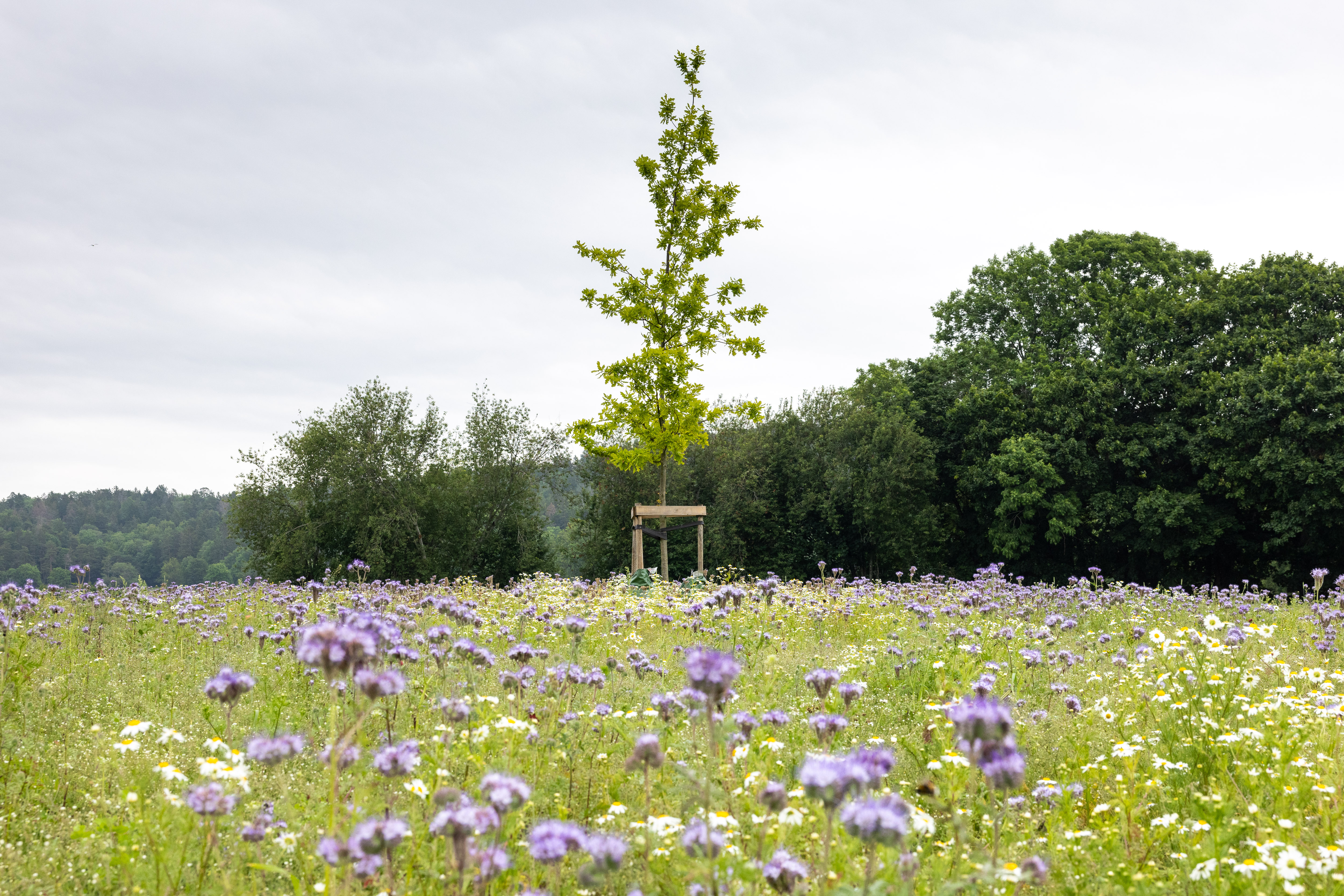 Pink Cloud
A bit closer to the main building, to the left of the entrance as seen from the sea, visitors can see Amina Baker Shubar's ceramic pillars. Several children have been over there to touch the sculptures and take a peek down into them, because one of the sculptures actually talks.
"The sound is about journeys, molecules and water – it's basically a mix of different topics that have been thrown together," Shubar explains. Pink Cloud is the title of her work, whose overarching theme is one of survival strategies.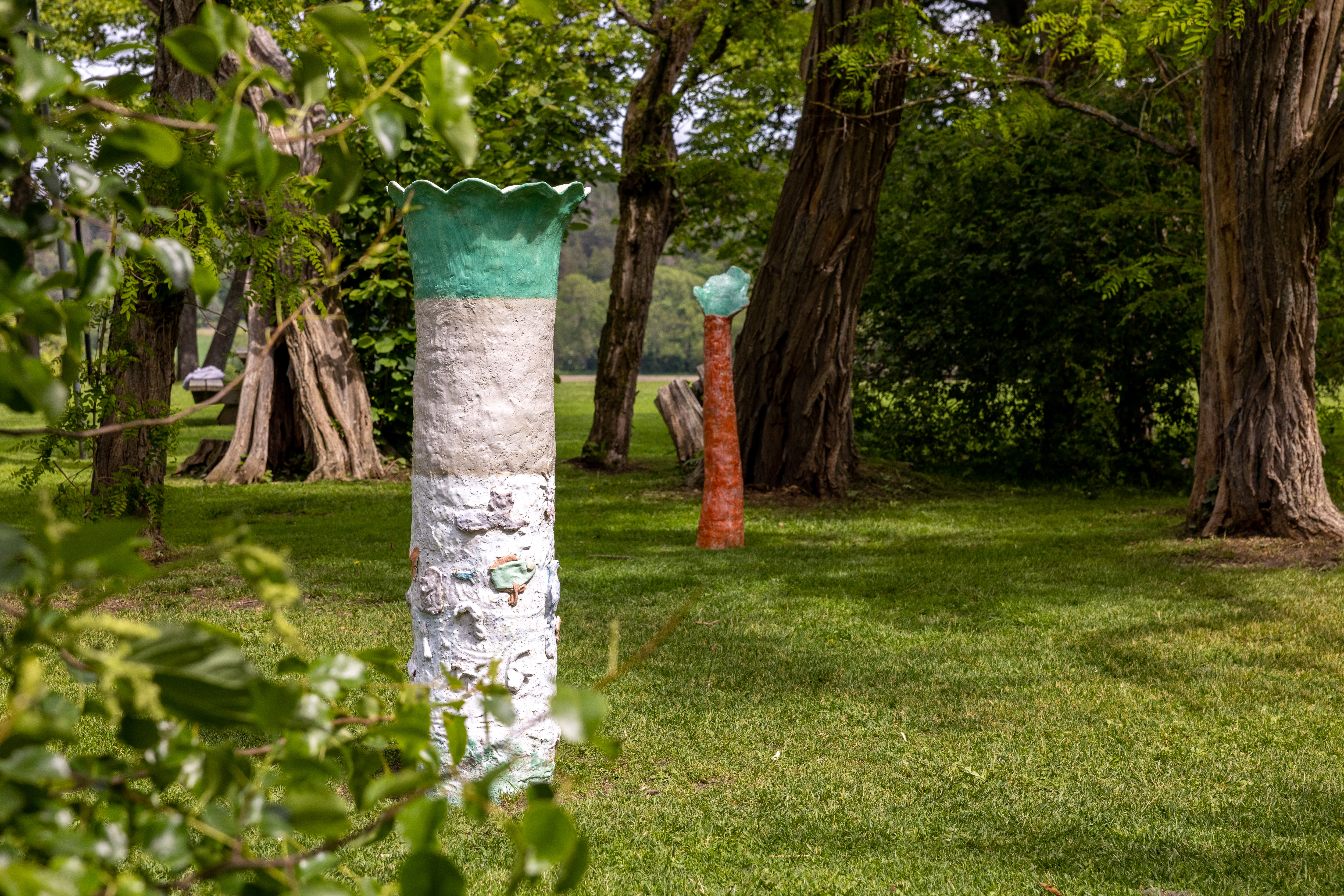 "People typically look at pink clouds as something positive, as something we take pictures of and enjoy seeing," Shubar continues. "But what causes them is often pollution stemming from mass production. Pink Cloud addresses topics such as climate challenges, but also things from my own background. I am interested in how power and culture affect nature and society on different levels. In my ceramics, I am inspired by the feminine, such as Ishtar, the Mesopotamian goddess of war and love. This is why I use round, organic shapes. The Jewish religion denied the existence of female gods and let the men take over. Islam has also taken a dim view of previous mythologies. But the first one who wrote an 'I' narrative was a woman. She created the act of writing."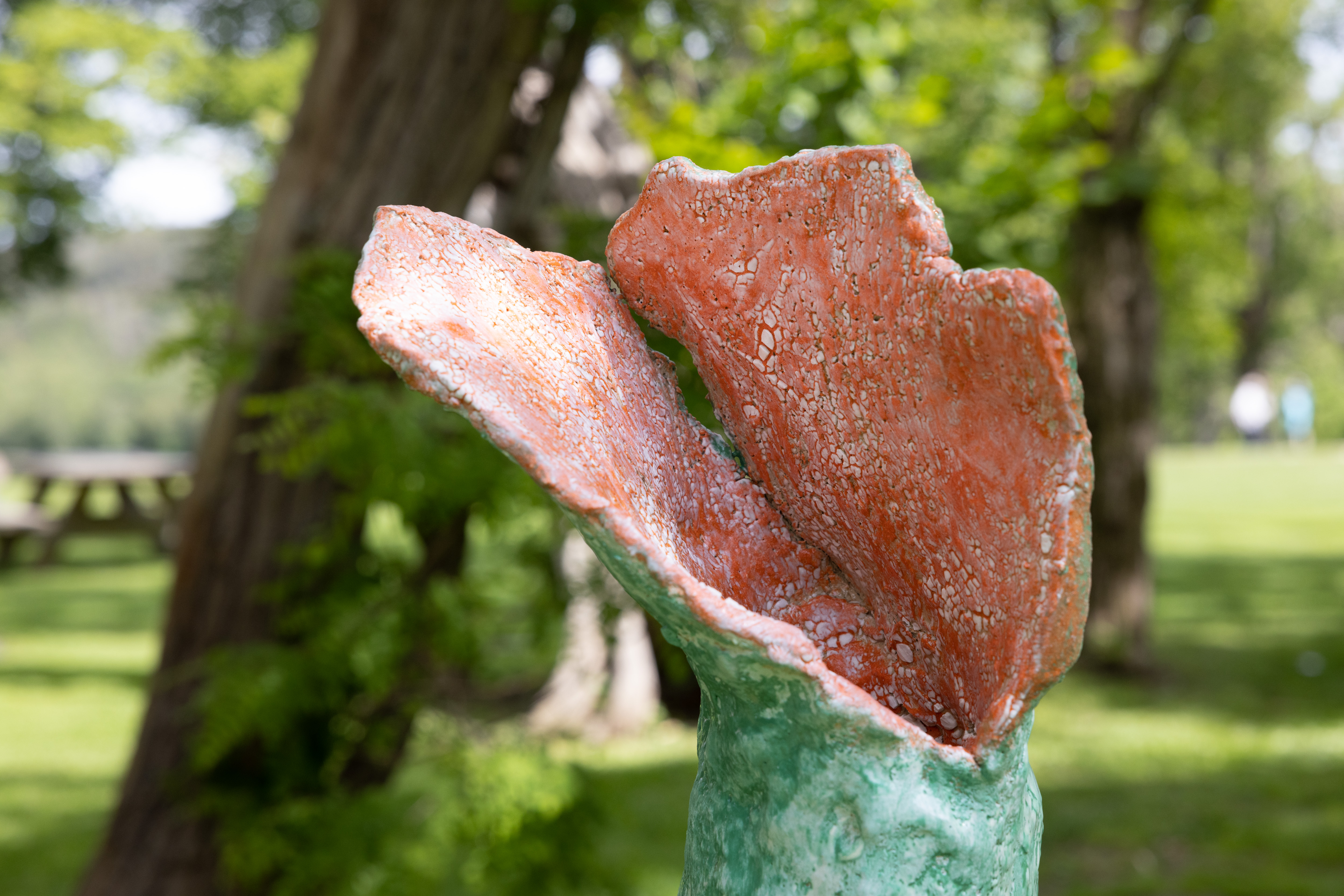 When people encounter her sculptures, Shubar wants them to think whatever they want. Hence, she has created shapes that pique the viewer's interest, but that nonetheless are not entirely easy to grasp.
"It's been a fantastic experience to leave the Academy for a while and work with the team here at F15," Shubar concludes. "And after having met people within the industry, we feel even more confident that this is something we can do even after we've graduated."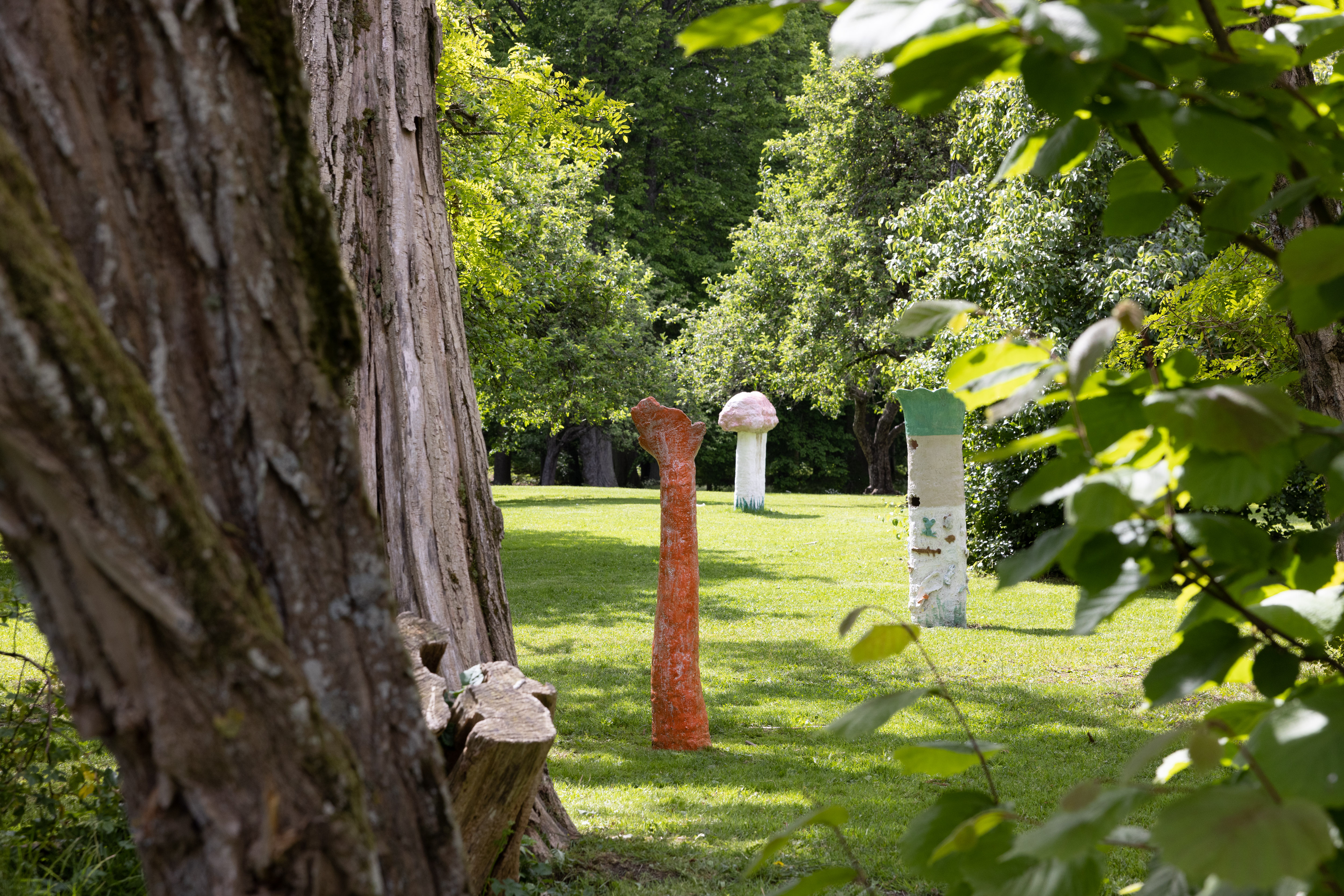 Healing Blanket

"My project was entirely different to begin with," Jad el Khoury recalls. "When you are working out in public space, you will encounter processes that you can't control, and as an artist you have to be able to adapt. The Healing Blanket project that I ended up doing is placed on the lawn of Alby's baroque garden, with the Oslofjord as the backdrop. It is made of curtains I used in previous projects to reactivate and heal war monuments in Beirut."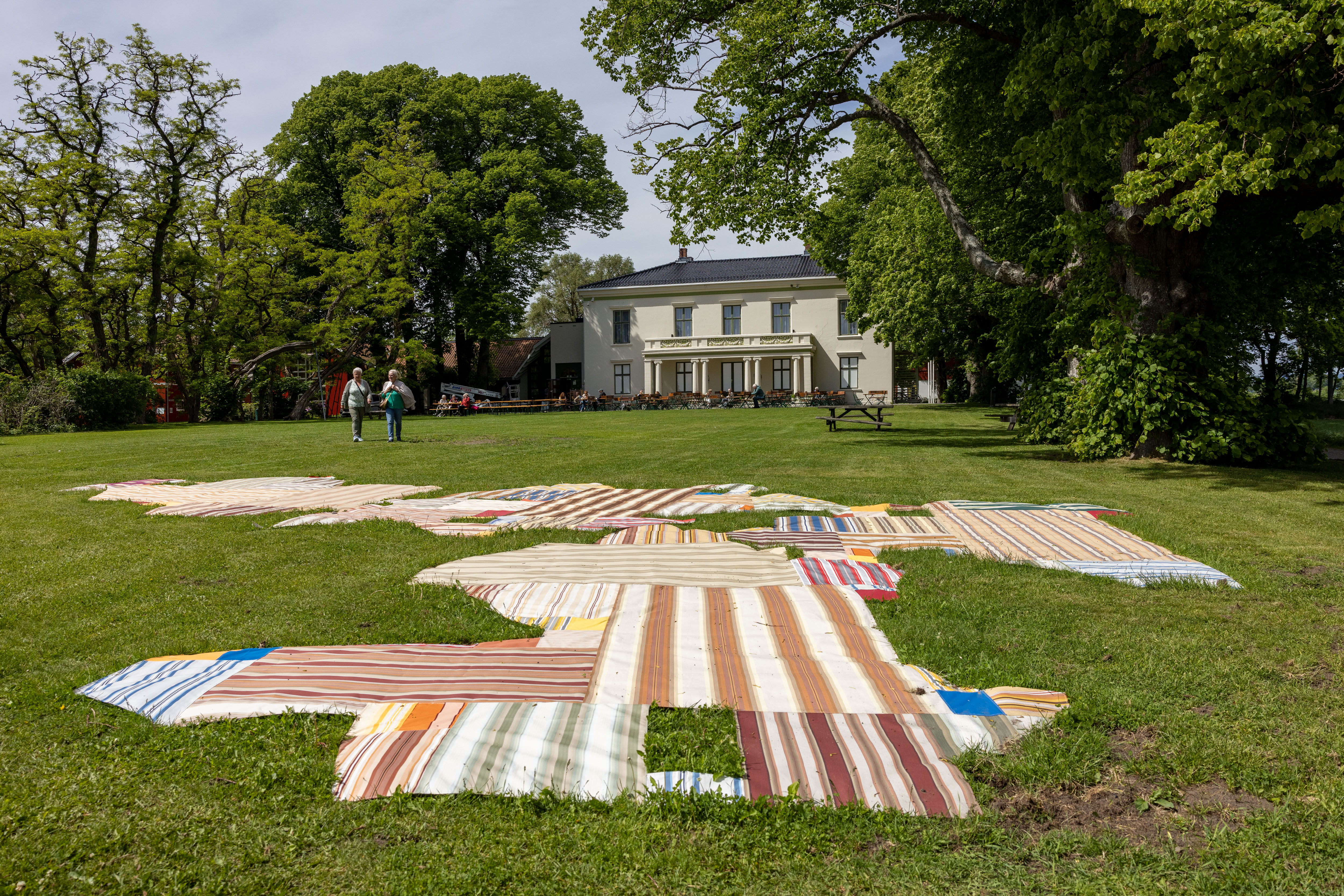 In one of these projects, el Khoury used curtains to heal an abandoned, unfinished factory building that was used as a sniper position during the civil war in Lebanon. The curtains in the empty windows flap in the wind and reanimate the building.
"I let randomness lead the process, using the curtains in Beirut as healing blankets."
The plan is to move the blankets when the exhibition ends 5 October.
"The blankets are meant to be moved, and so I'll take them with me to parks in Oslo, and perhaps to a beach to increase the chance that some random event may happen. Different groups can use them, through events such as picnics, yoga, meditation or live music."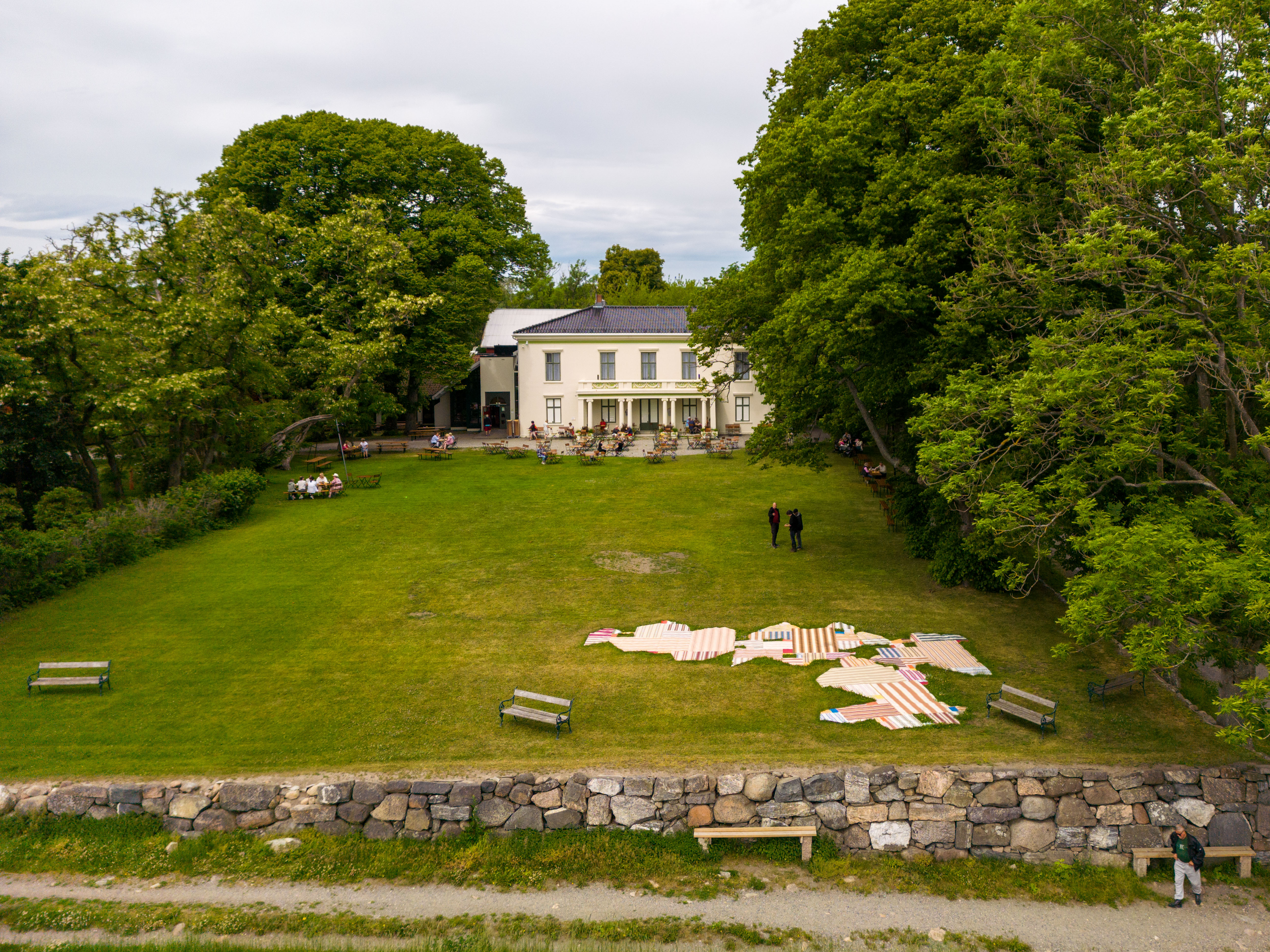 Professional environment
"We are very happy that our students get to have this experience of exhibiting at a gallery in a professional environment," says Associate Professor Merete Røstad at the programme for Art and Public Space. "In this environment they get to experience how it is to work with professionals and plan and execute an exhibition that is set to run for an extended period. Last year our students were also involved in an exhibition outside of school, then at the Nitja Centre for Contemporary Art. This type of collaboration means a lot to us, as it gives our students experiences that will help them thrive as independent artists after they have graduated. We hope to offer professional exhibitions to our future students as well."
Merete Røstad and her colleague Siri Hermansen, professor and the head of the Art and Public Space programme for the 2021–22 academic year, also attend with their own work at the exhibition.
We Are Hanging in the Same Web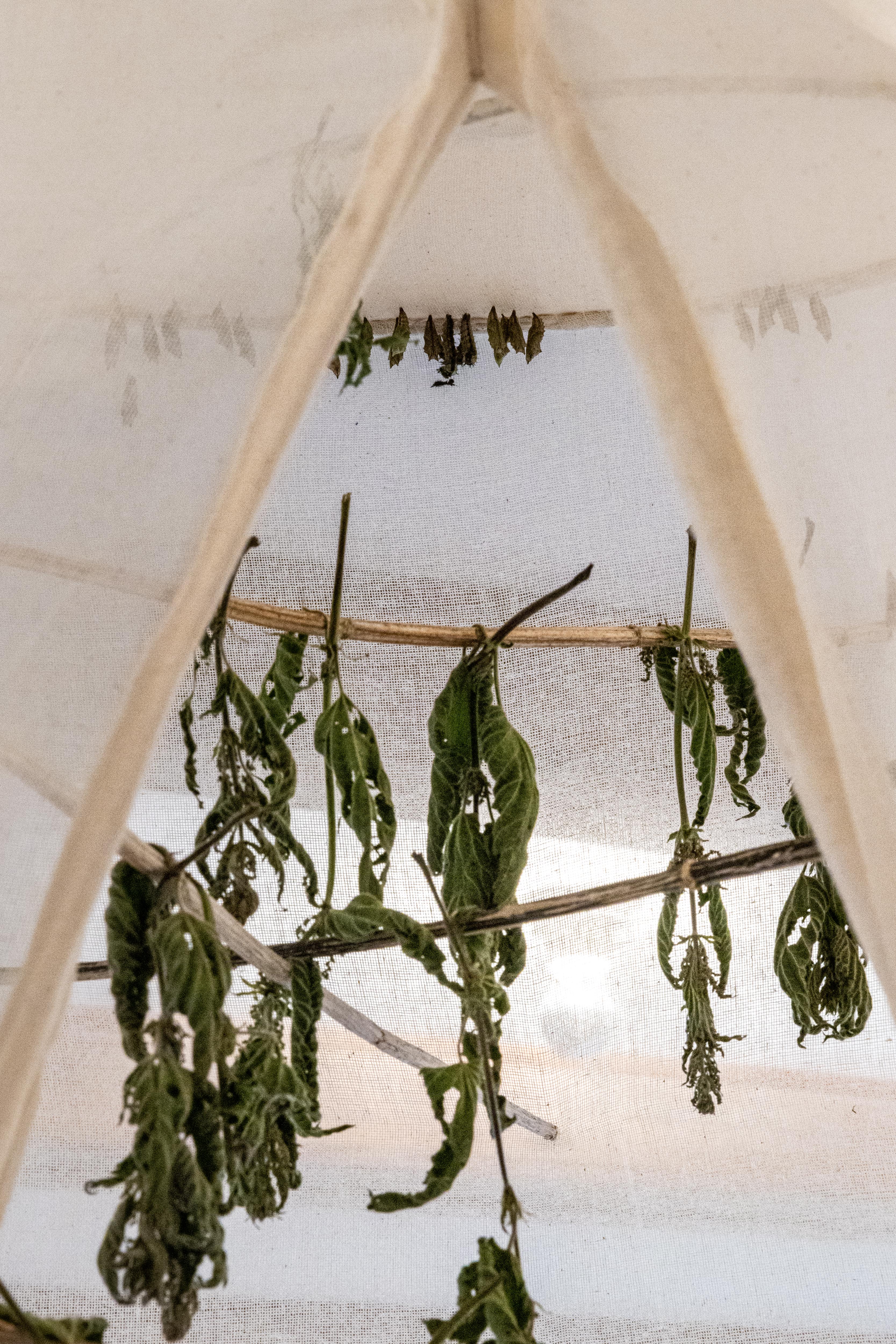 Inside a low door and up the stairs to the first floor of the Nature House, which lies right next to the main building, is where we find the work by Sarah S. There she has installed cocoon-like installations where small butterfly larvae live and metamorphose into butterflies.
"This project is about how to develop relationships. People are invited inside to take part in the larvae's metamorphoses. I'm the facilitator, and it is the larvae themselves that make their great works of art."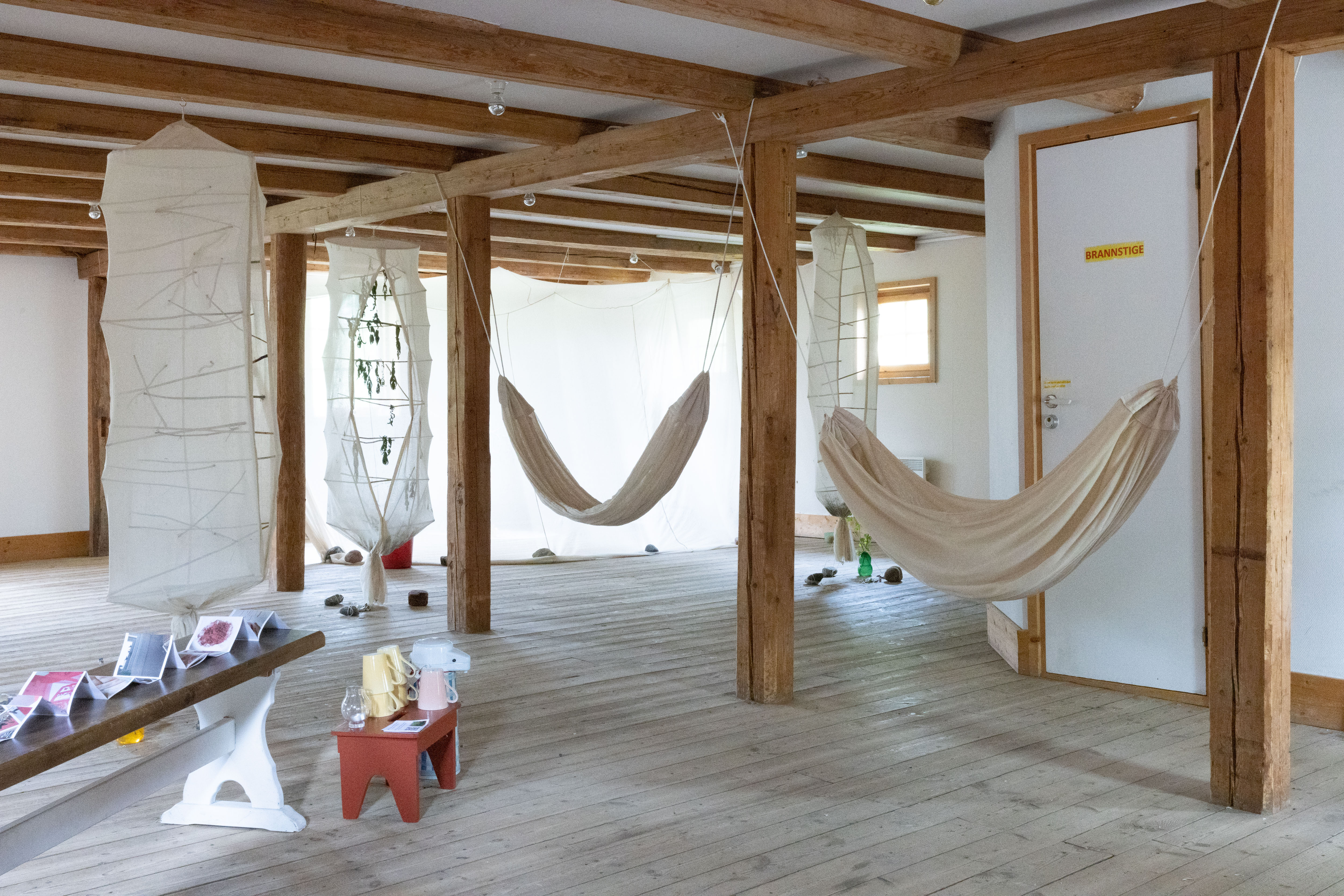 The small tortoiseshell is a hardy butterfly species that co-exists closely with humans, living in our gardens and wintering in our houses.
"We depend on these pollinators to ensure our food chain. When I was wandering around the area here, I was afraid that the drought this year would make it impossible to find the larvae, as they thrive in nettlebeds. I wandered around the island seven hours every day. And then one day I found them – 20 metres from this house!"
Sarah S. wants to make people aware of these small, important creatures and to warn them that if we cut nettles down, the butterflies will die.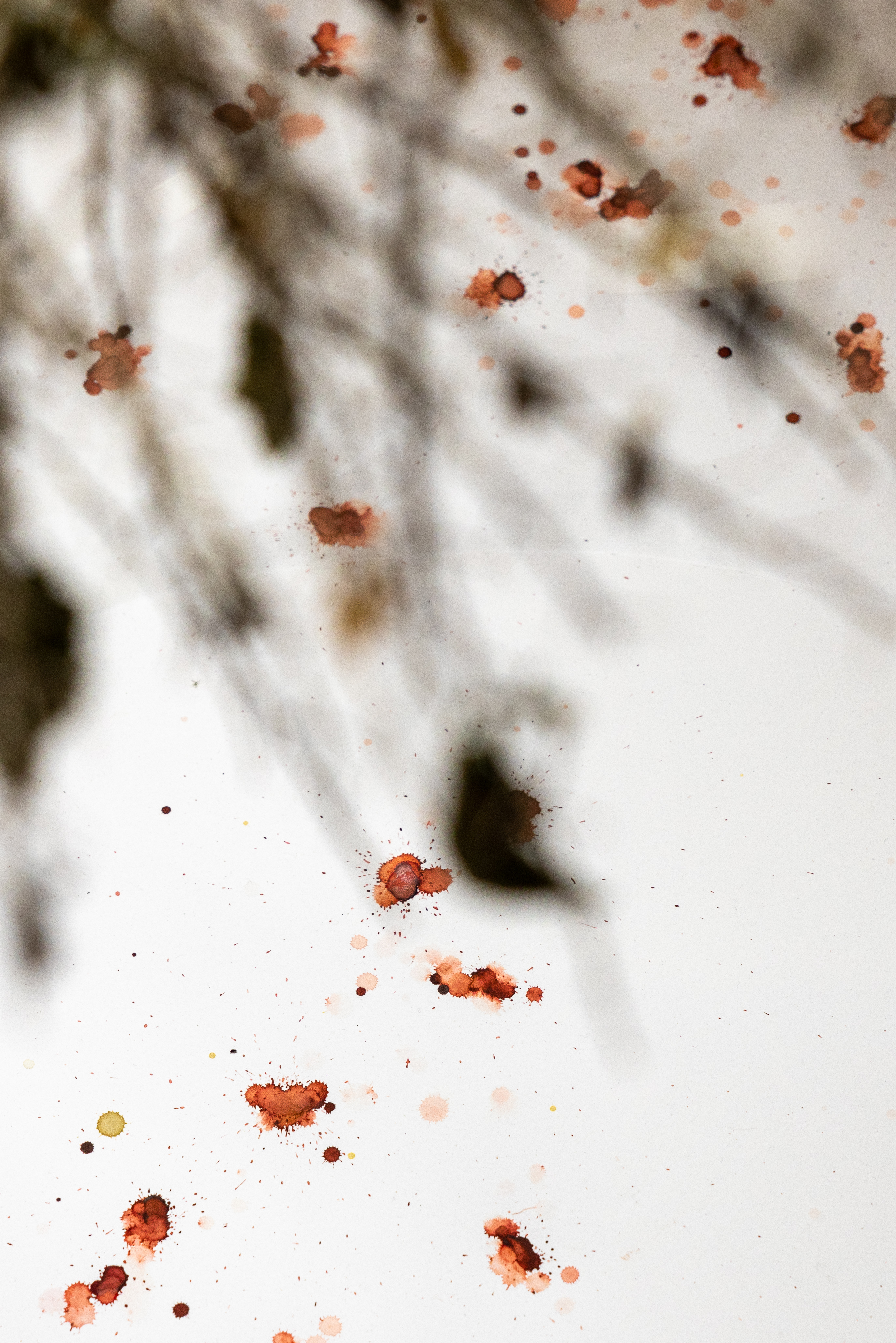 "I've brought the larvae to this room, where they've probably wintered for generations already. I've slept here throughout the entire period and listen to the larvae. I know they turn
into butterflies around four in the morning. The secret is that they discharge a reddish liquid called meconium when they metamorphose, and then I wake up from the sound of the drops falling down."
Meconium is the remains of the larva that it did not need to metamorphose into a butterfly. Sarah S. collects this liquid and makes ink from it. She lets the visitors use this ink to write down their thoughts and stories. When all the larvae have metamorphosed into butterflies, she will take the paper out to where she found the larvae at the beginning of the project.
"I've carried out such a project with larvae before and used the ink, but this is the first time I'm showing the actual process. I invite people inside and serve nettle tea. Alby is a fabulous place, and it's been so wonderful being here!"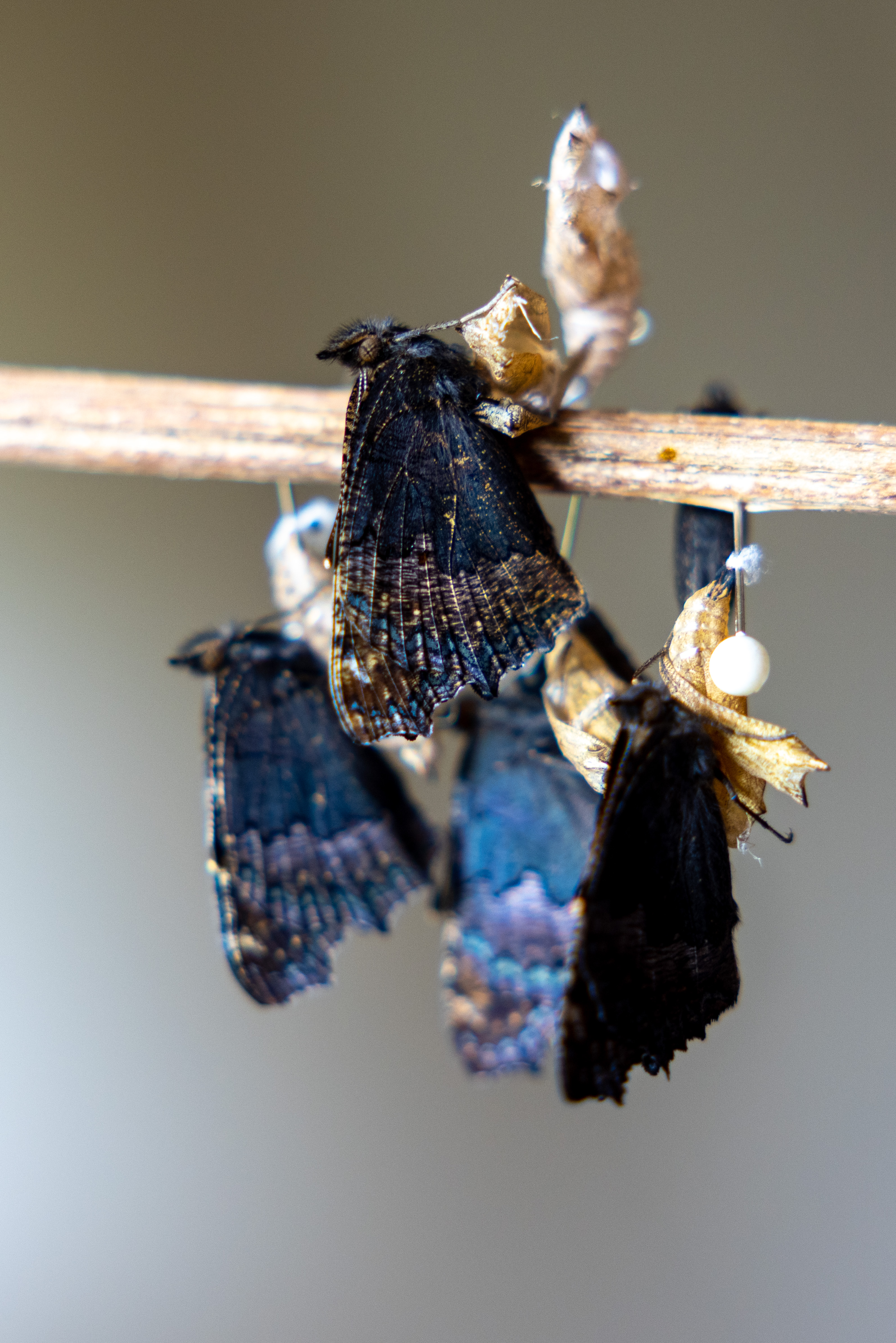 Galleri F15 as a habitat
"People have lived here at Alby for a long while, and we want to both reflect on the past and think about the future, with a focus on protecting the landscape and the five biotopes in the area," Dag Sveinar says. "With our contemporary art projects, I think we will be able to continue being an eye-catching venue, and we're positive to students coming here and using their different experiences when they engage with the surroundings here. This brings out some subtle nuances we weren't even aware of."
Sveinar explains that Alby has traditionally looked to continental Europe for inspiration. Founded long before a more nationalist agriculture developed in Norway, the farm has always been open to the international exchanges of culture. In 1985 the farm was saved from being bought up by companies that wanted to create a corporate golf course and retreat there. Instead, the farm has continued to exist, now as a venue for contemporary art exhibitions.
"Such collaborations enrich us. And so we want to engage in additional projects together with the three institutions of higher learning that participated at the Momentum exhibition in Moss in 2019, which in addition to KHiO were the Norwegian University of Life Sciences and the Norwegian Theatre Academy at Østfold University College."
"My motto," Sveinar concludes, "is that Gallery F15 is not a white cube, it's a habitat."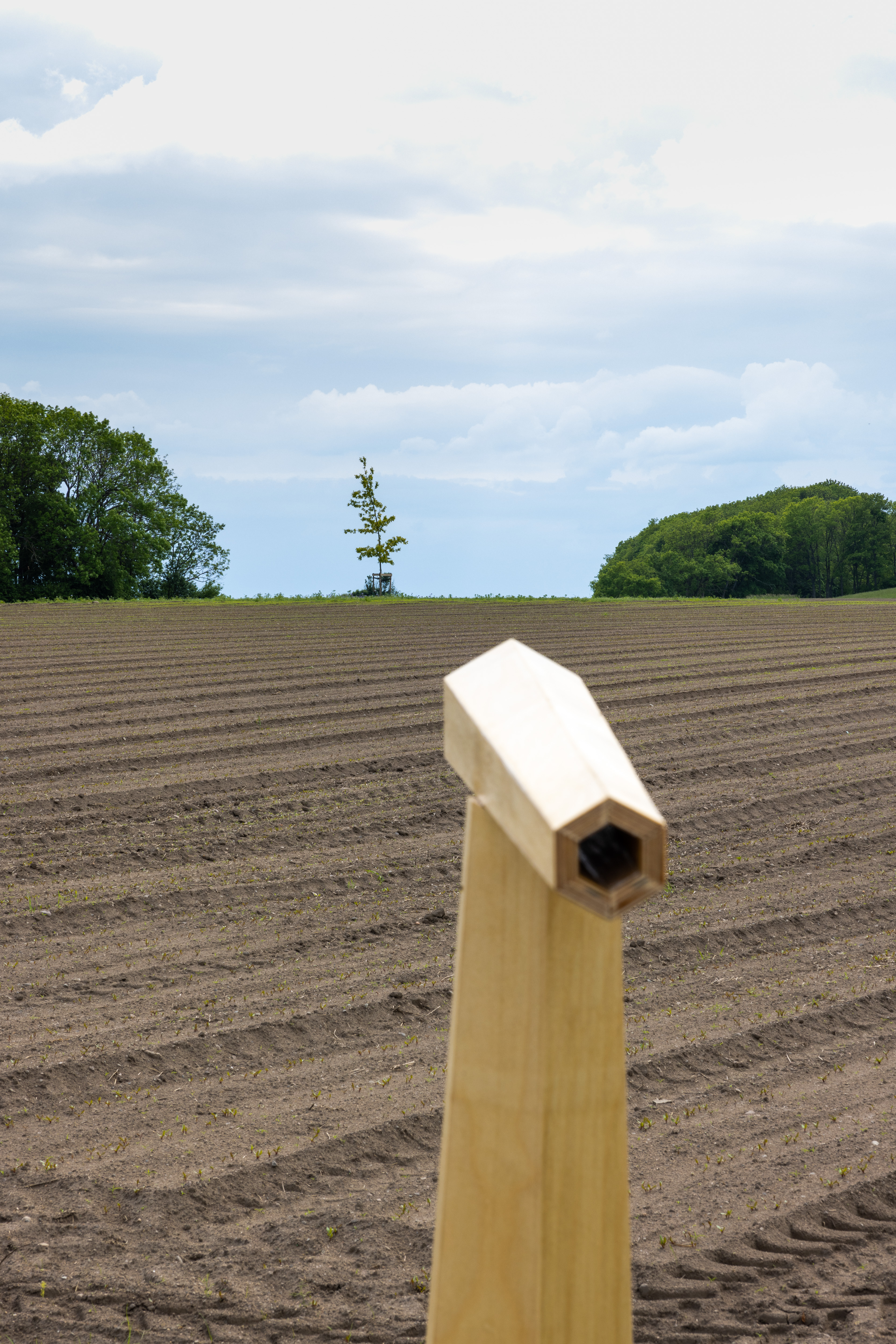 All photos: Eivind Lauritzen / Galleri F 15. The exhibition will run until 5 October.  See Galleri F15's home page for the opening hours.
 
Follow the artists at their Instagram accounts:

Jad el Khoury @jadelkhoury.art
Amina Baker Shubar @aminabakerart
Sarah Sekles @sarah_sekles
Sarah S (Svensson) @sarah.sikorie