Exhibition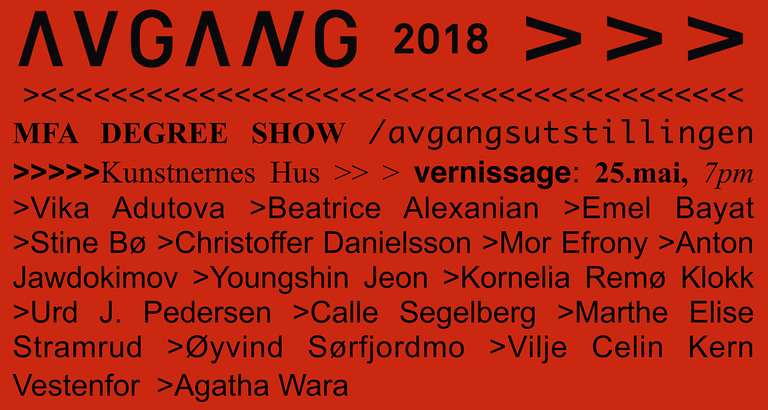 Avgang 2018: MFA Academy of Fine Arts
The graduating Master of Fine Art students will hold their graduation show at Kunstnernes Hus.
Vernissage: Friday 25. mai, 19.00
Exhibition: 26. May - 24. June
Venue: Kunstnernes Hus, Wergelandsveien 17.
Friday 25 May 15 new artists welcomes you to the opening of their graduation show at Kunstnernes Hus.
Artists:
Vika Adutova//Beatrice Alexanian//Stine Horgen Bø//Christoffer Danielsson//
Mor Efrony//Anton Jawdokimov//Youngshin Jeon//Vilje Celin Kern Vestenfor //Kornelia Remø Klokk//Urd J. Pedersen//Calle Segelberg//Marthe Elise Stramrud//Øyvind Sørfjordmo//Agatha Wara//Emel Bayat.
MA Graduation show 2018 is coordinated by Bo Krister Wallström.
On the exhibitions homepage you find programme, bio and essay by the students, pictures and text by coordinator Bo Krister Wallström.

Opening hours Kunstnernes Hus:
Tuesday – Wednesday: 11:00 – 16:00
Thursday: 11:00 – 20:00
Friday: 11:00 – 18:00
Saturday – Sunday: 12:00 – 18:00.
Monday: Closed.

The Master of Fine Arts (MFA) is a program aiming to offer students the knowledge required to become an independent artist. The aim is also to enable students to be active contributors within contemporary art and related areas of society for a national- and international-level practice.

Presscontact:
Bo Krister Wallström, exhibition coordinator,
e-mail: bovedlegg@yahoo.com
phone: +47 91 74 94 54.
Anne Line Abotnes, senioradvicer KHiO,
e-mail: anneabot@khio.no
phone: +47 92 03 98 51