Presentation, Talk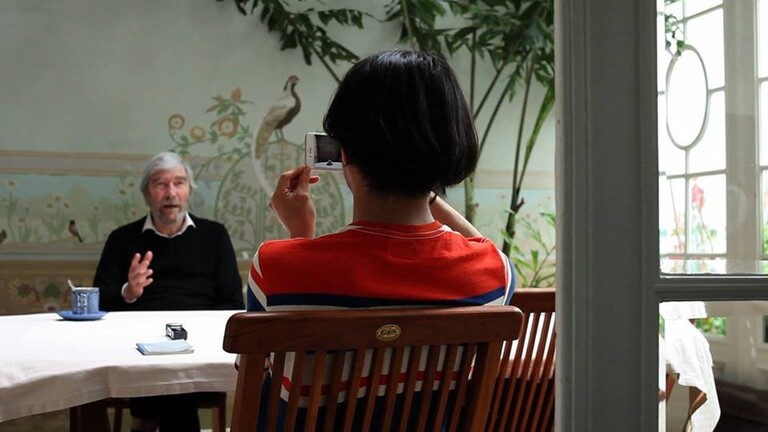 Åpent forum: Yuki Okumura
Vika Adutova, a MFA candidate in KHiO, is the selected One Work Only artist for this event. She will be in dialogue with Yuki Okumura, a Japanese artist, who is best known for translating artwork into another by cutting holes in it, slicing through time, foundations and facades.
Time: Doors open 19.00. Screening and talk 20.00.
Free soup and student priced beers served!
"For no one knows himself, if he is only himself."
Yuki Okumura presenting his project on Gordon Matta-Clark
"The seat of the soul is where inner world and outer world touch each other. For nobody knows himself, if he is only himself and not also another one at the same time." these are the words that American legendary writer Henry Miller borrows from the poet Novalis while talking about writing as a self-consciousness exercise in his seminal book Sexus.
The process of art making - just as that of writing - can be understood in many different ways, but a particularly interesting one is to perceive it as an exercise for the artist to get to a better understanding of himself. In this regards, if we keep in mind Miller's words, it is impossible to follow the Socratic imperative "know thyself" if we perceive ourselves as isolated beings. To really understand ourselves, it is necessary to dig deep, gazing at our image mirrored in the lives and thoughts of others, whether they might be contemporaries or past figures.
Yuki Okumura's (Aomori, 1978 – ) artistic practice can be a particularly stark example of this approach. Driven by an irresistible curiosity towards other artists with whom he finds certain particular links in terms of practice, life events and spiritual/ideal affinity, the artist creates pieces that are intimate conversations between him and his subject, taking months or even years to properly relate himself to the interlocutor. Recent works in this spirit include a series of projects in the forms of performance, film, and audio installation on the mysterious and relevant conceptual artist On Kawara presented in various countries and a 3-years-long quest to rediscover the elusive Hisachika Takahashi, a project that culminated in a collaborative exhibition in Hermes Le Forum, Tokyo in 2016. Through this practice, Okumura paints a portrait of the artist he talks about, while painting his autoportrait at the same time.
His latest film, "Welcome Back, Gordon Matta-Clark" (realised in the Summer of 2017) will be screened at Khartoum for the second date of Open Forum programme.
In the video, Okumura interviews the curator Flor Bex, who was deeply connected with American artist Gordon Matta-Clark (New York, 1943 – 1978), inviting him to Antwerp in 1977 to realize one of his most ambitious large-scale building-intervention: Office Baroque.
Okumura enquires the past by embodying the artist himself, now referring to the late artist not as "he" but as "I". The artist is therefore present through Yuki's body and mind, now able to pay a visit to his good friend and have a conversation for the first time after 50 years, share memories and reflect on key moments of their life. Through this mechanism, Okumura unveils his spiritual affinity with Matta-Clark's legendary figure while dealing with his own past. At the same time, he is also reflecting on art history and the relationship that can occur between an artist and the figures that surround him, particularly that of the curator.

Yuki Okumura is a Japanese artist based in Brussels and Maastricht who is best known for translating artwork into another by cutting holes in it, slicing through time, foundations and facades. His work shuffles identities and names, raising questions over matters of subjectivity, authorship and memory within the social environment and the art industry. Okumura stated in a recent interview: "My initial decisions were based on the avoidance of making self-expressive projects and an abhorrence of self-flattery art. It is the rigid mentality that artists install their works and curators contextualize them that offends my sense of either profession."
By experimenting with the renewal of historical pieces by artists he admires through his own vision and mind, Okumura alters the existing units of perception normally employed to discern the wholeness of a human being. His pieces are "an homage responding to what already has been well done." yet being also a new and intimate work at the same time. His work has been shown in a long list of conventional and unconventional stages all over Asia, Europe and America.
Vika Adutova is the selected One Work Only artist for this event, in dialogue with Yuki Okumura.
Grew up in Uzbekistan and previously based in New York, she is now a MFA candidate in KHiO, Oslo. She will present a work that was developed within a residency organised by Praksis (Oslo).
The work - a collaboration with the poet Gleb Simonov - is based on the poem "A Game in Hell" by Velimir Khlebnikov and Aleksei Kruchenykh, published in 1914. 22 words were selected from the poem, processed and shuffled to give life to a new piece, in which research is represented by a video that complements an object that can look like and be used as a fortune telling book.

Åpent forum/ Open Forum is a student initiative at The Academy of Fine Art, conceived in 1999. The Forum invites scholars and practitioners from arts and sciences to share their thoughts. Mondays every second week, at 19.00–22.00.
The program is free and runs in English.