Exhibition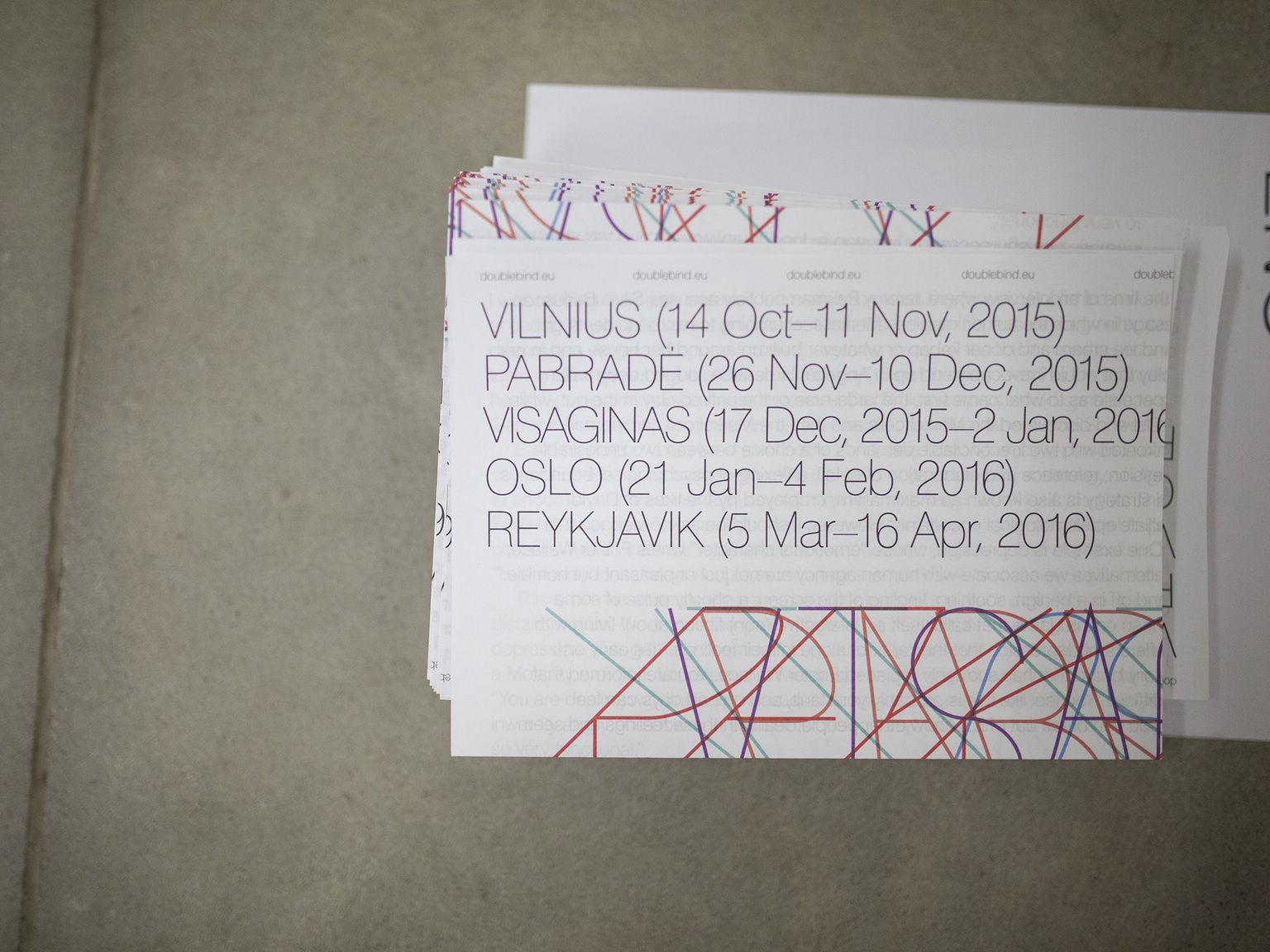 Travelling exhibition: Double Bind
Time: Opening exhibition 21 Januar Thursday at 6 pm - 10 pm
The exhibition will be open until yhursday 4 February
Place: Galleri 3, Oslo National Academy of The Arts, Fossveien 24
Oslo National Academy of The Arts and Academy of Fine Art invites to the travelling exhibition Double Bind in cooperation with Rupert (Vilnius) and The Living Art Museum (Reykjavik). The artists will be present and there will be held three performances.
A double bind is an emotionally distressing dilemma in communication in which an individual (or group) receives two or more conflicting messages, and one message negates the other. The exhibition aims to restore a sense of political agency to private psychological practices associated with personal failure. Starting from depression and looking more widely into emotion economies, we invited artists to fail and be vulnerable.
Valentina Desideri & Denise Ferreira da Silva will be holding a Tarot-reading performance The Reading Room throughout the evening. There will also be performances by Lina Lapelytė og Styrmir Örn Guðmundsson.
Artist Lina Lapelytė created a new work for a group of four female kanklės players from the famous Lithuanian folk music ensemble Lietuva. The work written exclusively for the kanklės streches understandings of the instrument beyond traditional understandings of its function as merely supportive within the orchestra, and also questions the relationship of its musical function to the role of its players who tend to be exclusively female.  January 23 Saturday she will take part in a paneldebate at Off The Page Festival in cooperation with nyMusikk.
Styrmir Örn Guðmundsson's Butterfly Blues is a nomadic concert performance. It uses sculptures as props and drawings as backdrops for performances of song covers and original compositions by the artist.
Artists contributing: Valentina Desideri & Denise Ferreira da Silva, Morten Norbye Halvorsen, Styrmir Örn Guðmundsson, Berglind Jóna Hlynsdóttir, Juha Pekka Matias Laakkonen, Lina Lapelytė, Viktorija Rybakova and Augustas Serapinas. Information on each artist and project.
Curators: Maya Tounta og Juste Jonutyte.
Previously the exhibition has had three stops in Lithuania – Vilnius, Pabradé and Visaginas. Next stop is Iceland and The Living Art Museum in Reykjavik March 5 to April 16.
The travelling exhibition is part of «Interdisciplinary Art Project Politics of Emotion: Art in the Expanded Sphere» and produced with support from EEA Grants, program LT-07 and The Republic of Lithuania. See more on the projects official webpage doublebind.eu