Seminar/Conference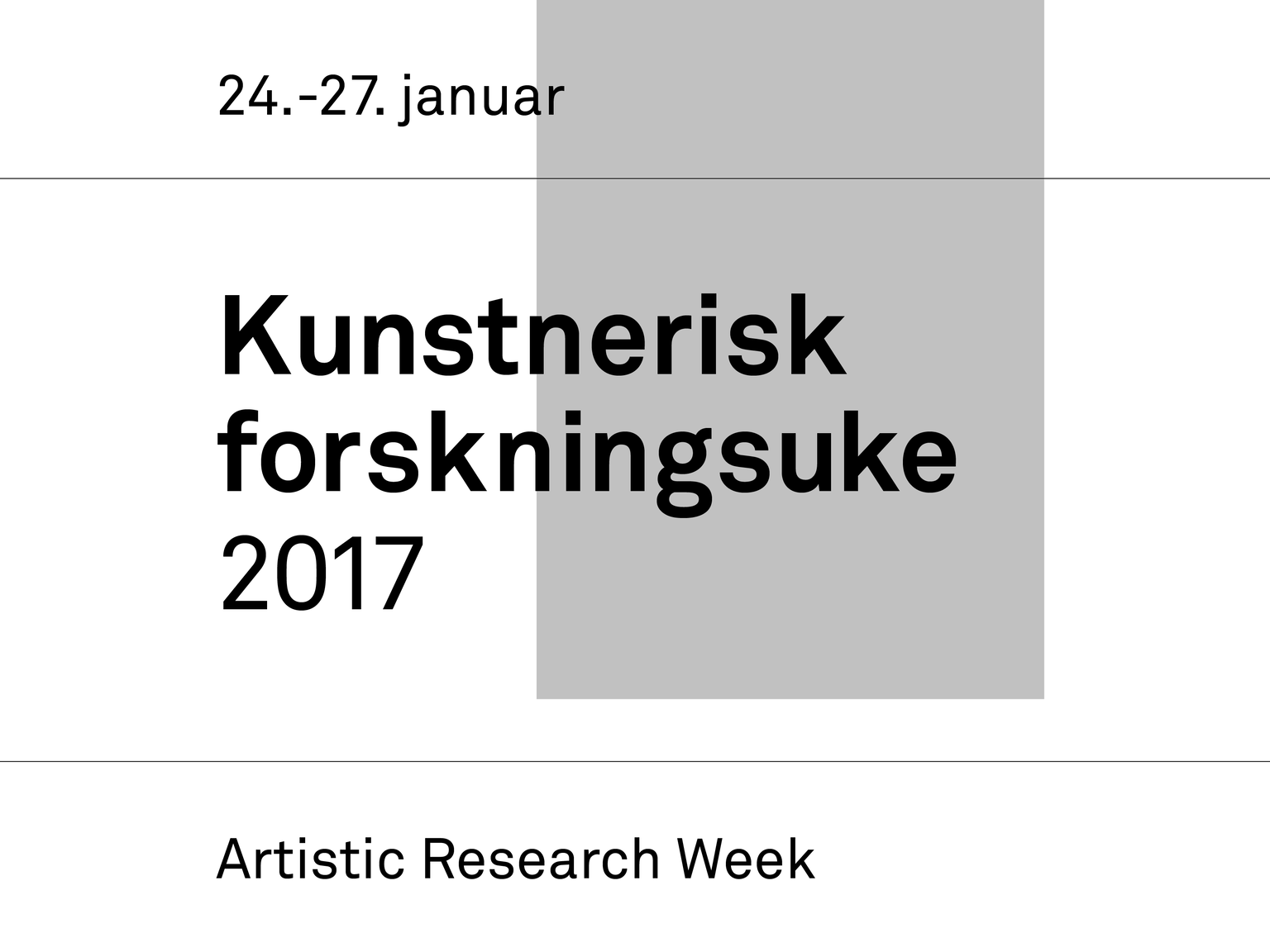 Artistic Research Week 2017
In January 2017 Oslo National Academy of the Arts will show a cross section of the Artistic Research done both at KHiO and at similar Academies for a wider audience. There will be presentations, discussions, lectures, exhibitions and more. The Artistic Research Week sessions are free and open to everyone, and there is no registration requirement (with the exception of sessions 3A, 5A, and 6).
Welcome to the Artistic Research Week 2017!
The Artistic Research Week is intended to be an annual event focusing on the variety of research practices at Oslo National Academy of the Arts. Artistic research has been widely discussed in academia over the past 10-15 years, and is currently recognised as a fruitful and necessary component in contemporary knowledge production within the arts. Institutions outside of academia (biennials, kunsthalles, museums, theatres etc.) have recently embraced the term and its practices, since much art now involves the production of insights and experiences that are research-based in one way or another. And this is in many ways the most striking feature of artistic research, namely the methodological diversity, or – as Mika Hannula calls it in his essay "Catch Me If You Can", (Art&Research, 2009) – the "methodological abundance" that both characterises and justifies the practice.
The Research Week will address methodological and epistemological challenges in a round-table discussion. There will be presentations and lectures on research projects and topics, and workshops for practitioners. The week will serve as a platform for discussions and the exchange of experience, and as an opportunity for professionals to meet informally.
The Artistic Research Week 2017 is aimed at Master's students, research fellows and faculty members at Oslo National Academy of the Arts, and anyone in the public sphere with an interest in research in the arts.
Welcome to all!
Programme Tuesday 24 January
Session 1: Nordic Alliance Research Consortium (NARC), an introduction (in English)
Time: 10.00–16.30
Venue: Main Auditorium
Programme Wednesday 25 January
Session 2: Towards an epistemology for artistic research, a round table discussion (in English)
Time: 10.00–13.00
Venue: Stage 4
Parallel session 3A: Tematisering av refleksjon (in Norwegian)
Time: 14.00–16.30
Venue: Prøvesal 2
Requires registration
Parallel session 3B: Screenings, films, presentations by members of Faculty
Time: 14.00–17.00
Venue: Various
Session 3B (continued)
Time: 17.00–18.30 Venue: Galleri Seilduken
Jeremiah Day: "The Lowndes County Idea". Presentation of long-term project and spoken introduction of new developments in Day's decade long unresolved struggle with commemorating a political history (in English).
Programme Thursday 26 January
Session 4: In dialogue with
Time: 10.00–13.15
Venue: Stage 4
Session 5: Thematics (in English)
Time: 14.00–17.00 (the presentations will run in parallel)
Venue: Various
Requires registration
Session 5B: Research-based education
Time: 15.00–17.00
Venue: Main Stage
You are invited to attend a rehearsal of Mozart's famous opera «Don Giovanni». The rehearsal is led by the Academy of Opera's own director, Italian Jacopo Spirei. The performers are master's students, half-way through the rehearsals of a production that will premiere at Stage 2 at the Norwegian National Opera & Ballet February 23.
Due to the intimate nature of the rehearsal, the doors will close at exactly 15.00, and the audience will not be given the opportunity to leave until the first break at approx. 16.00.
Programme Friday 27 January
Session 6: Of(f) Our Times: The Aftermath of the Ephemeral and other Curatorial Anachronics, organised by Rike Frank and Beatrice von Bismarck (in English)
Time: 10.30–18.30
Venue: Main Auditorium