Performance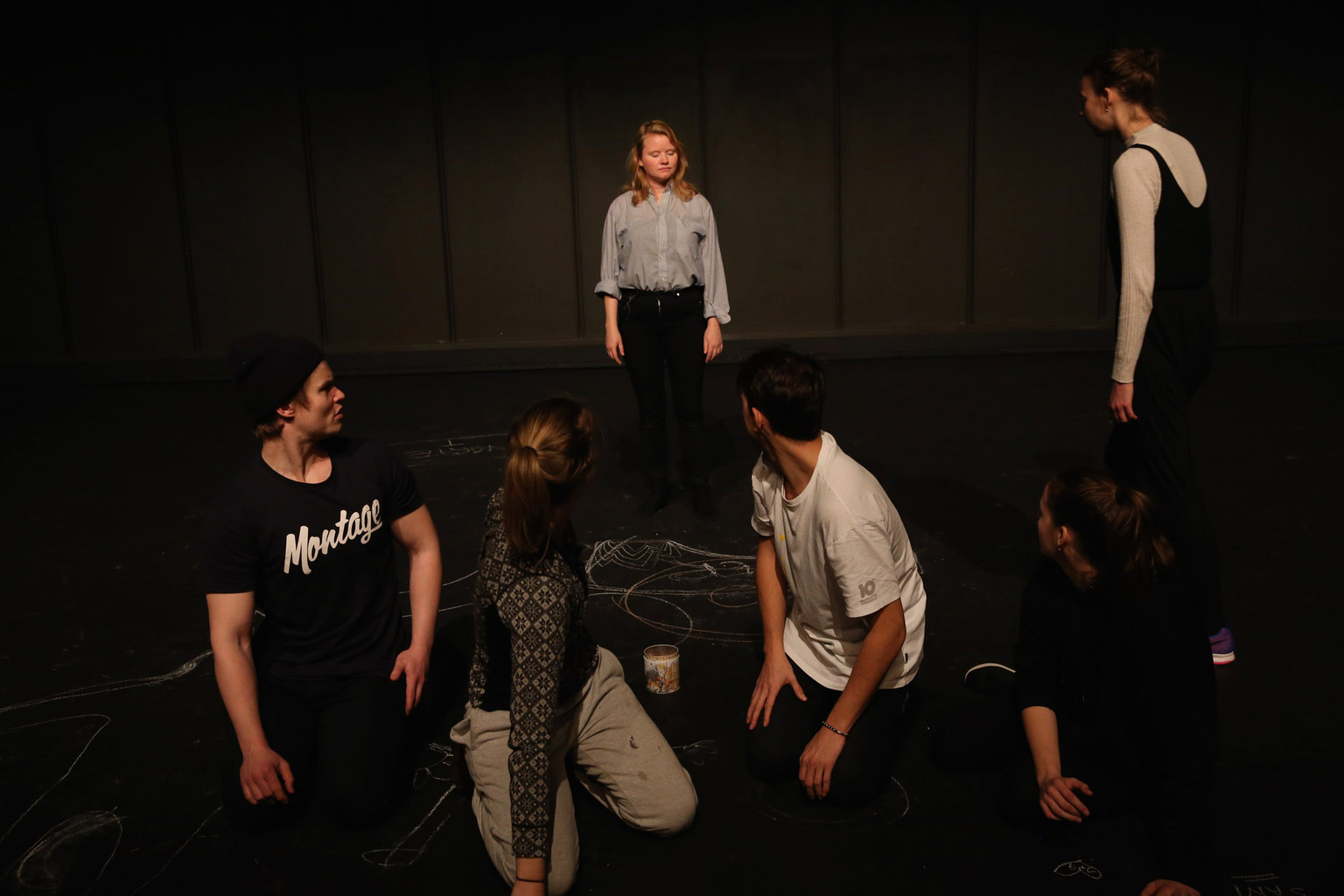 Da saltet ikke var den eneste krystallen av Joele Anastasi
Basert på «Lilleskogen» av Jesper Halle
Oversatt til norsk av Nelly Winterhalder
I rollene
Maria Omarsdottir Austgulen
Kim Jøran Olsen
Eva Ragnhild Jørgensen Tysse
Ragnhild Meling Enoksen
Leo Magnus de la Nuez
Kristine Cornelie Margrete Hartgen
Regi
Nelly Winterhalder
Spilletider
Lørdag 29.oktober kl. 17:00
Sted
Scene 3
Om prosjektet
Dette utforskningsprosjektet er en av mange aktiviteter i det fireårige EU prosjektet, «Collective Plays!» og «Hybrid Plays» (2015-2019), der Kunsthøgskolen i Oslo er en av 8 partnere fra forskjellige nasjoner i Europa. Prosjektet er delfinansiert av Creative Europe Programme EU.
Det bærende konseptet i dette prosjektet kan sammenfattes i begrepet «hybrid play», som tar utgangspunkt i en strategi og tilnærming som Paul C. Castagno kaller «polyvocality». I sin bok «New Playwriting strategies – Language and Media in the 21st Century» definerer han det slik: «Polyvocality mandates that different, diverse, and often clashing elements converge in the making of the playtext. The outcome of the polyvocal approach can be described as the hybrid play. … The hybrid play is a literary and theatrical crossbreed, a blending of genres and disparate sources both textual and performative. (p 51, 2012).
Kjernen i konseptet dreier seg om å søke flere «stemmer» (faktorer) i den kreative prosessen, og la dem påvirke hverandre i tilblivelsen av et verk, og således skape en enda større uforutsigbarhet og kompleksitet i utformingen av, for eksempel, en tekst. I dette utforskningsprosjektet forsøker man også å utvide anvendelsen av tilnærmingen til å omfatte blant annet regi- og skuespillerarbeidet, som et praktisk redskap (strategi) for å skape større flertydighet. Dette kan muliggjøre flere innganger til et kunstnerisk verk, og derigjennom åpne for en rikere meningsproduksjon.