Presentation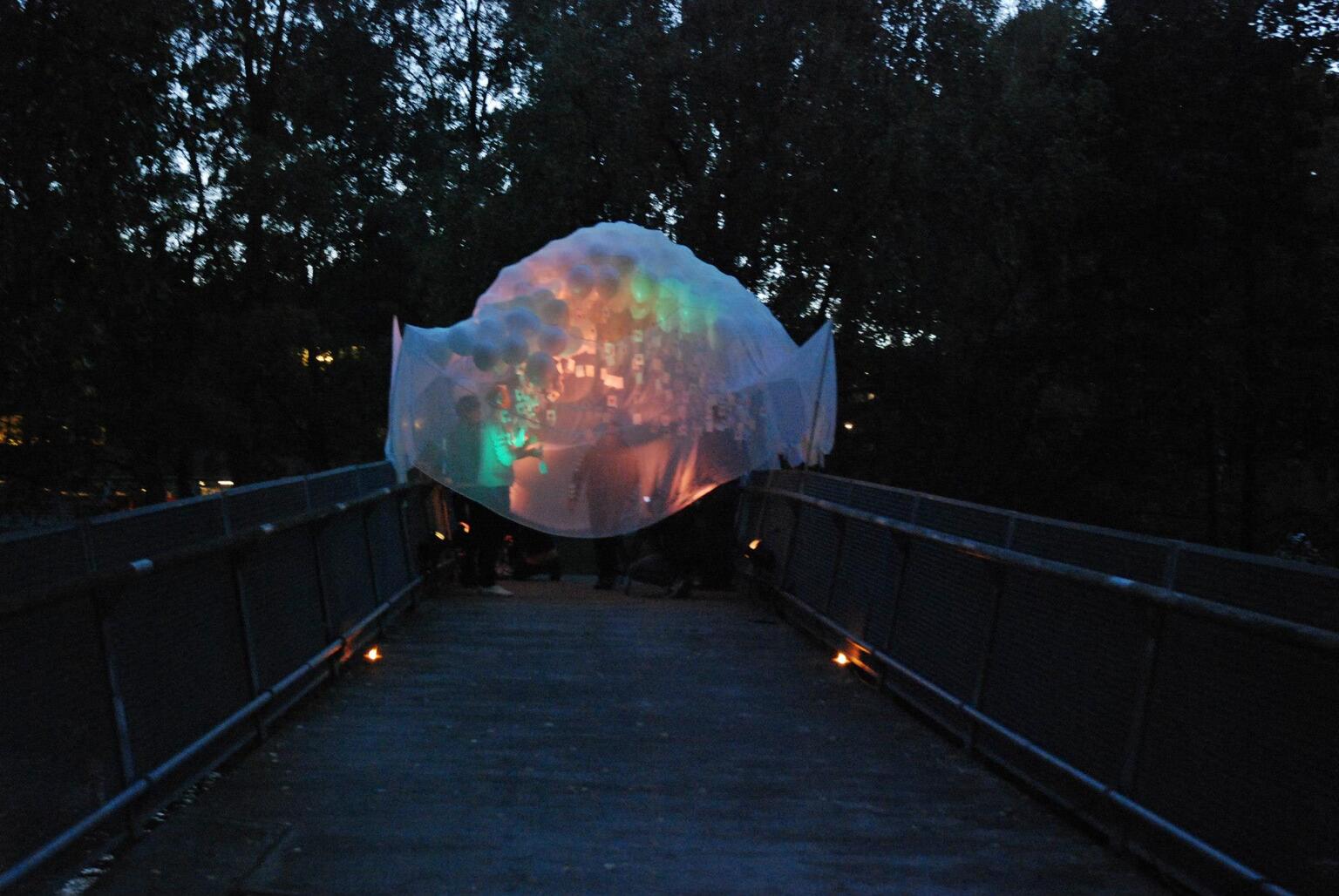 Elvelangs 2016
Kunsthøgskolen er en av hovedscenene under årets Elvelangs, og her starter vi med kunstneriske innslag fra kl. 20.00.
Torsdag kveld nærmest høstjevndøgn erstattes den elektriske belysningen langs Akerselva med 4000 fakler. Publikum inviteres til en stemningsfull vandring langs elva der man opplever forskjellige kulturinnslag underveis i form av lys, dans og toner, både fra profesjonelle og amatører.
Studentene ved Kunsthøgskolen tar i mot publikum med sine kunstneriske innslag nedenfor trappa mot elva og broen.
Program
"Hot skur", Lisette Escobar
Det største keramiske fakkellyset i Elvelangs, blir et møte punkt hvor Elvelangs vandrende kan stoppe og møtes i samspill med skulpturen, ild og varme.
"Breaking in - with the magic lamp of Aladdin", Lill Yildiz Yalcin
Vi lever i en tid med mye krig og store humanitære katastrofer. Særlig Midt-Østen har opplevd og opplever stadig et enormt tap av kultur-arv.
Maktesløshet og misantropi preger samfunnet, men Aladdins lampe gir publikum en anledning til å drømme og ønske: Ved å gni på lampen skjer det ting; ved å skrive ønskene på duken kan vi lese hverandre - og dermed spre glede og håp.
"Lyset når ikke hit", Rikke Sund Carlsen og Phoebe-Lin Elnan
Lysinstallasjon på vindu. Svøm helst for å regulere dybden, ikke for å komme deg fremover.
Modellering i leire med Kirill Yakovlev og Ola Braadland
Publikum inviteres til å bli med å modellere i leire, samt se utstillingen av fjorårets kreasjoner i leire.
Utstilling av tegneserier fra tegneserieprosjekt
Med Karoline Bækkevold Bakke
"CellsUnlocked" med Hans Adell
Publikum bidrar med bilder og tekst til felles avis som publiseres etter Elvelangs på en webbadreses. 
Programmet vil bli annonsert fortløpende.
https://www.facebook.com/events/1558098377833717/