Performance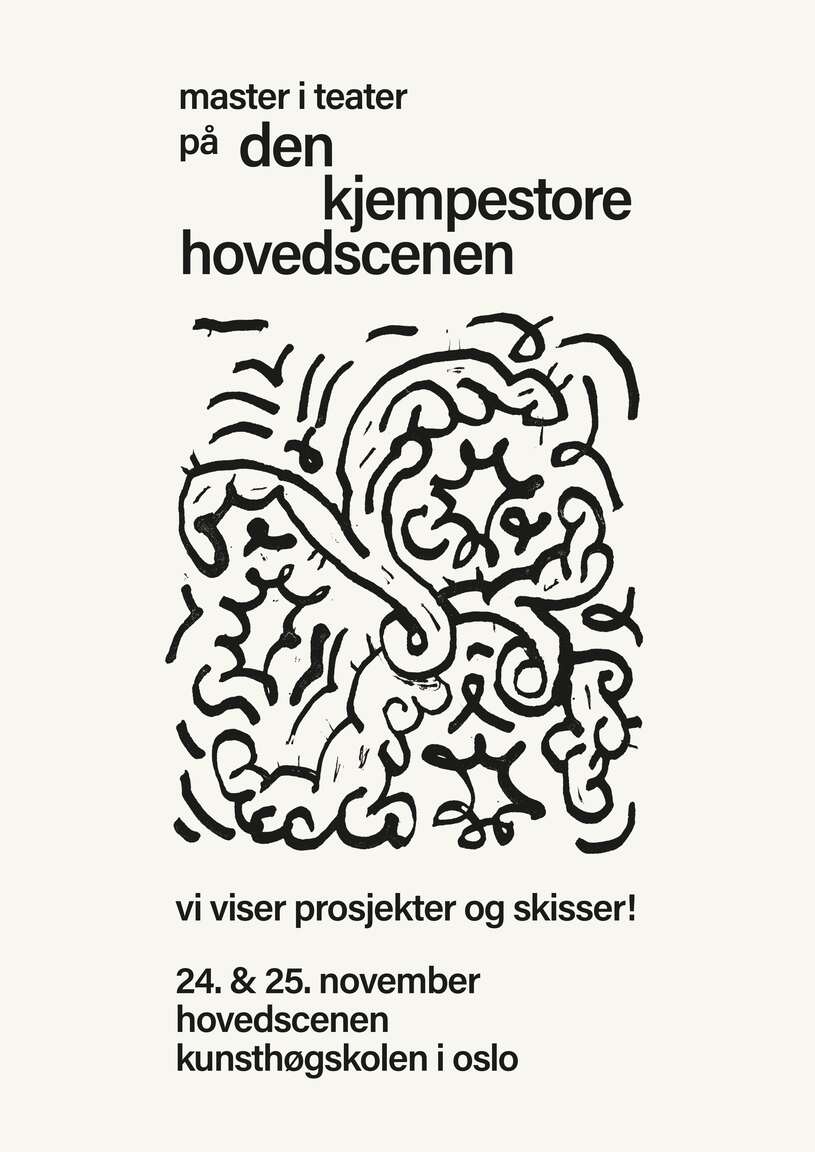 Master i teater på den kjempestore hovedscenen
Masterstudentene i teater og komparativ dramaturgi og performance studier viser syv prosjekter og skisser som er produsert for hovedscenen denne høsten.
Studentene er snart ferdig med tredje semester. Dette er det fjerde prosjektet i en serie med større sceniske arbeider de har gjort under masterstudiet.
Viktige læringsmål i arbeidet har vært å undersøke ulike aspekter ved de kommende masterprosjektene og ha gjennomført produsentorientert grunnlagsarbeid. Studentene har arbeidet individuelt og sammen i ulike konstellasjoner av interne og eksterne aktører med konseptutvikling og produksjon.
Velkommen til et flettverk av utprøvninger vist samlet!!
Program
Første del (husk egen billett): 24.11 kl. 17:30 / 25.11 kl. 11:30
A little pvc beauty
Echo Puncture
The Sunny Side of Everything
MORFOLOGIER
Pause
.
Andre del (husk egen billett): 24.11 kl. 20:10 / 25.11 kl. 14:10
På avstand
Fattigdom & Daddy issues
Middle class hero
Prosjektene vises sammenhengende med kun en pause.
Obs! Det vil være mulig for publikum og bestille en billett for det som vises før pause og en for det som vises etter pausen. For å se begge deler må det bestilles to billetter.
Med forbehold om endringer.
Prosjekter:
A little pvc beauty: Martha Rasmussen Lubiana og Maria Victoria Høvring Høeg

Life starts and ends with plastic hands, A chemical pleasure, an ordinary quest
A little pvc beauty is an exploration and investigation between scenography and two female performers on stage. How can we convince you that tarpaulin-qualities, death and feminism can be a part of your story?

Collaboration between Martha Rasmussen Lubiana and Maria Victoria Høvring Høeg.

On stage: Stine Anette Figenschau Hemmingsen and Martha Rasmussen Lubiana
Scenography and costumes: Maria Victoria Høvring Høeg
Ideas and inputs: Tonje Dreyer Sellevoll
Echo Puncture: Maria Koefoed Lloyd, Vega Drake Carlsson, Victoria Sophie Gulliksen

Jeg får e-poster ment til andre med mitt navn. En av dem er en republikaner fra Florida, som nå har blitt medlem i National Rifle Association. En annen er en BLM aktivist i New York. Jeg har tatt kontakt med noen av de andre kvinnene og forestillingen er et ekko av disse møtene og en visualisering av en ny verden.

Manus og Regi: Maria Lloyd (master teater)
Scenografi, videodesign og QLab-programmering: Vega Drake Carlsson (master teater)
Skuespiller: Victoria Sophie Gulliksen (master teater)
Dansere: Fie Dam Mygind (master dans) og Ornilia Ubisse
Musiker: Vetle Arnesønn Bjørnstad
Foto / Klipp: Sara Abbasnejad (Master i Billedkunst)
Abstrakt kostyme element /filmklipp: Magdalena Mikalsen (Master i Design )
Dikt: Fredrik Lloyd
The Sunny Side of Everything: Tatiana Delaunay, Maiken Rye

A woman and her Disorder have been enjoying the great indoors. But now they want different things.
"We wake up and we stay in bed. Sometimes the whole, entire day! We don't have to go anywhere, and we don't even have to talk to anyone. Sometimes, we decide we want to eat something, but other times, we're like, whatever! […] We're so comfortable. It's the best."

Director: Tatiana Delaunay (master teater)
Actors : Maiken Rye (master teater), Marius Lien
Composer : Adam Paroussos
The text is an excerpt from the play The Sunny Side of Everything, written by Tatiana Delaunay and developed through Unge Viken Teater Debutant Programme 2022.
Thanks to Unge Tekst and in particular to Hilda Levin, dramaturg.
Photo: Abel Robsahm
MORFOLOGIER: Ellen Jerstad, Victoria Sophie Gulliksen, Maiken Rye, Anette Waller

Med Morfologier undersøkes evolusjonær logikk; repetisjon med mutasjon. Tekst, koreografi, kropper som besettes, og dissekerer liv i folkesang og tekno. Hamskifte, hud som skrelles av. Livsbegjær, sult, jag. Morfologier handler om drifter i alt levende.

Regi og scenografi: Ellen Jerstad (master i teater)
Skuespillere: Victoria Sophie Gulliksen, Maiken Rye, Anette Waller (master i teater)
Musiker og komponist: Ada Odegard Risberg (NMH)
Scenetekst: Amalie Munkgaard Olesen
Lysdesign og visuell dramaturg: Kyrre Heldal Karlsen
Kostymedesign: Annikken Wilhelmsen (kles- og kostymedesign, KHiO)
Maleri på tekstiler: Ane Barstad Solvang og Kim Henning Andreassen (KHiO)
Produsent: Karen Hammervik Flø
Plakatfoto: Sara Abbasnejad

Takk til Ilker Dursun, Roza Moshtaghi og Hedda Grevle Ottesen
På avstand: Lena Sendstad, Vega Drake Carlsson, Anette Waller

På avstand av Caryl Churchill

Midt på natten i et kjøkken møtes Joan og tante Harper. Hva driver onkelen med i skuret i hagen? Hva har barnet sett? På Avstand er en utforskning av sanselig sannhet og manipulasjon, i mikrosmerten og makrosmerten- med utgangspunkt i første scene fra Caryl Churchill´s Far Away.

Medvirkende:
Joan: Wenche Medbøe
Harper: Anette Waller (master i teater)
Regi: Lena Sendstad (master i teater)
Scenografi & kostyme: Vega Drake Carlsson
Komponist og musiker: Jørn Erik Ahlsen Alkanger
Kamera: Maria Lloyd (master i teater)
Digital design og visuell sampling: Rui Martins
AV-støtte: Jan Petter Hansen
Dramaturg: Chloé Royou

Omsett til nynorsk med hjelp av Hanna, Peter, Alve, Sigrid, Tuva, Benhur, Nora og Agnes under utviklingen av forestillingen Loud Library featuring Far Away - til Teaterfestivalen i Fjaler, 2022.
Fattigdom & Daddy issues: Tuva Kathinka Dorothea Owren Hennum, Ida Ingels

Lite visste vi om at sorgprosesser skulle ta så stor plass. En forestilling til de ufødte barna.

5 kosmiske renovasjonsarbeidere og 5 stadier i en sorgprosess. En sanger og ett barn.
Om du en dag blir en far håper jeg du blir bedre enn faren til Allayah, Guds datter. Hun ble kalt den lille duen som kom flyvende gjennom ørkenen, men ingen fugler flyr inn i sandstormene om de ikke blir jaget. Det er for varmt.

Medvirkende:
Tekst og regi innenfra: Tuva Kathinka Dorothea Owren Hennum (master i teater)
Scenografi: Ylva Owren
Musiker: Marius Kolbenstvedt
Sanger og dukkefører: Grey Seljestad Syvertsen
Skuespillere: Benjamin Hennum Knudsen, Hannah Karine Giske, Viktoria Winge, Kjærsti Øvrebø, Ida Ingels (master i teater)
Maskedesigner: Maria Magdaléna Auraaen Bjerkely
Veileder utenfor KHiO: Nadir Guendouz, Max Sheid
A Middle class hero: Tyrone Douglas

He´s everyones favourite Doctor.
Intelligent, sexy, hard working, and a connoisseur of wines. The envy of the time and classes. looked up too, successful. Good with ladies and even the guys. Hes open, funny and travelled…Hes even reflected over the matters of the spirit..... Dammit he can even cook...
But for all his acheivements, theres one thing he cannot answer...

"What do I want?"

Medvirkende:
Tyrone Douglas (master i teater), Andreas Dillerud, Andreas Vedvik, Sara Larsson
Musiker: Brendan Monaghan
Lydbilde: Mads Johansen
.
Kunstnerisk og teknisk team for alle prosjektene

Grafisk designer til plakat: Levi Holt Bratland (master design - grafisk illustrasjon)
Lysdesign: Inger Johanne Byrring
Lydteknikk: Olaf Langeland
Scenemester: Are Skaanes Engebregtsen / Chris Reitan
Malemester: Olivier Marcouiller
Snekker: Anders Hamre
Smie: Atle Berger Martin
Rekvisitør: Ida Lome Brevik
Inspisient: Linda Marie Magnussen
Kostyme: Line Maher
Teknisk produkjion / teamleder: Kjetil Skåret

Sist men ikke minst tusen takk til alle veiledere: Anne Holtan, Gunhild Mathea Husvik-Olaussen, Mads Thygesen, Jonas Corell Pettersen, Jesper Halle, Kjersti Horn, Hans Henriksen, Fredrik Hannestad
.