Exhibition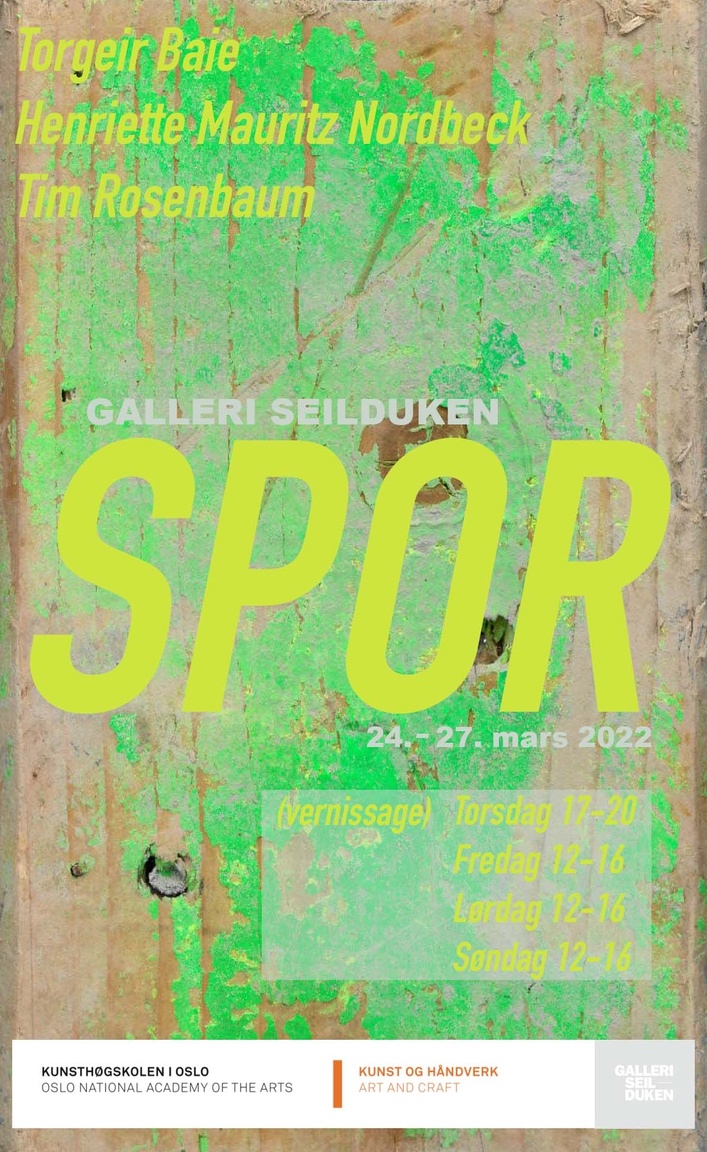 Galleri Seilduken: Spor
Torgeir Baie, Henriette Mauritz Nordbeck og Tim Rosenbaum tar for seg spor som etterlates av mennesker, og spor som skapes av naturen selv.
Henriettes arbeider er en prosess I å prøve å ta tilbake synet på mennesket som en del av økosystemet og dermed naturen. Hun jobber med tekstile materialer som blir påvirket av sol, jord og planter. Metoden ligger mellom det som kan kontrolleres, og det ukontrollerbare. Teknikkene er b.la. plantefarging av lerret, solbleking og frottage. Størrelsen på lerretene relaterer til kroppen og landskapet, ettersom arbeidet med dem er fysisk og i direkte kontakt med et sted. Avtrykkene og sporene er I 1:1 målestokk. I dette prosjektet har hun jobbet hovedsakelig ved Spro Gruver på Nesodden, og møtet som er mellom bevart- og destruert landskap. Henriette går 2. år bachelor medium- og materialbasert kunst ved KHiO.
Torgeir Baie jobber med funnet materiale som metall, plast og tre. Disse materialene er sanket langs sjøen, veien og i skogen. Med bricolage som utgangspunkt føres materialet inn i en ny konstruksjon. En personlig og konisk konstruksjon som henviser til en varde. Varden har som hensikt å være en veiviser til veien forut og gi oppmerksomhet til omgivelsene. Denne varden er et resultat av hvordan han har vært oppmerksom i sine omgivelser. Torgeir går 2. år bachelor medium- og materialbasert kunst ved KHiO.
Tim: TotalEnergies' largest integrated complex in Europe is situated right next to the idyllic city of Antwerp, Belgium. The site comprises Europe's third-largest refinery, processing 54 million liters of oil per day. That refined oil is then ready to be transported on the backs of diesel-driven trucks towards the next petrol station. Like the trucks, the human behind the steering wheel is running on energy. All sorts of drinks and foods are consumed on the way to the next stop to guarantee a totally reliable delivery service.