Performance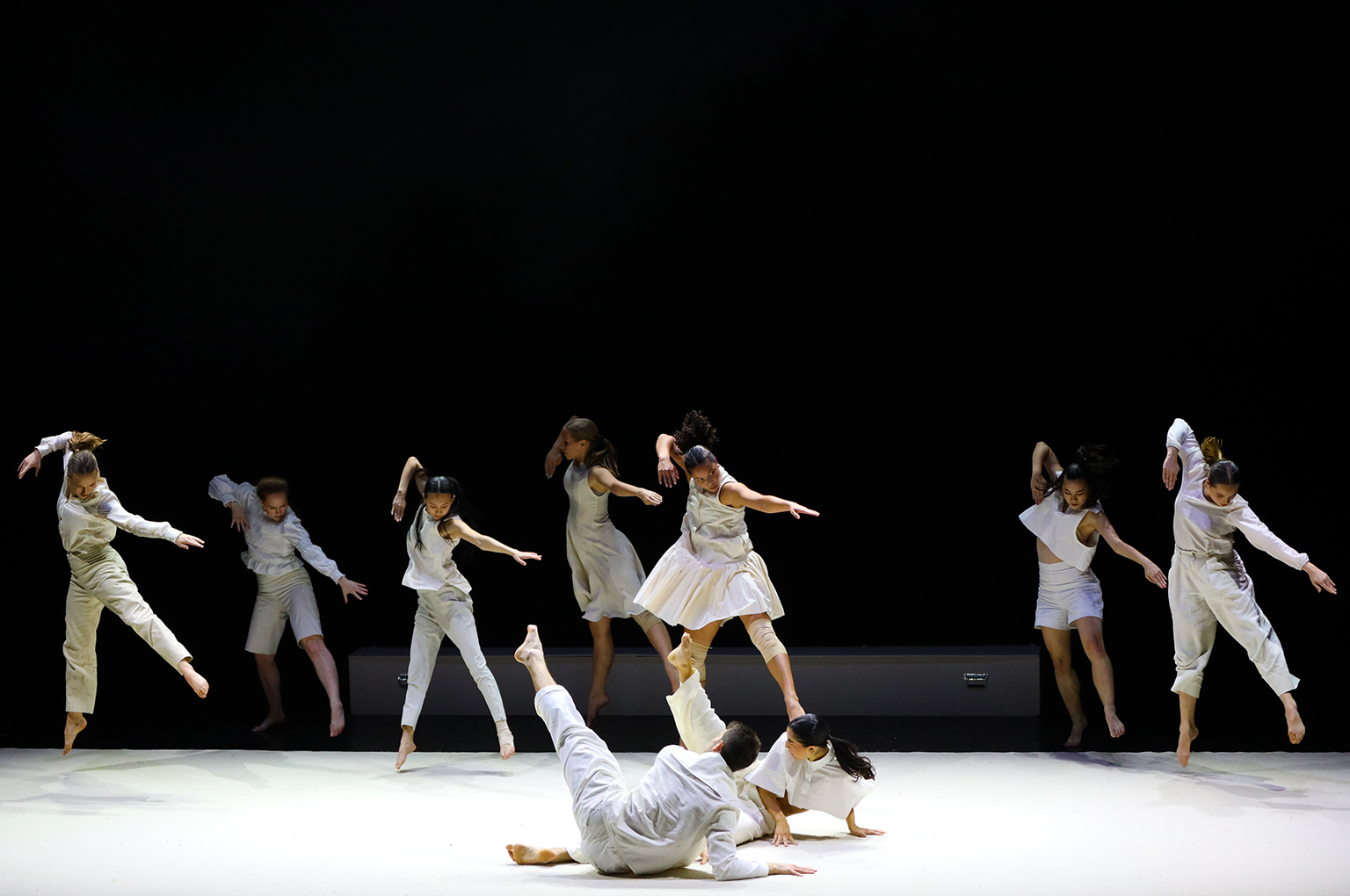 Høstforestilling 2021
Danseforestilling med 2. og 3. årsstudentene på bachelorprogrammene i jazzdans og samtidsdans.
Viktig beskjed! Grunnet konsekvens av nye nasjonale restriksjoner i forbindelse med korona er Høstforestilling 2021 onsdag 15. desember endret til kun å være åpen for et fåtall internt inviterte.
Studentene viser koreografier av Jo Strømgren, Albin Lindén, Bente Alice Westgård og Hege Haagenrud.
Program

Pleiades
Dansere: 2. år bachelor samtidsdans
Koreografi: Bente Alice Westgård
Musikk: Sacro Bosco av Anna von Hauswolff
Lysdesign: Martin Myrvold
Kostymer: Hedda Simonsen Lund, Signe Vasshus
Takk til André Eiermann

Trace
Medskapende dansere: 2. år bacelor jazzdans
Koreografi: Albin Lindén
Assistent innstudering: Knut Arild Flatner
Musikk: Last light - Son lux, Mara - Jack Garrat
Musikkmix: William Boo & Albin Lindén
Lysdesign: Martin Myrvold
Kostymer: Signe Vasshus

The concept of guilt
Koreografi: Hege Haagenrud
Dansere: 3. år bachelor samtidsdans
Lydbilde fra ulike true crime dokumentarer
Musikk: Vivaldi, Nullo in mundo pax sincera / Mozart, Piano sonata n 7 in C major
Lysdesign: Martin Myrvold
Kostymer: Signe Vasshus

KVART
Dansere: 3. år bachelor jazzdans
Koreografi: Jo Strømgren
Innstudering: Henriette Hamli
Musikk: Maria Tanase og Kimmo Pohjonen
Lysdesign/scenografi: Jo Strømgren
Kostymer: Signe Vasshus
KVART hadde urpremiere med OSlo Danse Ensemble i 2004
Studenter

2. år bachelor jazzdans:
Egil Mikael Elo Alnæs, Sigurd Bolstad, Tuva Godnes Iversen, Amelia Elisabeth Møller, Ben Nguyen, Carl Peters, Jesper Sandvik, Carina Sogn Stave, Pernille Øien

3. år bachelor jazzdans:
Pia Lauritzen Albrecht, Alma Adjeley Sirevåg Apenteng, Karin Wang Brustad, Marte Brækken, Termeh Eghdami, Nora Hestdahl, Cristián Sandoval Ronnby, Emilie Syversen Solhaug, Kaori Solvang

2. år bachelor samtidsdans:
Hannah Elsner, Clara Viktoria Fischer, Aasa Frøystein, Andreas Holme Kjærland, Mila Piljevic, Katja Weber McGunnigle, Sóley Ólafsdóttir

3. år bachelor samtidsdans:
Maren Grønstad, Emma Jansen, Alicia Kerrolf, Jørgen Fenstad Kottum, Kamilla Moen, Inga Maria Olsen,
Louise Horgen Rekkedal, Oda Rognø
Teknisk stab

Kostymedesign: Signe Vasshus, Hedda Simonsen Lund
Lysavvikling: Martin Brandvoll
Lydredigering: Olaf Stangeland
Scenemester: Marius Larsen, Are Engebretsen
Maler: Olivier Marcouiller
Inspisient: Jan-André Strand
Programansvarlig bachelor jazzdans: Merete Lingjærde
Programansvarlig bachelor samtidsdans: Anne-Linn Akselsen
KHiO ivaretar smittevern
Munnbind skal brukes også under forestilling. Bruk munnbind når du ikke kan holde 1 meter avstand.
Følg anvisninger og oppfordringer fra arrangør.
Vær nøye med håndhygiene. Bruk tilgjengelig hånddesinfeksjon
Om du ikke føler deg frisk, skal du ikke gå på arrangementet.