Performance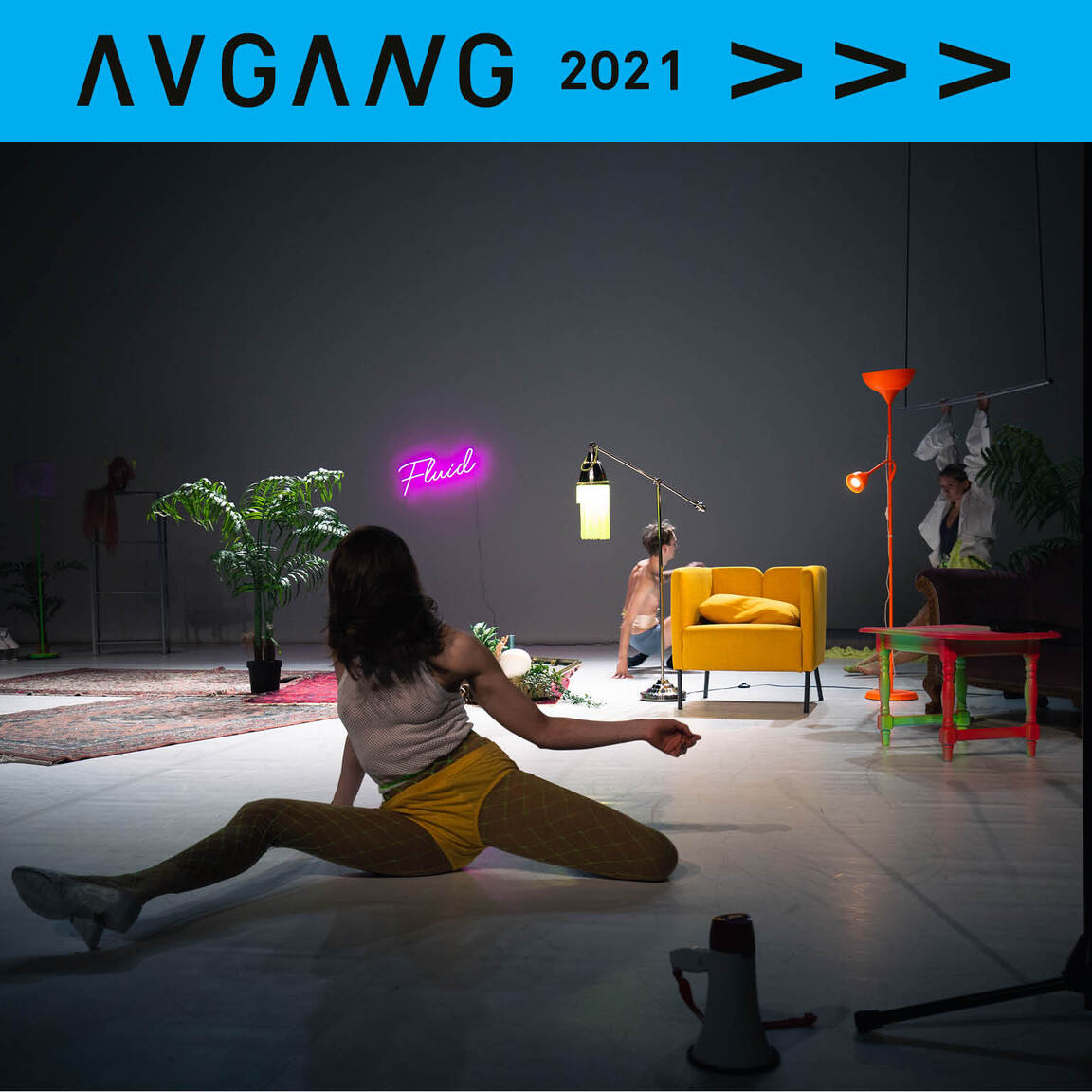 Avgang 2021: Attempts at being (together)
Hva vil det si å være seg selv? Mariko Miyata-Jancey undersøker dette i sitt avgangsprosjekt ved master koreografi.
På en hvit scene mellom planter og møbler i knæsje farger sitter fem dansere og mediterer. De har fått beskjed om å være på scenen som seg selv. Men hva vil det si å være seg selv? Og hvem er jeg, koreografen, til å be dem om å være seg selv på scenen?

Senere i forestillingen presser jeg dem til å løpe fortere, rope høyere, gå lenger i bevegelsene, til å falle igjen og igjen og til å ha på et kostyme som de ikke føler seg helt komfortabel i. Vi leker med grader av iscenesettelse, forklarer jeg dem, og dette er en del av leken.
Attempts at being (together) er et forsøk på det å være - i en prosess og til slutt i en forestilling, som utøvere og som koreograf, sammen med hverandre og sammen med publikum. Men når er vi virkelig sammen? På hvilke måter kan vi være sammen i en skapende prosess hvor det er én av personene som har initiert og leder prosjektet? Og kan vi egentlig oppleve å være sammen i en iscenesatt setting slik en forestilling er? Men igjen, hvilke settinger er ikke iscenesatt?
Hva vil det si å være seg selv?
English:
Attempts at being (together)
On a white stage, between plants and furniture in bright colors, five dancers are meditiating. They've been told to be on stage as themselves. But what does this mean, to be oneself? And who am I, the choreographer, to ask them to be themselves on stage?
Later in the performance I push them to run faster, yell louder, go further in the movements, to fall again and again and to put on costumes that they don't feel totally comfortable in. We're playing with the different levels of performing, I explain to them, and this is a part of the playing.
Attempts at being (together) is an attempt at being – in a process and in the end in a performance, as performers and as choreographer, together with each other and together with the audience. But when are we really together? In which ways can we be together in an artistic process where one person has initiated and is leading the project? And can we really experience being together in a staged setting like a performance? But again, in what settings do we not perform?
What does it mean to be oneself?
Medvirkende:
Koreografi og tekst: Mariko Miyata-Jancey
Medskapende utøvere: Sarah Louise Fischer Luckow, Oliver Paulsson, Andrea Sørlie Barrett, Ina Bråstein, Morten Helland Stenersen
Kostyme og scenografi: Ida-Marie Højris (Master design KHiO - avgangsprosjekt i kostymedesign)
Musikk: Marte Røyeng (NMH - avgangsverk i komposisjon)
Lys: Tobias LeiraIntern veileder ved KHiO: Per Roar
Ekstern veileder: Henriette Pedersen
Takk til:
Adrian for å holde stand hjemme
Are Engebretsen for fiksing av scene
Oliver Paulsson for foto
Tekstutdrag fra:
Daring Greatly, Brené Brown
Episoden "The Mind v the Brain" fra "The Infinite Monkey Cage"
Note: Due to infection control, the performance is not open to external audiences.