Talk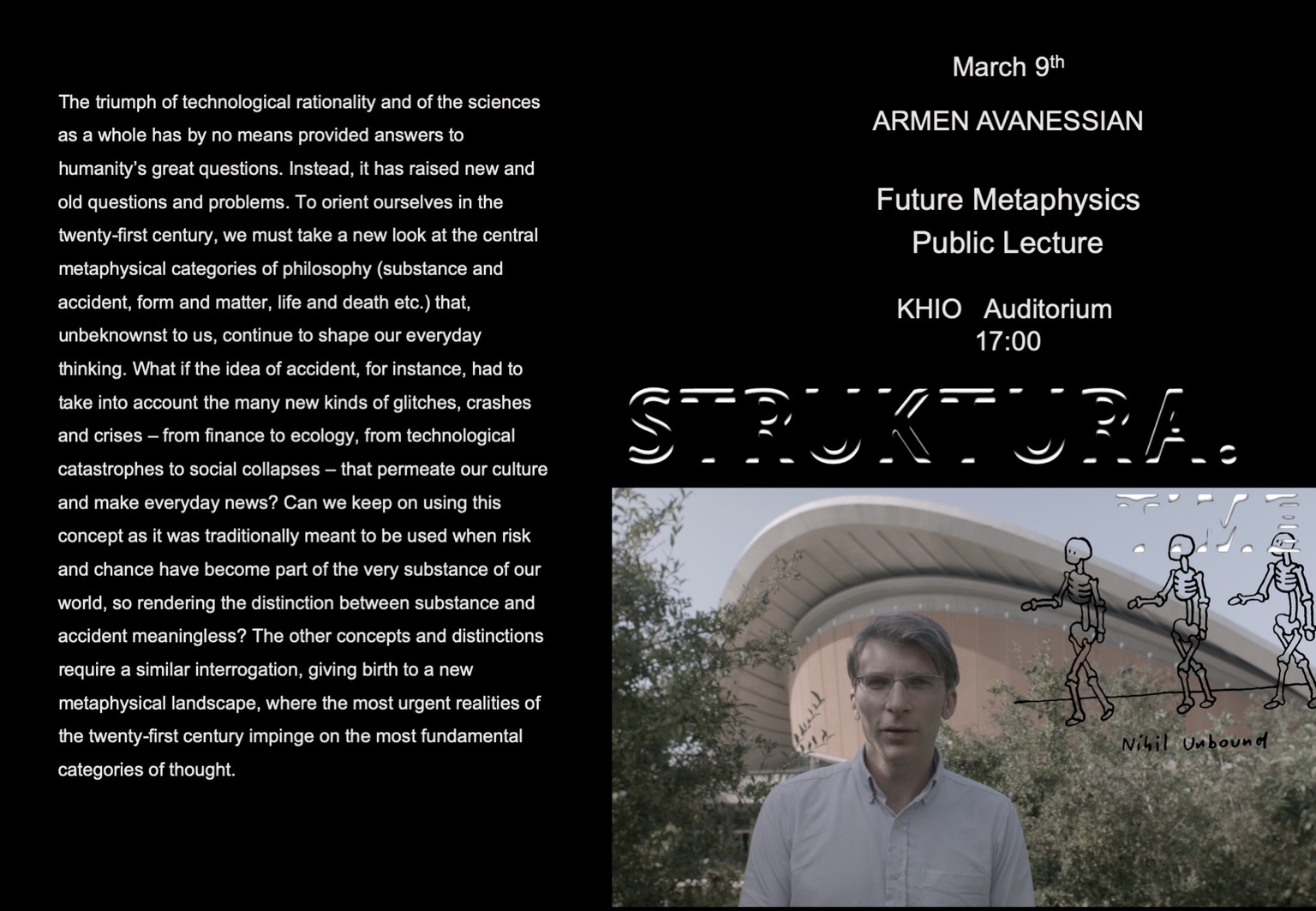 Public lecture: Armen Avanessian - Future Metaphysics
Public Lecture
March 9th
17:00 KHiO, Auditorium
The triumph of technological rationality and of the sciences as a whole has by no means provided answers to humanity's great questions. Instead, it has raised new and old questions and problems. To orient ourselves in the twenty-first century, we must take a new look at the central metaphysical categories of philosophy (substance and accident, form and matter, life and death etc.) that, unbeknownst to us, continue to shape our everyday thinking. What if the idea of accident, for instance, had to take into account the many new kinds of glitches, crashes and crises – from finance to ecology, from technological catastrophes to social collapses – that permeate our culture and make everyday news? Can we keep on using this concept as it was traditionally meant to be used when risk and chance have become part of the very substance of our world, so rendering the distinction between substance and accident meaningless? The other concepts and distinctions require a similar interrogation, giving birth to a new metaphysical landscape, where the most urgent realities of the twenty-first century impinge on the most fundamental categories of thought.
Armen Avanessian studied philosophy and political science in Vienna and Paris. After completing his dissertation in literature, he worked at the Free University Berlin from 2007–2014. He has previously been a Visiting Fellow in the German Department at Columbia University and the German Department at Yale University as well as Visiting Professor at various art academies in Europe and the US. In Berlin, Avanessian is the editor at large at Merve Verlag and in charge of the theory program at the internationally acclaimed theatre Volksbühne. He is a co-founder of the bilingual research platform Spekulative Poetik (www.spekulative-poetik.de), conducting a series of events, translations and publications. English Monographies: Irony and the Logic of Modernity. DeGruyter, 2015; Speculative Drawing. (together with Andreas Töpfer) Berlin: Sternberg Press, 2014; Present Tense. A Poetics. (together with Anke Hennig), Bloomsbury 2015; Metanoia. A Speculative Ontology of Language, Thinking, and the Brain. (together with Anke Hennig) Bloomsbury 2017); Overwrite. Ethics of Knowledge – Poetics of Existence. Berlin: Sternberg Press 2017; Miamification, Sternberg Press 2017; Future Metaphysics, Polity, 2019.
March 9th, following the talk:
Hyperstition Film Screening at KHIO
18:30, Auditorium
The film Hyperstition by Christopher Roth and Armen Avanessian explores speculative and left accelerationist theory and politics, navigating pathways to critical theories of and from the future. The voices of artists, theorists, philosophers, and curators guide us through the narratives and temporalities that both condition and resist the accelerating paces of global capitalism. Hyperstition is s film on time and narrative. Of thoughts and images. On plants and the outside. Abduction and Recursion. Yoctoseconds and Platonia. Plots and anaerobic organisms. About the movement of thinking and philosophy in anthropology, art, design, economy, linguistics, mathematics, and politics. And back into abstraction. "You're always at the beginning and always at the end." (Ray Brassier) HYPERSTITION: The retooling of philosophy and political theory for the 21st Century. Featuring: Armen Avanessian, Elie Ayache, Ray Brassier, Iain Hamilton Grant, Helen Hester, Deneb Kozikoski, Robin Mackay, Steven Shaviro, Benedict Singleton, Nick Srnicek, Christopher Kulendran Thomas, Agatha Wara, Pete Wolfendale, and Suhail Malik in 2026. Appearances: Georg Diez, Anke Hennig, Tom Lamberty, Nick Land, Quentin Meillassoux, Reza Negarestani, Björn Quiring, Patricia Reed, Tom Streidl, James Trafford, Jeanne Tremsal, Alex Williams, and Slavoj Žižek.