The Good Lieutenant
"I have never wanted to sit alone on stage and play," says Jon Petersen. "When I play, I want to play with someone, and preferably a vocalist."
He is soon set to retire after forty-one years at the Academy of Opera. He's looking forward to retirement – even as he feels a twinge of wistfulness. Since its founding in 1964, the Academy of Opera has undergone countless relocations, name changes and mergers. And Jon Petersen has been a part of the institution since 1976, serving as an instructor, coach, vice-dean, programme coordinator, dean and then dean again. But until recently he has most of all worked with the students here. He has served in most of the leadership positions at the Academy of Opera, learning this about himself in the process: he doesn't like being out in front – it's just not who he is. He's not sure whether it's a question of modesty, but it is a personality trait of his, he feels. Jon Petersen prefers being second-in-command.
"I can be very productive when I work in a supporting role behind someone else who's in charge. Like when I was the vice-dean, for example – that was a position I really enjoyed!"
On choosing passively
"I began to play at an early age. We didn't have a piano at home, but when I heard music on the radio, I pretended to play along on the table," he recalls, as he lets his fingers dance on the table top. "In the nursery where my mother worked they had a piano, and soon I began to discover melodies and create some myself."
He found his passion in life early on. He began taking lessons when he was six years old, and at school he attended violin classes and played with the string orchestra there. The orchestra also included a pianist who replaced the absent horns, and one time when the pianist was sick, young Jon was asked to step in and play.
"Everything went well and it was fun," he recalls, "I could play straight from the sheet music, because we weren't playing anything all that complicated. And I continued playing the piano walking down the school hallway."
But he still had no notion of making a living from music.
"When I was going to start high school, I first applied to the maths and science programme. I was really interested in astronomy, but then my mother asked me, 'Well, what about studying music?' And so that's what I did. I applied to the music programme at the Hartvig Nissen School, but I didn't get in, so I actually ended up taking the maths and science programme at Teisen. Three days after school had started, however, they called from Nissen and offered me a spot there. I really wanted to think about it, but they said, 'No, you've applied to the music programme and you're in first place on the waiting list, you have to make a decision now.' So I said yes, and those were the best three years of my time at school."
So Petersen ended up studying music after all, but he didn't necessarily want to become a musician. He began studying the history of thought at the University of Oslo, and during that time he became friends with someone who had one goal in life: to become a singer. "Together the two of us played our way through all the songbooks by Schubert, Brahms, and Wolf as well as plenty of opera. This sparked off something inside of me, and one day in the study hall I closed my books and said to myself, 'I'm choosing music!' And from that moment on, my goal has been to work with singers." 
Like a cork
Fate would later have it that one day the rector of the Eastern Norway Conservatory of Music, where Jon was then studying, asked him if he could step in and replace a pianist who had broken an arm.
"This was during the preparations for the opera class's graduation performances in 1976, so this was quite a nice opportunity for me."
That is how it has been ever since, with him by chance assuming various roles and functions that he would enjoy performing.
"It turned out that I had a talent for collaborating with others, whether they were instrumentalists or vocalists. And I have been lucky – opportunity seemed to keep knocking on my door. One of my girlfriends once said that I was like a cork. I myself thought of a cork as something that went with the flow and ended up where it ended up. But she meant it more as something that always floats to the surface, no matter what, that finds its way, that's impossible to keep down."
Interaction
"When did you first discover this earnest interest in collaborating with singers?"
"It's an interest that is closely linked to the thing that I have found most fascinating throughout my entire career. When I went to Hartvig Nissen, I had a girlfriend who began taking singing lessons. I remember in particular how we worked on a lied by Mozart, "Das Veilchen", with a text by Goethe. This is a nice little song about happily unhappy love. I felt joy in experiencing that my playing helped perform this story and narrate it. This was a form of musical presentation that differed entirely from playing Mozart sonatas. I think this was when my interest in working on the vocal repertoire was really kindled."
This repertoire is something that Petersen has constantly returned to.
"You know, it's like 'In the beginning was the Word'. It is perhaps a tad bit pompous and biblical to put it like that, but the relationship between words and notes is incredibly exciting. When I play, I'm always in the text, I'm always co narrating, and this is very much what it's like in opera as well. In a grand, romantic novel, the author might for example write, 'She cries and says sadly that she misses her beloved', and it is precisely this word, this adverb 'sadly', that the music conveys. The vocalist sings the text 'I miss him', and the music depicts the sadness. The aim is to unify the words and the notes in such a way that it's impossible to think of one without the other."
"So, through the words and the notes the singer and the pianist almost become one?" 
"Yes, the word and the note become like a new unit. It's been said that chamber music is the nicest form of infidelity. It creates a fairly intense sense of companionship, and people get very close to each other when they manage to make music together in the same 'space', hand in hand, so to speak." 
"What do you consider to be the most important thing you can pass on to your students? What should they keep hold of and remember?"
"Oh, that's a tough one to answer. And the students are of course so different. Some say they never receive any positive feedback when we work, though I really don't see that as being the case, I have to say. I think that when we work on such a detailed and painstaking level, students perhaps experience it as negative, but that is of course because I perceive that the student is receptive, that she or he has a potential, so that we can spend a good deal of time on nuances, and that that in itself is a form of recognition. Inspiring confidence in their own potential is perhaps one of the most important things. Because, strictly speaking, we can't really teach someone something, we can only guide them and help them find the way themselves. We can't teach them rhythm – they have to feel rhythm, and when rhythm becomes their own language, it's something they've ultimately accomplished themselves. And with all the multifaceted, invaluable experience that the teachers here possess, students who know how to benefit from this experience will have a major resource they can seek guidance from."
Being faithful to the moment
On one occasion when he was attending a course in Italy, Petersen had a lecturer who said something he would never forget.
"'Never betray the moment!' the lecturer said to the vocalists at the course. When you're standing on a stage and singing, then you are the one standing there. It's you they are listening to. And in that moment there's no point in trying to satisfy what for example a director, a coach or a teacher has said. In that moment you yourself are responsible for your performance. But in order to be so, in order to be faithful to the moment, you must have a basis of self-confidence. And that's what we have to give the students the chance to find. There was once a student who sang an aria by Verdi during a lesson we were having. Almost everything she was doing was technically wrong, and as her teacher I had to say to her: 'Everything you did right now was wrong, but I'm still sitting here with goose bumps.' It was almost painful, because I didn't want to take anything away from her. How to tackle something like that? If she had tried to perform the song that way for a conductor, it wouldn't have worked."
"But listening to yourself is at least just as important as listening to the person supervising you, right?" 
"Certainly. It's often the case that people turn their own interpretation into the only yardstick for whether something is good or bad. I'm not looking for the student to perform a song 'the way I want it'. But I want to feel that they aren't just singing a certain tonal sequence in a randomly rhythmical pattern underpinned by a series of syllables. That's what that student was doing with the Verdi aria. So perhaps I can say that one of the most important things we can do for them, in addition to giving them a solid education in vocal technique, is to arouse an intuitive, autonomous insight into how all the elements must merge into a unified style. In that case, they will have a solid foundation to advance in a meaningful way to the next great topic: the on-stage performance."
Painting and language courses
"Over all these years – have you ever been fed up?"
"There were certainly a couple of times when I thought I had to quit this line of work or else find something that would give me a new spark. The first time I got that feeling I decided to explore something outside of my chosen field and signed on for a course in drawing and painting. It was a completely different world. I've always lived with sounds, with words and notes, but this course was entirely quiet. Intensely quiet. It was all about seeing. There were around six to eight of us standing around the model, and all I heard was the scraping from the charcoal sticks."
"Perhaps I should take up painting again?" he asks, perhaps mostly to himself.
The world of fine art is a world he is familiar with. He grew up in the Kampen neighbourhood in Oslo as the child of two parents who were uncommonly interested in art.
"I was always so embarrassed when I took friends home with me, because everything was such a mess at our place – there were drawings and prints and half-finished pictures everywhere."
His parents' artist friends would often visit his childhood home, and Jon's spare time was spent on exhibitions and other artistic activity.
"It was first later on that I realised that these were well-known artists. This is why, to this day, I still have works hanging on my walls by Doro Ording, Gudrun Kongelf and others who for me were only friends of my parents. But I was very happy to be able to draw and paint myself as well."
The second time Jon had to expand his horizons in order to enrich his work, he found out that he wanted to learn Italian. 
"Language, especially German and Italian, is of course a key component of opera. In hindsight I don't see how I did this job without really knowing Italian. Again it's a case of the words and the music being intertwined. You have to know how to phrase a sentence even while your performance has to be musically sound. You have to feel that the notes and the language are living together."
He has also had the chance to get some fresh air and inspiration from other places.
"I've been fortunate enough to have been a guest teacher at other schools, such as the Berlin University of the Arts, an international study centre in Austria and the University of Stavanger. In addition I've worked a few seasons at the opera in Oslo and on opera productions at NRK [the Norwegian Broadcasting Corporation] and other venues. This has been inspiring for my work at the Academy."
Curious retiree
Even though Petersen loves his work, he has been looking forward to becoming a pensioner and having more time for himself.
"It's not the case that I'm looking forward to retiring per se, but it's a fact of life, and I'm looking forward to the time that comes afterwards. At the same time it's all a bit wistful. A framework I've had around me for forty-one years, with a constant stream of new students and exciting colleagues from many disciplines, is going to disappear soon. The other day I found a detached note where I had scribbled down a quote from John Lennon, who supposedly said something like 'life is what flows slowly by while we're busy planning other things'. That's something to reflect on when one begins the phase of life I find myself in right now."
He has set some clear goals for the years to come.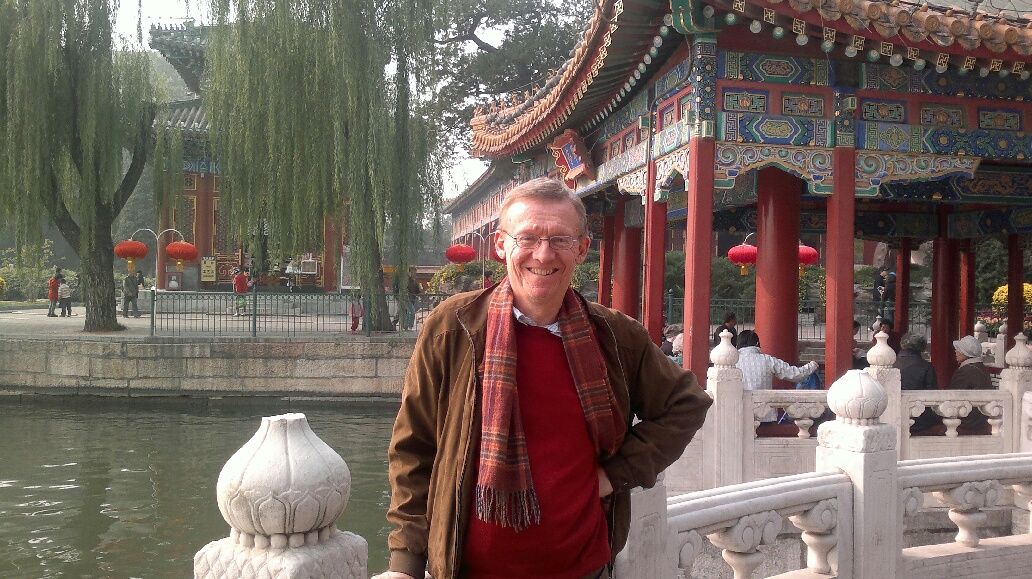 "I've become very interested in China and Chinese language and culture. It began when I had a Chinese girlfriend a few years ago. Though we spoke in German together, there were times when I didn't understand the way she would react to things. So I became curious and wanted to learn more about the culture she came from. I feel that it's nice to be able to do something purely for the sake of joy, pleasure and curiosity. That is motivating when you're learning something. I would love to live to be 101. That would be enough, to be sure, but imagine how fun it would be to experience turning 100!"
Even if he doesn't reach 100, he has in any case decided to live long enough to be able to discuss Kierkegaard and existentialism in Chinese!
"Perhaps it's goals like that that keep you healthy and alive?" he muses.
---
CV Assistant Professor Jon Petersen studied at the Eastern Norway Music Conservatory in Oslo, and has worked in the field of opera education since 1977. During his student days, Mr Petersen became interested in the interaction between lyrics and music, and the focus of his work has been on the Lied and opera in particular. He also worked for several periods at the Norwegian Opera, and has performed a varied repertoire with Norwegian and international singers and a number of opera ensembles in Norway. He has been a visiting professor at the Berlin University of the Arts and Internazionales Studienzentrum in Austria, with Italian opera as his main focus. In addition to working with the Academy's conductors, he has served as assistant to Alberto Zedda, Lamberto Gardelli and Zubin Mehta, among others. He has also served as the study coordinator, vice-dean and dean of the Academy of Opera in various periods.
---
Fagprofilen is a series in which the editors of khio.no present one of the specialist staff members at the Oslo National Academy of the Arts. The presentation will usually take the form of an interview and will appear in Norwegian and English. The aim of the series is to paint a fuller picture of activities at the institution and to promote international contacts and interest in our academic and artistic research.