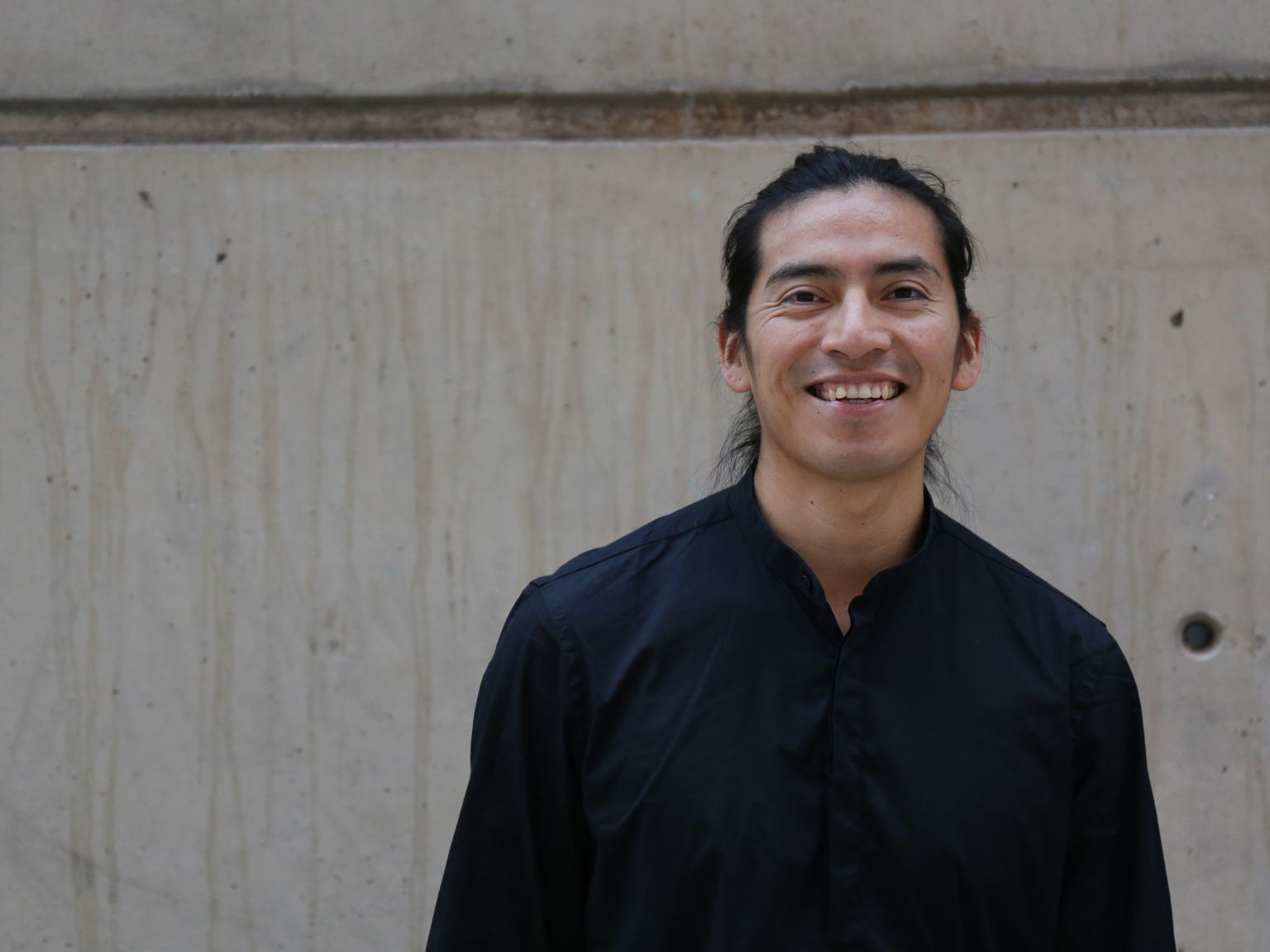 Studying at KHiO 2021: Academy of Dance
Name: Edwin Cabascango
Programme: Master's in Dance
What has it been like at KHiO?
Over the two years of my Master's studies I have been able to be a part of meetings, dialogues and experiences between students and teachers from a mix of disciplines. The two years have led to collaborations with different actors in different fields. The chance to exchange knowledge with others has been a motivating factor.
Over the course of these two years, everyone has experienced changes that have directly impacted both the social aspect and the development of dance and art. The physical distance and the restrictions among students and teachers have often been a barrier. But at the same time, they have helped open up other channels of communication and understanding.
Physical practice is part of dance and movement and figured heavily in our education. For a variety of reasons, we used external rooms when training physically. There we were introduced to how obligatory practice can encounter a landscape, something that greatly influences how we understand dance. It was necessary for me to see the limitations and restrictions as a space, as a condition and an invitation to search for new opportunities.
The idea of trying to influence the landscape has been motivated by my interest in observing the effect of a room on our bodies and movement. We needed to see dance from another room, one that doesn't necessarily have a smooth and comfortable floor, like on a stage or in a studio.
What is your main takeaway from KHiO?
Many of the students had a good deal of experience within dance, choreography, theatre and movement from before they began studying at KHiO. It's been special to see how students have approached the discipline from different perspectives, particularly with the facilities that we had at KHiO. When we began studying there, the school organised a joint workshop for all the Master's students, something that was really important to me. The point there was to confront and explain all the ideas, techniques and practices from a variety of artistic perspectives. Having a multi-disciplinary atmosphere at the Master's education has been important for being aware of your own development.
Tell us about your graduation project, which you called MARAS.
MARAS describes a social, political and cultural phenomenon in Central America – that is in El Salvador and the US – between 1970 and 1980. My project sought to dramatise social conflicts caused by capitalism and colonialism throughout Latin America. This was the production's underlying theme. At the same time, it has been important to be able to convey, on a stage, the sort of consequences that affect youth. The result of the phenomenon in El Salvador and the US manifested itself in a gang subculture called Maras or Mara Salvatrucha, which is also widely known as MS-13. From my perspective, this is an identity young people are searching for. At the moment, Maras is a problem not just in Central America, or countries in the Third World, but is found all over the planet, in particular Europe.
I originally come from the indigenous Kichwa people in Ecuador, and I take responsibility as a spokesperson for my culture. The point of my graduation project was partly also to shed light on other cultures. As a result, I chose some of the Kichwas' traditions in Ecuador in order to reflect the colonialism and capitalism that exists in South America and show how my culture manifests the similarities between Indians from El Salvador and South America.
By means of the text, the replica and the sound of the Kichwa language, the project created a cultural adaptation and meeting point. It was quite a thrill to see how the dancers from the Scandinavian culture chose to approach this phenomenon, which originates in Central America. The dancers memorised texts in the Kichwa language and recreated the energy and sounds of the Andes.
From the perspective of movement, I participate in different types of performance-based training and practice. Since MARAS is largely based on a specific social conflict, I focus on observing encounters between physical bodies and how manipulating the body can affect these conflicts. Following my observations, I describe which parts of the body that are either obstructive or collaborative before, during and after a physical encounter with two or more bodies on stage.
MARAS is a performance where the interdisciplinary meets and crosses the art forms of several other countries. This allows the spectators to for example go on a visual and sensory journey, as set up by the different materials that are used on stage. This can affect them and forge a common memory – one that the body takes with it to other landscapes.
All of this became possible with support from the teachers, the production team, fellow artists, student friends and other people who are close to me and who have been part of this long, two-year process.
The production has been created for everybody who has lost "a place, a body and a territory" during their lifetime. The body never forgets where it comes from.
And now what?
I want to continue doing what fascinates me the most, namely creating artistic processes. I play and create performances both for the stage and for more site-specific venues. I intend to collaborate with other artists and spread my own practice for a multi-disciplinary pilot school project. I will take along with me the interests that the school has given me over the past year, namely visual art and film.