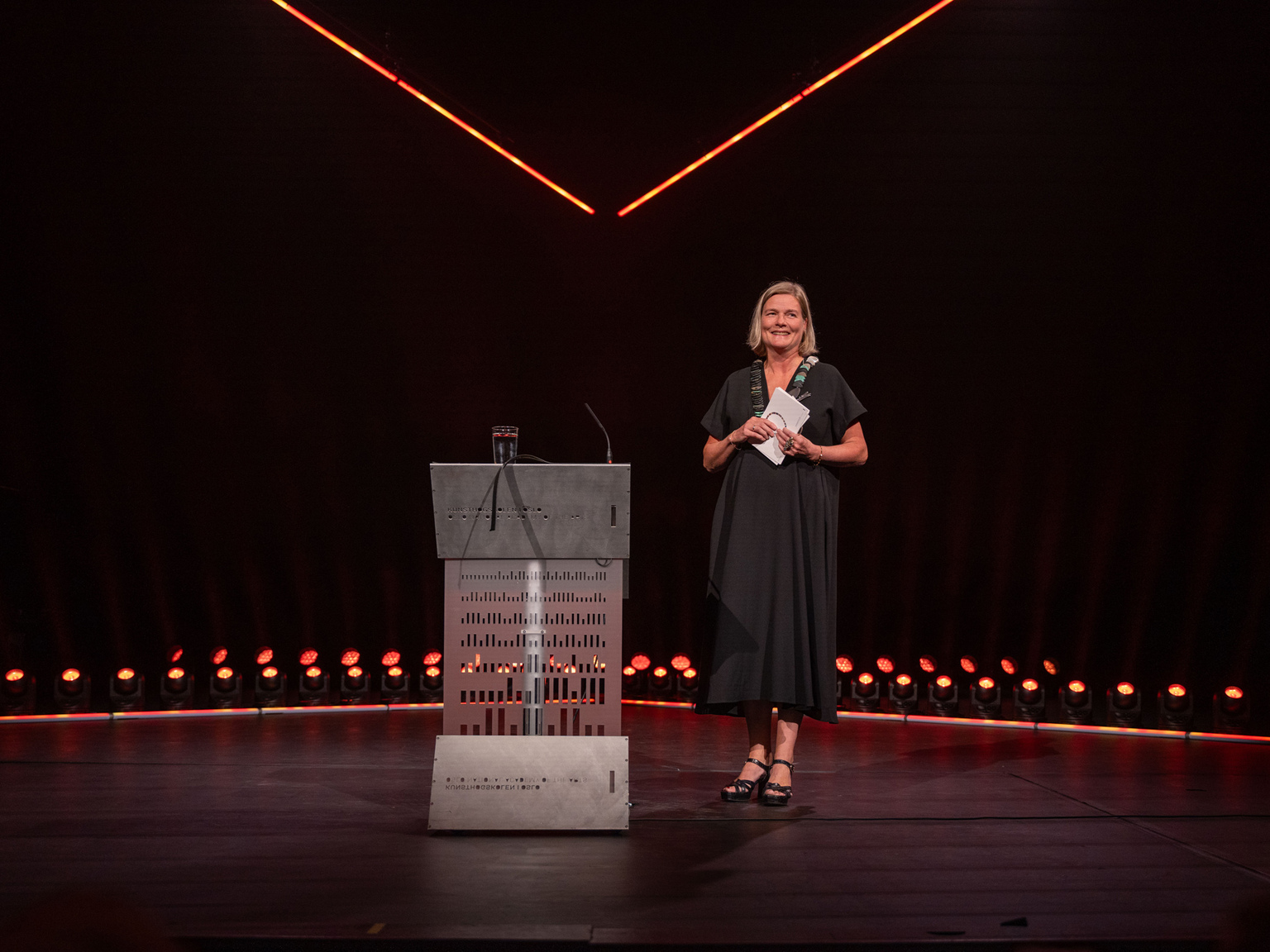 KHiO start of studies: the Rector's speech
Marianne Skjulhaug's inauguration speech to staff and students.
KHiO: Time for business as unusual
Dear everybody,
I'm truly excited and happy to be standing here and taking on the role as KHiO's new rector. My own background is that of an architect and urban planner. For the past sixteen years, I have worked at the Bergen School of Architecture, the Oslo School of Architecture and Design, and the Norwegian University of Science and Technology in Trondheim. Although I am bringing my professional experiences with me here to KHiO, I'm also ready for a steep learning curve. Thankfully, I will not be working in a vacuum, but alongside all of you – a large community of staff and students who put so much effort into creating this outstanding institution. I also greatly appreciate that my predecessor as rector, Markus Degerman, is here today. I would like to thank you, Markus, for all the work you have done for KHiO.
Over the past few months, I have been following all the impressive things that are going on here at the academy. Some highlights include the students involved in Oltre Terra, the National Museum's major exhibition on wool, which explores the relationships between sheep and humans; the exhibition at Oscarshall, where recently graduated Master's students from the Art and Craft department are being displayed alongside international artists; and, not least, the way in which the jazz dancer Pernille Øien, another recent graduate from KHiO, organised the NORD dance festival in order to strengthen the dance community in Northern Norway. What I see in all of this is a vibrant institution that makes a name for itself through the work of its students and staff. Just this summer alone, right in the middle of the holiday season, KHiO has been able to showcase its wide range of activity.
Our world is currently confronting us with challenges that humanity has never faced before. We have committed ourselves to making a profound transition to more sustainable ways of living by 2030, but so far this effort does not look promising, and time is slipping away from us. The usual experts, with their well-known solutions, have been tasked with solving all the crises that are queuing up. But the question is whether these well-worn approaches can get us far enough, fast enough.
While working as a dean at the Norwegian University of Science and Technology, I noticed the considerable gap that exists between knowledge and action. At a meeting with Scientist Rebellion in Trondheim, I encountered a group of young, frustrated researchers who were struggling to combine activism and studying in their daily lives. This is something that science can obviously learn from art.
But first:
After a period of elected rectors, I am now the first hired rector at KHiO. My duties as rector will be largely similar to those of my predecessors. One key difference is that with a hired rector, it will be the chair of the Academy's board who will serve as the school's top leader. I anticipate that this change will require some extra focus while we make the transition, but I have every confidence that we'll be able pull it off smoothly. It should also be noted that the new chair of the board, Idar Kreuzer, is a highly capable professional who knows both the higher education sector and the art and culture field well. I would like to hereby give him a warm welcome to the Academy.
The ramifications of climate change are enormous. Much is at stake, and time is not on our side. We have committed ourselves to cutting our climate emissions in half by 2030, and there is still some way to go before this target is met.
It is clear that major social challenges will impact how the Norwegian people will prioritise going forward. For many, the safest bet is to resort to well-known solutions, even when we now can see that these solutions are not producing the desired results. I believe, however, that when substantial changes are required, it is the less obvious things that should be examined.

In this regard, the field of art offers possibilities that are well-suited to exploring new approaches both to the world as it is today and to the changes that clearly must be implemented without delay.
Thus, art must strengthen its role as an agent of social development. The reverse must certainly not take place, but this is precisely what is happening both with the new student-funding categories that restrict art education's overall conditions, and with the lack of awareness that mars the government's recent white paper on the skills needed in the Norwegian work force. This document scarcely mentions art at all, and it fails to highlight how the methods of art will be vital to bringing about the intended "green shift" in Norwegian society. If we are to succeed as a sustainable society, our perspectives must be broadened – and this is where art plays such a crucial role.

As a public institution of art and higher education – perhaps the most important such institution in Norway – we must team up across our various disciplines in order to tackle the greatest challenge of our time: the transition to a lasting, sustainable world. My motivation for taking on the role as rector is to protect and promote the importance of art in society and to ensure that KHiO is at the forefront of producing the type of knowledge that society needs at this critical moment. The arts will undoubtedly have crucial roles to play in the ongoing transformation of society.
This entails by no means the greenwashing or instrumentalising of art, or making it more conform. What I'm talking about here is rather the need for a true commitment that can promote the necessary changes, where the unknown, the untested and the unthought-of are given greater space in the transition to a green society.
In short, it feels quite simply right to be part of KHiO for the next four years.
24 August 2023
Marianne Skjulhaug