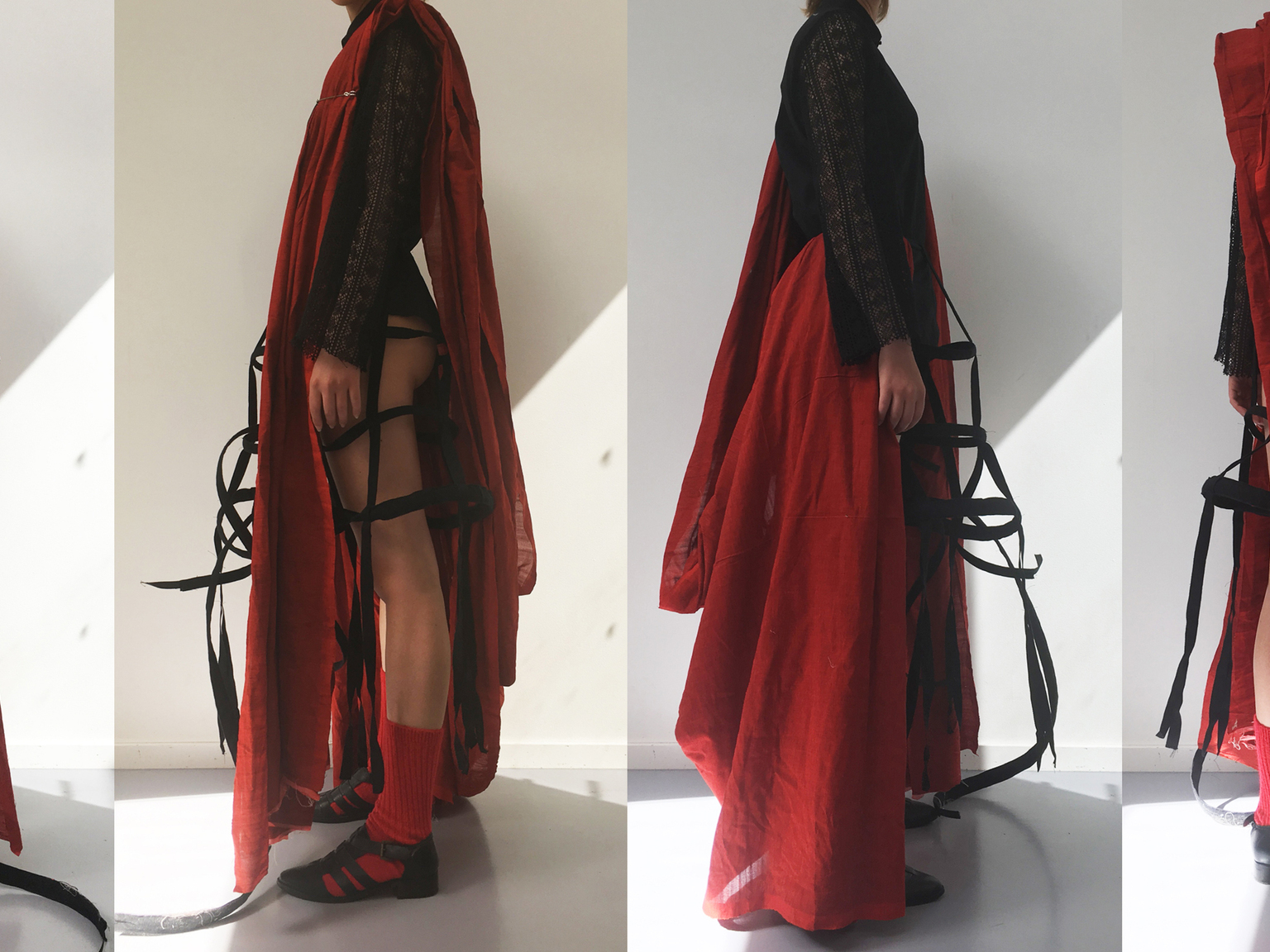 KHiO at Designers' Nest: East meets West
Ishara Jayathilake is nominated to the annual Designers' Nest Award Show 2020 showcasing the best fashion graduates from the Nordic design schools. The final will take place January 28 during Copenhagen Fashion Week. Jayathilake graduated with a Masters' in design spring 2019.
– I'm a keen observer of the fusion of sartorial styling in East and West, in particular with Sri Lankan culture at the intersection of postcolonial identity and how individual identity is related to its socio-cultural context. Sri Lanka is one of the prime examples of the consequences of colonization that experienced a massive change through the encounter of the European modes of representation. The new representationalism of Sri Lanka, which was not a direct transcription of European authenticity, appeared concomitantly in the forms of hybrid representations with its people and society. Generally, dress codes of tropical climate countries were different from Western civilization. The main differences are materials and dressing styles. In many Asian countries, the most popular material was cotton, and the dressing way was wrapping the whole cloth around the body. In European countries, the perfect dressing means sewing and complex designing processes.
Tell us about the garments you use?
– There are two traditional garments common to all ethnic groups in Sri Lanka - the sarong and sari. In this effort, the concept has built upon the considerable insights of initial research of Sri Lankan material culture, for which both culture and clothing have long been fruitful points of analysis. Therefore, this project explores how these key garments in a cultural context have altered the nature of identity, as people seek to adapt themselves to new social conditions and possibilities; proceeding from the understanding that self-representation that exist between the person and the colonial past. Although hybridity differs, each outfit of the collection creatively uses clothing to convey the mixed cultural identity while bridging the gap between the West and the East. Clothing is the primary symbol in society through the modernity of culture, which history has been conceptualized, constructed and challenged in modern society. The project can be viewed in many ways, including as a purely visual experience, within a historical framework while creating a bridge from the past to the present.
Why did you choose this topic for your graduation project?
– 'Imagine that there was no more religion, no more country, no more politics'? My work has been heavily influenced by my own cultural experience, exploring ideas of cross-cultural heritage and the creation of hybrid identity. Influenced both by the aesthetics of colonialism and postcolonialism in Sri Lanka. As a fashion designer, I'm drawn continuously into social, political, and cultural issues. Ultimately through knowledge and belief, people reconstruct and recreate a shared system that we call culture. Therefore, the self-identity, in the broadest sense, is more central to most social issues than I had ever thought. Because I was initially inspired by the dressing styles of Eastern people who live in Europe from different cultures and how Westerners look at them. Although my project aims at demonstrating an interpretative understanding of sartorial trends owing to postcolonialism in Sri Lanka, I also hope it will have broader significance for the recognition of the fusion of hybrid cultural identity between East and West.
How do you feel about being nominated to the final in Designers Nest?
– Absolutely thrilled! I am, indeed, privileged to have received a nomination in the Designer's Nest 2020. This is an extraordinary endorsement for the project I have been working on and it encourages me to keep doing what I love.
What has studying at KHiO meant to you?
– KHiO is a very nice institution that gives students many facilities, resources to develop and express themselves. KhiO accepted me as an international student for fulltime MA studies when I applied from Sri Lanka and the curriculum was created to give students enough time, space, freedom to explore ourselves on how to become a good designer.
What have you done this autumn after KHiO?
– I've done a collaborative sustainable craft project with Sri Lanka and Studio Tjeerd Veenhoven in the Netherlands. And I've been looking for a job related to my studies since graduation and managed to join to Katrin Uri Design in Oslo as an assistant fashion designer in late autumn.
Decolonizing Design
Charlotte Bik Bandlien, assistant professor of theory at the Department of Design, launched a new theory subject last fall, entitled "Decolonizing Design". We've asked her for a short comment on the topic Ishara Jayathilake has chosen for her project.
–2019 was an important year in terms of a post-colonial reflexive turn in fashion theory. Two new publications are worth mentioning; The seminal anthology Fashion and Post-Colonial Critique published by Sternberg Press as well as a special issue of the academic journal Fashion Theory devoted to the topic: "Fashion as Politics – Dressing Dissent".
–Fashion is a unique entry point to these pressing issues, and not only because of its omnipotence. The co-occurrence of the development of postcolonial studies and the establishment of fashion studies as a transdisciplinary field of academic research makes the two fields ripe for fruitful cross-pollination – in both theory and practice.

East meets West
Searching for a creative expression from global perspective in adaptation to political, cultural and social meanings assigned to dress in a variety of colonial contexts in Sri Lanka, supported by a contemporary fashion collection that crosses influences and connects the past, present, and future; proceeding from the understanding that self-representation exists between the person and the colonial past.
About Ishara Jayathilake at Designers' Nest
Follow on instagram @ishara_jayathilake

Designers' Nest is a talent incubator, showcasing and supporting the best fashion graduates from the Nordic design schools. The annual award show features 10 finalists who show high levels of originality, creativity and craftsmanship as well as an ability to address wider societal agendas and pressing issues. The finalists are selected by an international pre-selection panel and the winners are found by a distinguished jury.