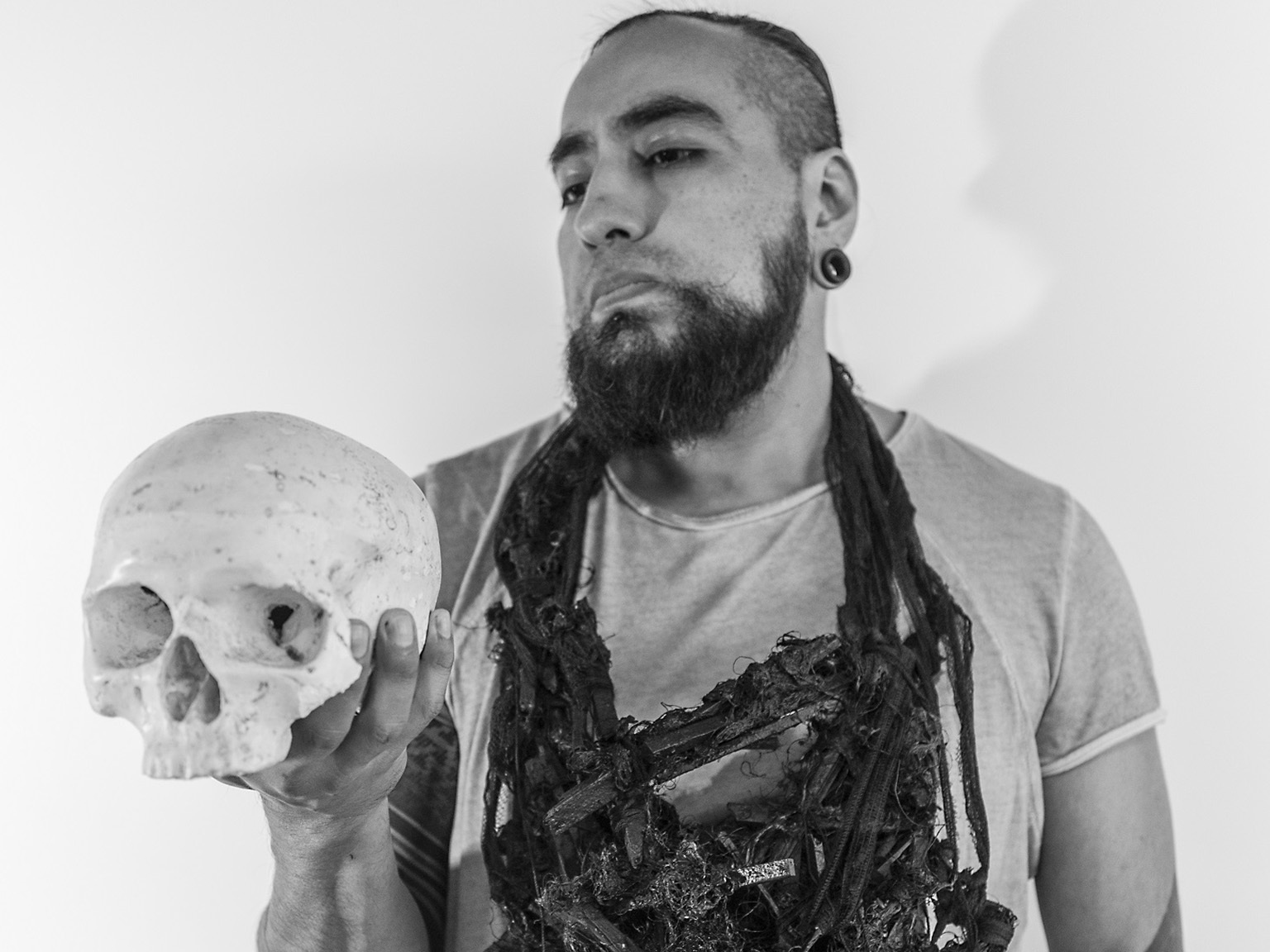 Academy Profiles: Jorge Manilla – Everything is connected
The new professor of metal and jewellery art is impressed by facilities and staff at KHiO, and he is sure the school will be noticed in the years to come. Jorge Manilla thanks boxing, one of the national sports of Mexico, for achieving his own artistic career.
Norsk versjon / Norwegian version
"Two years ago I was invited as a guest teacher at KHiO, and from the first moment I fell in love, impressed by the facilities and the freedom the students are given," says Jorge Manilla.
"I became interested in the crossover within the Art and Crafts department. At this moment, most universities are closing their Art and Crafts departments and are moving towards Fine Art. At KHiO it is different. And I have a very good impression of the students," he says, adding that he plans to develop a main philosophy within the field of metal and jewellery art at KHiO together with the students and staff.
"As professor, I keep in mind that we as an institution are part of the history of the jewellery field – we have a role and a responsibility."
Jorge Manilla grew up in Mexico. His grandfather and father were both traditional goldsmiths. Manilla dreamt of becoming a sculptor – an artist. This decision was not welcomed at home, and at the age of 15 his mother told him that if he didn't change his plans, he had to leave the house.
"That was the moment of one of the biggest decisions in my life, and with it I decided to go completely into boxing and work for a sculptor. And this saved my life in every way. Boxing gave me discipline and structure and a clear mind to decide the next step in my life."
Making the right decisions
"Some years after I left home I went to the Art Academy for the first time – to work as a model. Since I was a boxer, I had a very trained body, and I needed the money because I was already thinking about quitting boxing. At the same time I started to study drawing and sculpture. This change of routine helped me to make the decision to stop boxing and go full time to school and start my studies in jewellery and goldsmithing," says Manilla.
"My great-grandfather on my father's side was a traditional Mexican engraver. He was into craft and politics, and he has always been my role model. He got killed by the government, nobody knows where his body is. Mexico is a very corrupt country – if you disagree with the government, you get killed. Mums and wives always say good-bye to their loved ones, because you never know if they will come back."
"Who knows what would have happened to me if I had taken the wrong decisions and not taken risks. For sure my story would have been written differently."
Human feelings, leather and bone
In 2003 Manilla made the decision to move to Belgium, and three years later he earned a Bachelor's degree in sculpture at the Royal Academy of Fine Arts in Ghent. A year later he enrolled at St Lucas University College of Art and Design, where he in 2007 obtained a Master's degree in jewellery and silversmithing.
"I am interested in creating three-dimensional shapes like sculptures, objects and jewellery, because for me it is the same methodology and it doesn't matter if the piece is small or large," he says.
"My central themes are human feelings, death and life. Each piece is like a small altar – physiological, emotional and religious. I like to translate this into materials. Mexicans are very bodily – we say hello, kiss, hug and touch hands. To me, touching is very important, and I am really into natural material, like leather, wood, stones and human bones, because they are related to my cultural past, and the materials have tactility, temperature and heaviness," Manilla explains.
"I enjoy making art jewellery, and for many years I loved to make rings, because rings are for me small objects full of meanings and symbols that people wear almost every day, that they touch and keep close. But I'm open for other kinds of pieces as well. Everything changes depending on my topics and the nature of the work."
"Sometimes people react strongly, they avoid my work and see it as ugly, but when they know more about the layers of meanings behind it, they find it very intriguing. I want to communicate and make people react to my work by feeling uncomfortable or attracted, or both. When I'm only being congratulated on a new exhibition, I feel lost and I need a new project so I try to challenge myself to try new things, and again I get in a constant dialogue with myself to re-build my own language."
Death and the Aztecs
In recent years Jorge has rediscovered his love for the colour black. He feels black relates to something hidden, the secretive and the unknown, and as a result it creates an air of mystery. It keeps things bottled up inside, hidden from the world. His dark forms and shapes create a barrier between the meanings of the objects and the outside world. Black implies self-control and discipline, independence and a strong will. It gives an impression of authority and power. For Jorge black is the end, but the end always implies a new beginning. When light appears, black becomes white, the colour of new beginnings.
"Very often I have been asked if I'm depressive because of the dark aspects of my work. I'm not, but my cultural references are strong, and when I use them as inspiration, it can seem depressive as translated into materials and shapes. From the Aztec culture I use themes like death, blood and sacrifices. Aztecs became warriors, in a broad sense of the word – it was not only important to be able to fight or kill but to work hard to be a highly valued person and become the best in your own field. They were trained to be sacrificed to the gods and to accept death with joy Today our culture is a mixture of old beliefs and Catholicism, because when the Spanish came to Mexico, 80 per cent of the Aztecs were killed and the rest became slaves. And a lot of the violent aspects in my country haven't changed," he says.
"The most important day in Mexico is 2 November, the Day of the Dead. On this day we are reminded that when you die, you will be in a better place, so we celebrate death by eating sugar skulls – they symbolise that you should eat death in a sweet way, so to speak. It makes you aware that you're fragile and ephemeral."
Knowledge needs to be shared
"In the year after I graduated I was doing all kind of things to survive, but the second year I was surprisingly invited to teach, and at that moment an amazing new journey started in my life. Maybe I was very naive at that moment, but it was easy for me to understand the students and give them what I myself had needed one year before. And since then I have been teaching in several places at the same time, first in Europe, then in South America, and some years later I was invited to the US as well. During all those years I have received confirmation every day that the students are very important to me, Manilla says.
"Combining my artist activity and teaching, I quickly understood that good artists are not always good teachers, and vice versa. At school you cannot be an artist, because there is always the risk that your ego will win, and in those moments it's not about you, but it is all about the students. For me physically and mentally, it is hard to be so close to more than 30 students. But in my teaching philosophy, communication is very important, and I am strong in analysing and guiding the students according to their own needs."
As a result of his professional activities as an artist and teacher, Jorge says he has come to understand that knowledge is something that has to be shared and circulated, or else it becomes rotten.
"I switch myself off and on in the studio. I have been doing it for 10 years. I am very committed to my own work, and I have discovered that having this mentality makes everything possible. I am always ready to transform and share all the information and knowledge I have. To me everything is connected, as an educator it is important that I don't lose my inspiration in my own work, that I'm able to constantly make new work and use all the information and inspiration I collect every day. And I am very aware that every day I learn a lot from the students – they have a fresh and strong approach, and this is like a big gift to me."
Inner peace
Jorge Manilla is currently commuting between Belgium and Norway, being a single dad for his 14-year-old girl and an artist in his studio in Ghent, located in a former 16th-century monastery. He is working as a professor and subject area coordinator at the Metal and Art Jewellery Department at KHiO (the Oslo National Academy of the Arts) and also doing his PhD at the Royal Academy of Fine Arts in Antwerp under the title Other Bodies.
"I have always been doing a lot of things at the same time, but you have to be peaceful to manage this. I think it is something I bring with me from Mexico. To survive in restless Mexico City, where I grew up, you have to stay calm inside. I was a boxer, explosive on the outside, but you need inner peace to be explosive. To preserve my inner peace, I fight with my ego every single day, so I can find my balance and be very honest and stay myself. When I show my work, I feel I share my personal world with others."
Manilla is planning some changes for Metal and Jewellery at KHiO, making both craft and concept stronger, to be more visible to an audience outside KHiO.
"I am staying at KHiO for five to six years. This long period is part of my motivation for taking this job – stability at this moment is very important in my life because I have a vision to develop an identity for the Metal and Art Jewellery department, and these things must evolve over time. I need to get more involved with students and colleagues, making small but constantly strong changes," he says.
"We have a strong group within our staff, five people with different qualities. We give the students freedom to make their own assignments and develop their own philosophy. And I want to give them more experience, both practical and emotional. Students trust in us and we must trust them."
Is it really jewellery?
Manilla has been involved in projects in Germany, Sweden, Belgium, the Netherlands, the US, Mexico, Chile, Argentina and Brazil. Two years ago he held 10 solo shows, it was his craziest year so far, with double the amount of lectures and workshops. He is receiving more and more invitations to exhibit and collaborate in fine art exhibitions. Jorge's work has been difficult to categorise, and this invitation into the world of fine art makes him very happy. He sees it as a natural development being involved in these projects, and he thinks it is thanks to the hard work and time he has invested in his artistic activity in recent years.
"I have an eye for, and give a lot of attention to, details and small elements in my work, and the last years I have tried to combine this with a very personal concept. During the last years of doing my PhD work I have discovered an interesting balance between thinking and making. During this time I have been working a lot with the display of the work, to make people interact in a different way with my work. And I guess this might be the reason why I get more involved in Fine Art projects," he explains.
"When you look at the work done by some of the artists in my field, you can recognise what schools they have been trained in and which professors they have had. But my case is different. People say to me, 'We recognise you, but we can't say from which school you come from or who your references are.' And in a certain way I am happy when I hear this, because I am just a Mexican guy with a huge need to communicate in an artistic way and to have my own expression in shapes and materials. Being out of my country for so many years, I have learned to live between two realities and to create a more universal language to communicate through my work. The aesthetics of my work is in constant change, and the visual aspects of my work have begun to tell new stories."
Manilla's family has become very proud of him now that many years have passed, and they understand how serious and important his decision was for him. His father is dead, but for his mother it has been a weird process, he says, to understand what he is doing and the very concept of art jewellery, as she was living with a traditional goldsmith for many years.
"Is it really jewellery?' she asked in the beginning. Now she has accepted my work and way of life, and my family have learned to see things in a different light," Jorge Manilla says.
"The artist life is not easy, but we have to celebrate to be here now, to have the freedom to express ourselves and be able to communicate our own vision about the world to the world. And I'm very glad to have the possibility to be a department head at KHiO and slowly create an amazing common creative brain all together – teachers, students and myself."


Jorge Manilla's next projects:
•European Triennial for Contemporary Jewellery, WCC•BF Anciens Abattoirs, Mons Belgium (october 2018)
• The decorated man, makers and wearers, Folk Science Museum, Leiden, Nederland (desember 2017)
• «CHAOS» in cooperation with Gallery Alliage, co-curator and main exhibitor, Gallery Alliage, Lille, France (desember 2017)
• Frontera, MAD Museum, New York, USA (februar 2018)
•Schmuck Exhibition 2018, Internationale Handwerkmesse Münich, Münich Germany (March 2018)
•Ineffable, Solo show by Jorge Manilla, Gallery Pont en Plas, Ghent, Belgium (June 2018)
Bio
Jorge Manilla is originally from Mexico and lives and works in Belgium.
The son of a family of Mexican goldsmiths and engravers, Manilla studied visual arts at the Academy of San Carlos in Mexico. He received a highly technical jewellery training at the Academy of Craft and Design from the Mexican Institute of Fine Arts. In 2003 he earned a Bachelor's degree in sculpture at the Royal Academy of Fine Arts in Ghent. Two years later he enrolled at St Lucas University College of Art and Design, where he in 2007 obtained a Master's degree in jewellery and silversmithing.
By creating jewellery, Jorge Manilla investigates his environment – religion, emotions, relationships and the meaning of life. Alongside his professional activities as an artist, and before he became the new professor at the Metal and Art Jewellery department at KHiO, Jorge has been working as a researcher and doing his PhD under the title Other Bodies Design at the Royal Academy of Fine Arts in Antwerp. He is also responsible for the first-year master's programme at the Alchimia School of Contemporary Jewellery in Florence, Italy, and he teaches and gives workshops and lectures at different art and design universities around the world. His work has been shown in several exhibitions and features in collections the world over.

Education
1994–1997 Drawing and sculpture classes at San Carlos Academy, Mexico City, Mexico
1998–2002 Jewellery and silversmithing, Escuela de Diseño y Artesanías (INBA), Mexico City, Mexico
2002–2003 Bachelor in sculpture, Royal Academy of Fine Arts (KASK), Ghent, Belgium
2003–2006 Master in jewellery and silversmithing, St Lucas University College of Art and Design, Antwerp, Belgium
2008–2009 Teacher training course, PCVO Het Perspectief, Ghent, Belgium
2014– Research project (PhD), Royal Academy of Fine Arts, AP Antwerp, Belgium
Work Experience
2010–2015 Teacher, Jewellery Design and Silversmithing, Royal Academy of Fine Arts
AP, Antwerp, Belgium
2013– Researcher (PhD), Other Bodies project at the Royal Academy of Fine Arts
AP, Antwerp, Belgium
2014–2015 Tutor of the Master's programme Jewellery Design and Silversmithing, Alchimia School of Contemporary Jewellery, Florence, Italy
2016 Tutor of the first-year Master's programme Jewellery Design and Silversmithing, Alchimia School of Contemporary Jewellery, Florence, Italy
Guest teacher, San Diego State University, Jewellery and Metalwork Program
Guest teacher, Oslo National Academy of the Arts, Oslo, Norway
2017– Professor of metal and jewellery art/ head of department, Oslo National Academy of the Arts, Oslo, Norway
---
Academy Profiles is a series in which, each month, the editors of khio.no present one of the specialist staff members at the Oslo National Academy of the Arts. The presentation will usually take the form of an interview, and will appear in Norwegian and English. The aim of the series is to paint a fuller picture of activities at the institution and to promote international contacts and interest in our academic and artistic research.