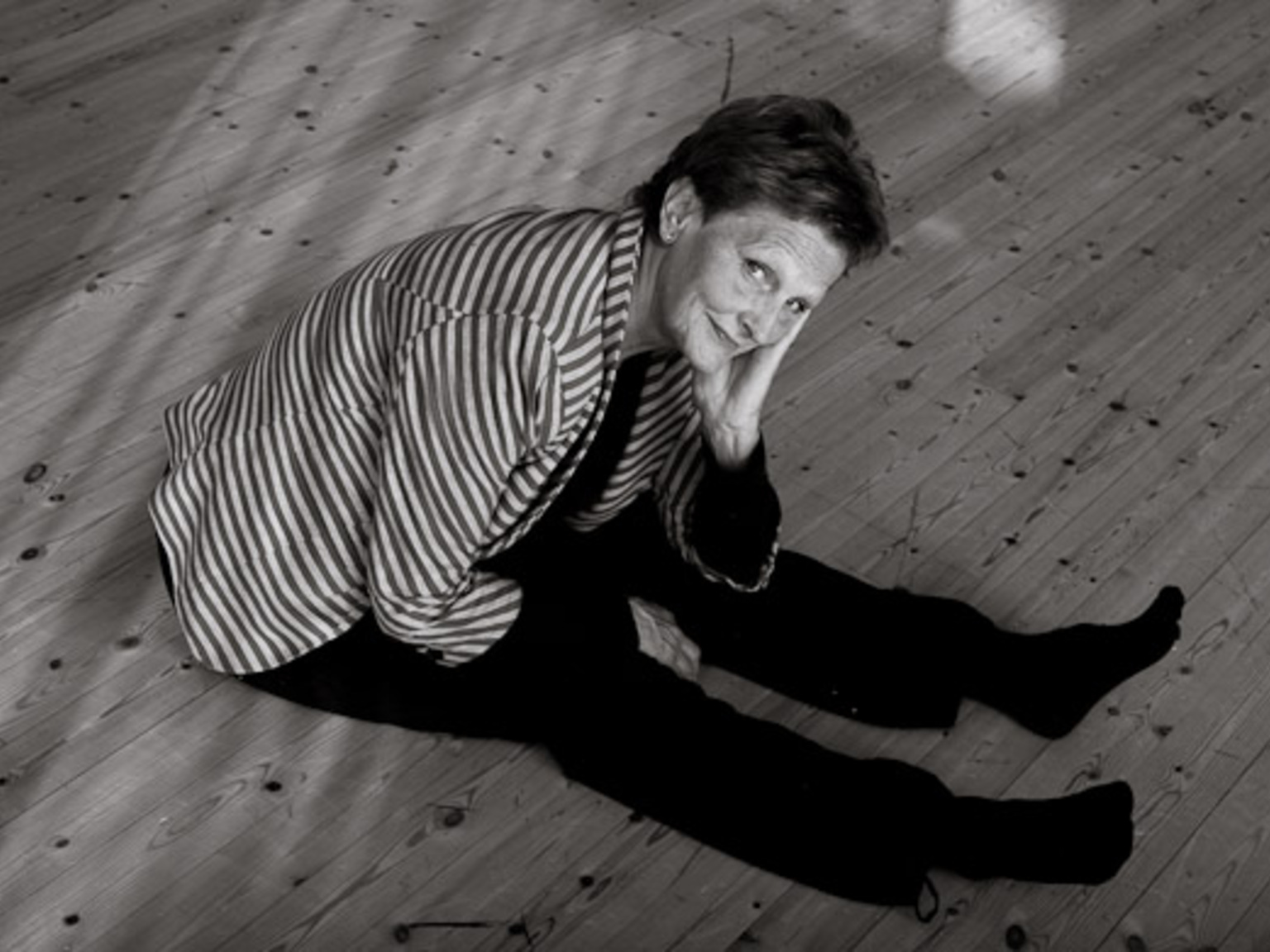 40 Years of Crossing the Line
In 1976 Hanne Riege walked through the door of the Academy of Theatre for the first time as a part-time teacher, crossing the same line that all the students must do when they begin there. 40 years later she still loves her job.
"I'm always trying to develop both myself and the discipline itself," Hanne Riege says. "And so when I teach, I bring years and years of experience with exchanging ideas and developing my personal outlook on the field." Her courses seek to teach young, up-and-coming actors to distinguish between what they can use and what is of no benefit to them, everything from how to use their body to how they think of themselves in various situations. This helps them acquire a physical tool they can use in their artistic performances on stage.
And when Riege enters the room to teach yoga and bodily awareness to teach such a class of young, up-and-coming actors, she crosses a line.
Crossing the line
"Yes, it's a physical line and not a figure of speech" Riege explains. "The idea is that when you cross the line and enter the stage area, you leave everything that is trivial and unimportant behind you. As a professional, you're supposed to bring the personal with you, of course, but not the private."
"Maybe the line should be placed at the entrance to the entire Academy of the Arts?" she suggests, laughing, before becoming serious again.
"This is a school where there are many great artists with strong personalities, and so they really throw themselves into their work here, often with great passion. So there's a lot of emotion at this school."
Riege should know. She has served as the Academy of Theatre's dean and pro rector and is also a member of the board. After 40 years she has seen regimes come and go, as well as a host of mergers, new mergers, and further expansions. For instance, all the theatrical disciplines were united in a single faculty for a while, before again being divided among three different departments.
Fresh ideas needed
Hanne Riege is one of the few staff members at the Academy of Theatre who preserve its institutional memory. When it was decided 20 years ago to merge the various institutions that now constitute the Oslo National Academy of the Arts, it became clear that a great many of the employees at the Academy were in their 50s and had held their positions for quite a while. At the same time, society was changing and demanded fresh ideas and the continual development of the various disciplines. This led to an overhaul of how the education was organised, with fixed-term posts being implemented to ensure the steady influx of new ideas.
"I think perhaps the pendulum swung too far the other way, because we do need to take care of the innovative work taking place here and benefit from it," Riege says earnestly.
"I've been here for so long that I have seen students come in as promising acting talents, only to return years later to teach their craft to others. They become even better actors from doing so, because it forces them to articulate some of their tacit knowledge. But it's just such a pity that they disappear out into the world again with their increased knowledge and awareness, without us any longer reaping the benefits of this knowledge here at the Academy."
The Winter Olympics in Lillehammer
Many of her current students were born after the momentous event: the 1994 Winter Olympics in Lillehammer, which had the entire world turning its eyes towards the Norwegian inland. And during the opening ceremony, Hanne Riege stood in the middle of the stadium, with powdery snow falling down over her and the 360 amateur dancers she had helped rehearse to dance so memorably as good and evil nymphs, a dance that was timed in accordance with the setting sun.
"Taking part in the opening ceremony was a once-in-a-lifetime experience!" she recalls.
"Several other choreographers and I travelled all over Norway in sponsored Volvos from the Olympic Committee, working as itinerant dance instructors during the evenings. And then, at the dress rehearsal, we finally saw whether we could coordinate it all. I must say I was quite nervous then! But when the opening ceremony itself got underway, everything was perfect, and I knew that everyone was going to perform their part. Snowflakes were falling lightly and night began to fall. Everything was so perfect that international journalists thought it was theatre snow! And I was entirely calm."
But the road to the successful performance was a topsy-turvy one full of conflicts.
"Working on the performance certainly wasn't a harmonious experience," Riege says. "There were plenty of people who had plenty of opinions, and all the involved parties were soon riding their own hobby horses."
"So, a bit like the Academy of the Arts then?"
"Yes, you could say that. This isn't a gentle river we have here. The waters here rush headlong through violent rapids, and then a thundering waterfall leads straight to the sea – or up to heaven!"
With the Akerselva river rumbling pleasantly on the other side of her office, an opera singer suddenly begins to belt out a few notes outside her window.
"It must be quite inspiring to work with so many young talents?"
"Yes! Of course!" she enthuses. "There have been so many people who come here to my office to talk things over, and I just point towards the poster on the door that simply says 'YES!', and then they feel as though someone has seen them and they leave my office with their head held high." She points to pictures of class after class of actors, many of them well-known personalities from film and TV, while others are less known, spread out among the various regional theatres in Norway. "See there? I've taught all of those people."
"Is there a sort of hierarchy between working on movement, which is your field, and working on the text?"
"Yes, in a way. It's related to how, traditionally, the physical aspects of theatre have not been seen as being as profound as working on the text. But the body is an instrument that is entirely indispensable when you're working with theatre! Now, obviously, we live in a culture where the head comes before the body, where thoughts are considered to be more important than the body. But I'm glad to see that there are counter-reactions. An increasing number of people are doing yoga or similar things and noticing that it's good for them and for practising artists."
"The course I've been teaching has had many names," she adds. "For instance, 'Stage Plastics' and 'The Body as Instrument'. But now it's simply called 'Movement', so that it can encompass many different directions. And since the course has been continually developed, I've set up a module called 'Presentation Techniques' that I teach to the students here at the Academy and to employees at the University of Oslo. Obviously, the focus in this module is on body language."
Starting a new life after 50
Hanne Riege was originally a dancer, but she injured herself, and in her 50s she enrolled again as a student, training for three years to become no less than a yoga instructor.
"The children had grown up, so I had the time!" she says.
And so her life changed direction. And now she's standing here as an associate professor on a Wednesday in late November, in group room 5 on the sixth floor of the Academy of the Arts, with scented candle burning and the outside world shut out, busy teaching yoga and movement to six first-year students (four women and two men) at the Academy of Theatre.
"NO!" shouts one of budding actors. "NOT THE FISH!"
"We assume that we can't do something, and then we can't," the instructor calmly points out.
After an hour of yoga, the students are warm and limber. Hanne, who is nearing the age of retirement now, has shown them a few exercises their young bodies are entirely unaccustomed to, exercises many people in their 20s would have problems doing. An entire life full of movement has paid off for the veteran instructor.
And then, when their bodies have limbered up, the six acting students learn to stand firmly on their feet and not budge as she tries to lift them up. Afterwards they are told to walk about as they move their consciousness around the various parts of their body. When they've located their consciousness in their hips, they march heavily about. Then, like magic, their steps become soft and light when their consciousness moves on to another part of their body. This takes place by itself, so that the students' learning goes from their body and to their head/ consciousness.
And what happens afterwards? After working on body and text, after the performances? What happens when the applause dies down? Hanne Riege's current research focuses on what happens when the curtain closes: the follow-up work.
"Many actors are keen on warming up and preparing and working their way into various roles and personalities," she notes. "But how do you get back to everyday life after a performance? What I'm working on now is how to help performers find and develop their own approach to calming themselves down and finding their way back to themselves. That's what my research deals with. I want to work on how you can reverse the river."
---
Academy Profiles is a series in which, each month, the editors of khio.no present one of the specialist staff members at the Oslo National Academy of the Arts (KHiO). The presentation usually takes the form of an interview, and is published in Norwegian and English. The aim of the series is to paint a fuller picture of activities at the Academy and to promote international contacts and interest in our academic and artistic research work.