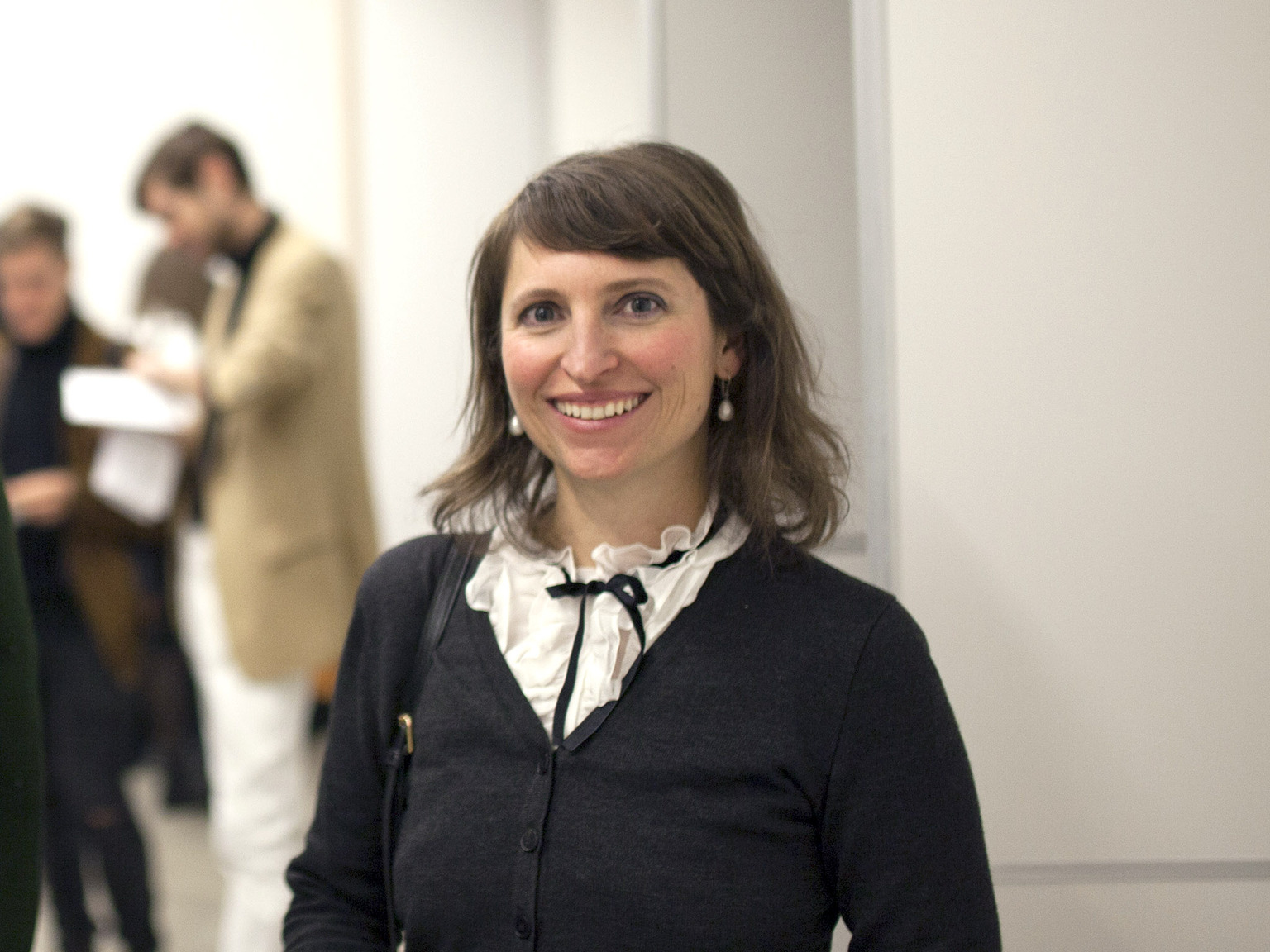 Academy Profiles: The Academy of Fine Art – A Cultural Institution
During her first years at the Academy of Fine Art, dean Vanessa Ohlraun has emphasised diversity and created an environment that is more international for both staff and students. Now she wants to raise the institution's profile as a whole and bring it closer to the public.
Ingress photo from the opening of the Exhibition "Double Bind" in Vilnius, 2015. Photo: Julie Lunde Lillesæter/Differ Media.
"The idea of the romantic Bohemian no longer applies to artists as it once did. Today, artists want to be part of the community and are more outwardly oriented. Artistic research and contributing to debates within a global perspective have been a primary focus here at the Academy. I have used my first four years to build foundations that will allow us to flourish in the years to come."
Under Ohlraun's leadership, the Academy of Fine Art has gained broad international recognition. The strength of its faculty makes it one of the most dynamic art academies in Europe. Rector Jørn Mortensen has now set up a project position and invited Ohlraun to develop a strategy to strengthen the school's focus on artistic research and internationalisation. This work forms part of the preparatory process for the school's new strategy plan for 2017–2022.
How have you approached the task of achieving a more international focus?
"Before coming to Norway, I had built up a large international network through my work as a curator and my time at the Piet Zwart Institute in Rotterdam. Several people who knew me from my earlier work applied to come here when I took the post as dean. They in turn have attracted people from their own networks. For example, we now have one of Europe's most renowned art critics on our staff. For the first time we have expanded our faculty beyond Central Europe to include professors with links to Latin America and the Middle East. I've been open about wanting a good ratio of women to men. We are probably the only art academy in Europe where half the professors are women. The feedback I get is that Norwegian artists are finding it increasingly interesting to apply for positions as teachers, researchers, and also students. Diversity makes us stronger, and I'm keen to attract the best people, nationally and internationally."
What steps can the institution as a whole take to strengthen its international orientation?
"In the future, the Oslo National Academy of the Arts wants its postgraduate programme to be a genuine PhD programme, so that we have the same system as the rest of Europe. I'm working on developing formats that will provide us with a rewarding and inspiring research environment. The school should have platforms where research fellows can share what they're working on. It would also be desirable in the future to showcase projects our academic staff are working on, given that they represent such a high level of competence. To my mind, we are not just an educational and research institution, but also a cultural institution. To make this clear, we need to try out formats that we don't yet have and to find solutions to structural and practical challenges."
"I have been in conversation with the art academies in Copenhagen, Stockholm and Gothenburg to learn how they structure their own doctoral programmes. This saves us having to try out everything from scratch. Instead we can focus on what makes us unique. The way I see it, our strength lies in the breadth of our activities. We can implement interdisciplinary projects that focus on themes rather than depending on divisions into departments and disciplines. Our first goal is to submit an application to the EU framework programme 'Horizon 2020' together with Gothenburg and others. This is the world's largest programme for innovation and research. It will allocate some 80 billion Euros over a seven-year period starting in 2014. In addition, we are developing a pilot project within a Nordplus framework programme to enhance cooperation between eight Baltic and Nordic countries. Our academic staff and students are already fairly mobile, and we want to propose ways to improve the mobility of our research fellows as well, so as to help them strengthen their professional networks and research."
"At the Academy of Fine Art, we have something we call the Academy Lectures. This semester we're using them as an arena for collaborations between our own academic staff and external partners. Each lecture brings together two people to discuss a theme of interest to them both and which has something to do with their own practices. This kind of venture helps to attract a more diverse audience, raising the profile not just of our artistic research but also of the artistic projects pursued by members of our teaching staff. What I hear from the students is that they greatly appreciate the opportunity to learn more about what their teachers are working on as artists."
"One good example is the Academy Lecture that's coming up on 18 May, where the Academy's Rike Frank will have a conversation with Tirdad Zolghadr, a lecturer at the International Academy of Art in Palestine. This is an art school in Ramallah, which the Academy of Fine Art is cooperating with on a long-term basis. The school provides young people in Palestine with a space for critical thinking, opinion and debate. Our responsibility is primarily quality assurance and accreditation, but I've changed the dynamic of our cooperation. In the past we sent out our 'clever' professors to teach there, whereas now we work more as equals. They too have very good professors who challenge us to reconsider our own position in the world. The students in Ramallah work to very high standards. The liberty to work freely as an artist isn't something you can take for granted, but even where conditions are far from ideal and the society is economically and politically vulnerable, it's still possible. It's an important thing for our students here to see."
Ohlraun is half German, half French, and frequently uses English in her work, but she has also been assiduous in learning Norwegian. She soon became proficient in the language, both spoken and written, with a view not least to participating in public debates in Norway. The Ministry of Education and Research has appointed her to the board of the Norwegian Artistic Research Programme, where she is looking forward to using her skills. She is keen to sit on more public panels, juries and committees outside of the Academy. "In my view, a global orientation isn't the only important thing; here at the Academy we must also be responsible members of the society we live in here in Norway. We must actively cultivate a Nordic-language environment to strengthen the art debate in Scandinavia."
How can KhiO become more actively involved in social issues?
"We are good at education and research, but we must become more visible and share the work we do. We have to become a cultural institution with production facilities that make it attractive also for our academic staff and teachers to exhibit their work here within the Academy. We have some fabulous showrooms where our students have mounted exhibitions to very high standards. Going forward, I hope that research fellows and teaching staff will also contribute exhibitions. Quite simply, we should be a producer in addition to doing research, because in the field of art production and research go hand in hand. This would provide a window onto what we do, allowing the public to see that we can make interesting contributions to debates. As a cultural institution, we take a unique approach to social issues, as a producer of unique experiences and knowledge."
You've made several changes. What challenges have you faced along the way?
"I arrived as an outsider and could see the Academy with a fresh gaze, which might have helped me to be more courageous. I always ask how and why? This led us to change a number of procedures, especially at the beginning. One challenge with regard to internationalisation was that in 2015 a rule was introduced that students must be able to speak a Nordic language. That was a setback. The Bachelor's students who started this past autumn are almost entirely Nordic and they themselves are already asking for greater diversity of student intake. It's a point we are now discussing with the leadership of the institution as a whole."
"One challenge I'm devoting a lot of time to in my new project position is how best to nurture a vibrant academic environment that is open to different interests yet at the same time sufficiently focused to make substantial contributions to debates. Three of our research fellows have set up their own forum for other researchers, where they meet to discuss shared thematic interests. I see this as very positive, but it's indicative of the problems we face that they had to set this up themselves, because the institution didn't offer an appropriate forum for them to share ideas about their artistic work and theoretical interests. The best approach would be for us to establish thematic and academic emphases in a way that encourages this kind of interdisciplinary forum, but without imposing interdisciplinarity from above, which can easily end up seeming arbitrary."
Is there a philosophy behind your work?
"One thing that's influenced me greatly is my training as an anthropologist. This affects my views on art. I don't take anything for granted. People do things differently depending on the context and where they are in the world. My main philosophy is to be open and curious, and to ask questions."
Background
Vanessa Ohlraun has an MA in social anthropology, art history, and interdisciplinary gender studies from Humbolt-Universität and the Freie Universität in Berlin. As a freelancer she has guest-curated a number of exhibitions in Berlin and Rotterdam, not least at the Witte de With Center for Contemporary Art in Rotterdam. Since 2007, Ohlraun has been course director for the MA programme in fine art at the Piet Zwart Institute at the University of Rotterdam.
In 2011, she was appointed dean of the Academy of Fine Art at Oslo National Academy of the Arts, and she is the first dean in the institution's history to be appointed to the same position for a second term, starting on 1 November 2015. Work on the strategic development plan for artistic research, internationalisation and the doctoral programme extends until 31 July.
---
Academy Profiles is a series in which, each month, the editors of khio.no present one of the specialist staff members at the Oslo National Academy of the Arts. The presentation will usually take the form of an interview, and will appear in Norwegian and English. The aim of the series is to paint a fuller picture of activities at the institution and to promote international contacts and interest in our academic and artistic research.